Back to Events
November 2023 Commerce Club Luncheon
Rodger E. Rees, Galveston Wharves Port Director and Chief Executive Officer
Thursday, November 16, 2023
* Registration open until 11/14/23 at 12:00 PM (CST)
Event Details
---
Join us at the Commerce Club luncheon on Thursday, November 16 to hear Rodger E. Rees, Galveston Wharves Port Director and Chief Executive Officer.
Rodger Rees, Galveston Wharves Port Director and Chief Executive Officer, oversees one of the nation's major cruise and cargo ports. The Port of Galveston is the fourth most popular cruise port in the United States, hosting more than 1 million cruise passengers a year. The deep-water port also is a major cargo hub, moving more than 4 million tons a year, including bulk grains, liquids, vehicles and wind turbine components.
Since Rees took the helm in January 2018, the Port of Galveston has increased net profits, developed and implemented a 20-year Strategic Master Plan, and partnered with Royal Caribbean International to build a $125 million cruise terminal complex. The port's third cruise terminal opened in 2022.
Under Rees's leadership, the port has developed a successful grants program, a long-term business strategy, and environmental sustainability goals. In 2021, the Galveston Wharves earned its Green Marine certification, making it only the second Texas port to become accredited in the voluntary environmental program for the North American marine industry.
Agenda
November 16
11:00 AM - 11:45 AM

Registration & Networking

11:45 AM - 12:10 PM

Lunch

12:10 PM - 1:00 PM

Speaker & Q&A
For More Information: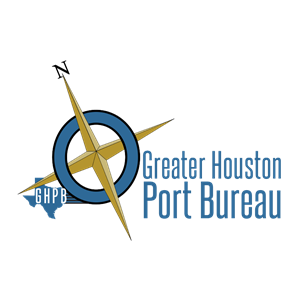 Port Bureau Events
Greater Houston Port Bureau
(713)678-4300
Thank You to Our Sponsors!
Annual Table Sponsors

Monthly Table Sponsors