Back to Events
March 2022 Commerce Club Luncheon
Guest Speaker: Brig. Gen. Christopher G. Beck, Army Corps of Engineers
Thursday, March 10, 2022
Event Details
Join us at the Commerce Club luncheon on Thursday, March 10th to hear Brig. Gen. Christopher G. Beck, Commander, Southwestern Division, Army Corps of Engineers
Network with 180+ professionals from maritime, transportation, energy companies, and organizations in the port region.
About the Speaker:
Brigadier General Christopher G. Beck is the Commander and Division Engineer of the Southwestern Division (SWD), U.S. Army Corps of Engineers. The Division, which is headquartered in Dallas, is one of nine Corps of Engineers regional commands. The Division encompasses all or part of seven states, covering some 2.3 million acres of public land and water with Districts headquartered in Little Rock, Arkansas; Tulsa, Oklahoma; and Galveston and Fort Worth, Texas. As the SWD Commander and Division Engineer, Beck oversees hundreds of water resources development and military design and construction projects that bring value to our communities, our Nation and our warfighters.
Prior to taking command of the Southwestern Division, Beck served as the Commander and Division Engineer of the Transatlantic Division, U.S. Army Corps of Engineers.
Beck's previous assignments also include Director, Office of the Chief of Engineers, responsible for synchronizing Engineer Regiment priorities within Headquarters Department of Army. During his career, Beck served in command and staff positions in the United States, Germany, the Middle East, and Central Asia. His tours of duty with tactical units include the 19th Engineer Battalion; 130th Engineer Brigade; 36th Engineer Brigade; 1st Special Troops Battalion, 4th Infantry Division; and 2nd Special Troops Battalion, 4th Infantry Division. At the operational level, Beck served as the Chief of Engineer Plans for HQ, U.S. Central Command and also served as the Chief of Staff for the Maneuver Support Center of Excellence and Fort Leonard Wood, Missouri.
As part of the U.S. Army Corps of Engineers, Beck has served in the Huntington District as a Structural Design Engineer, Emergency Operations Officer, Civil Design Section Chief, Design Branch Deputy Chief, and Deputy District Commander. He also served as a Project Engineer with the Afghanistan Area Office and as the Commander of the Louisville District.
Beck received his commission from the U.S. Military Academy at West Point in 1993 graduating with a bachelor's degree in Civil Engineering. He holds master's degrees from the University of Missouri for Science and Technology in Engineering Management; from the University of Illinois Urbana-Champaign in Structural Engineering; and from the U.S. Air Force War College in Strategic Studies.
His awards and decorations include the Silver Star Medal, Legion of Merit, Bronze Star Medal, Defense Meritorious Service Medal, Meritorious Service Medal, Army Commendation Medal, and Army Achievement Medal. He is also authorized to wear the Combat Action Badge, the Air Assault Badge, Parachutist Badge, and Army Service Identification Badge. Beck is a Registered Professional Engineer (West Virginia) and a certified Project Management Professional.
Agenda
March 10
11:00 AM - 11:45 AM

Registration & Networking

11:45 AM - 12:10 PM

Lunch

12:10 PM - 1:00 PM

Speaker & Q&A
For More Information: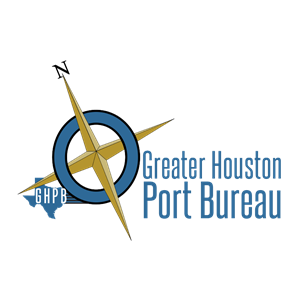 Port Bureau Events
Greater Houston Port Bureau
(713)678-4300
Thank You to Our Sponsors!
Annual Table Sponsors

March Table Sponsors