Barbara Fratila and Kim Kincannon Sworn-In as Port Commissioners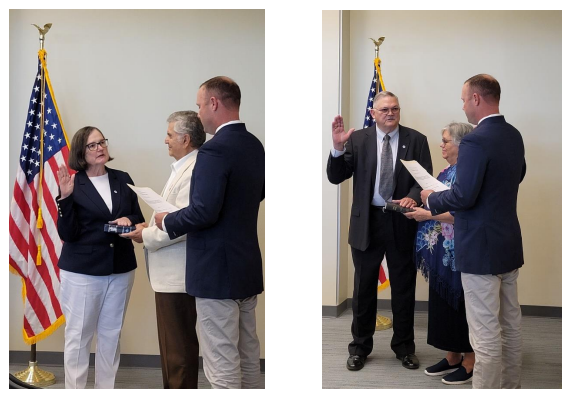 Accompanied by their spouses, Barbara Fratila and Kim
Kincannon are sworn in as commissioners by Judge Justin R. Gilbert.
Barbara Fratila and Kim Kincannon were sworn in as the newly elected Port Freeport Commissioners, during a ceremony attended by family and friends on June 1. Brazoria County 412th District Court Judge Justin R. Gilbert conducted the swearing-in of Fratila and Kincannon. Commissioner Fratila, elected to Position 2, Precinct 1, and Commissioner Kincannon, elected to Position 1, Pct. 1- at large, will serve a 6-year term.
Commissioner Fratila is a resident of Lake Jackson, Texas, and came to the Brazosport area in 1982. Commissioner Fratila is an attorney who currently works at the Furey Law Firm. She previously served as an assistant general counsel at the Port of Houston Authority, working with all divisions with major concentration in engineering and real estate contract matters. Commissioner Fratila currently serves as president of the board of directors of the Community Foundation of Brazoria County and is on the board of directors of Habitat for Humanity of Southern Brazoria County.
Commissioner Kincannon is a long-time resident of West Columbia, Texas. A Texas A&M graduate with a civil engineering degree, he retired in 2020 after working at The Dow Chemical Company for 46 years. His expertise is in structures, foundations, drainage and water supply. Commissioner Kincannon has been actively engaged in the community with a wide range of civic and community activities including Columbia Brazoria ISD Board of Trustees, multiple youth sports programs, and the Brazoria County Texas A&M Club Scholarship Committee.
The Port Freeport Board of Commissioners is comprised of six members elected by the voters of the Port Freeport Navigation District to serve in staggered, six-year terms.
"The Port Commission extends their congratulations to both Commissioners Fratila and Kincannon. It is also a historic moment with Commissioner Fratila being the first women elected to the Port Commission in the port's near 100-year history. We look forward to working together to develop and support sustainable strategies that will continue attracting economic investment and job creation to the Port and the region," said Ravi Singhania, chairman of the Port Freeport Commission.