Port Freeport, McCarthy Building Celebrate Berth 8 Ribbon Cutting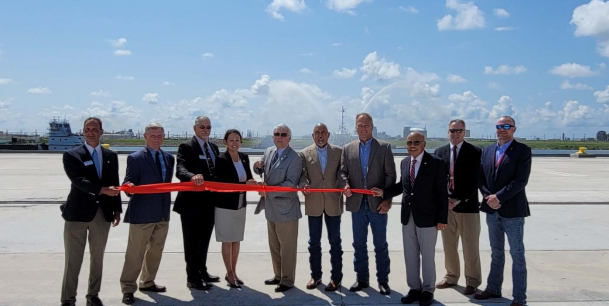 Representatives from Port Freeport Commission, executive staff, McCarthy Building Company, and Moffatt and Nichol cut the ribbon to officially announce the completion of Berth 8 Construction Project. Photo courtesy of Port Freeport.
On May 30, Port Freeport and their guests joined together for a ribbon cutting ceremony marking the completion of the Berth 8 Construction Project.
On November 14, 2019, the Port Freeport Commissioners approved a construction contract with McCarthy Building Companies, Inc., for the expansion of Velasco Container Terminal. The expansion project includes the construction of a multipurpose Berth 8, a 927-foot linear extension to the existing 800-foot Berth 7 plus an 85-foot Roll-on Roll-off ("RORO") platform. On May 12, 2023, McCarthy submitted its notice of substantial completion to Port Freeport marking the end of the three-year $146 million project.
"Port Freeport is excited to commemorate the completion of the Velasco Container Terminal expansion project and announce the new berth is ready to receive vessels," said Phyllis Saathoff, executive director/CEO. "The deepening of the Freeport Harbor Channel and the addition of this berth, puts the Port in position to receive the larger deeper-draft vessels in service today and propel the growth of commerce for existing and future customers."
Berth 8 has a depth of 51 feet and will accommodate additional post-Panamax gantry cranes capable of serving the larger container vessels transiting the expanded Panama Canal. The 85-foot RORO platform at the end of Berth 8 will allow opportunities for further growth in the RORO segment and serve finished vehicles, high and heavy and breakbulk operations.
"I've served as Port Commissioner for two terms, and during my tenure, the Port Commission has made decisions to dutifully grow the port through investments in infrastructure. The Port remains committed to advancing key strategic initiatives that will keep pace with the growth at Port Freeport and continue bringing more jobs and economic prosperity to our community." said Port Freeport Chairman John Hoss.