Port of Harlingen Sets Another Record Year in Shipping Tonnage
Date posted
November 8, 2021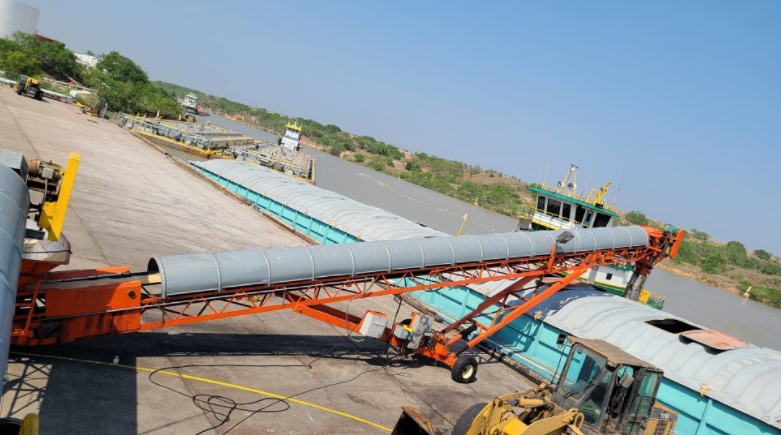 The Port of Harlingen reported a 29% increase in total tonnage for fiscal year 20-21 with 3,013,124 tons of cargo shipped in and out of the port. Located 25 miles inland of the Gulf Intracoastal Water Way, the Port of Harlingen has accelerated its viability as a competitive hub for transportation in the region.
Since 2017, the Port of Harlingen has experienced a 112% growth in the volume of cargo moving through the port. Making the largest impact to growth this fiscal year are the distribution of petroleum products going to Mexico and within the region and an increase in agricultural fertilizer.
"Fuel constitutes a major portion of our total tonnage and has made a significant impact on the Port's growth," Port Director Walker Smith said. "However, that growth is also making headway to allow us to diversify our capabilities of what we can bring into the area."
Federal support and funding for infrastructure weighs heavily on how much tonnage a Port moves annually, Smith said.
"The more goods a port has moving through it, the more likely we are to get assistance to improve infrastructure and grow," he said. "This means increasing our economic impact and not only improving our own capacity, but the entire regions. Having the ability to efficiently and affordably move goods in and out is a huge benefit when industries are looking for a new location to do business."
Along with refined petroleum products, The Port of Harlingen also transports aggregates; liquid fertilizer; dry fertilizer; agricultural products including grains, cotton, cottonseed and distiller's dried grains with solubles (DDGs); and raw sugar.
In February, the Port of Harlingen will celebrate 70 years in operation and 96 years since its creation as the Arroyo Colorado Navigation District of Cameron and Willacy Counties ("ACND"). Growing from one dock and warehouse, to a more than 2,000-acre footprint connecting the area to thousands of miles of inland waterways including the Mississippi River, the Gulf Intracoastal Waterway, and the Atlantic Intracoastal Waterway.
"For almost 70 years, we have worked to improve shipping capabilities to our region providing benefits to ensure our local, regional and state's economical sustainability," Board of Commission Chair Alan Johnson said. "There are many generations of members of our community we need to thank for having the foresight to see what having a water port would mean for Harlingen and its surrounding area."