Port of Harlingen Welcomes New Commissioners
Date posted
November 16, 2021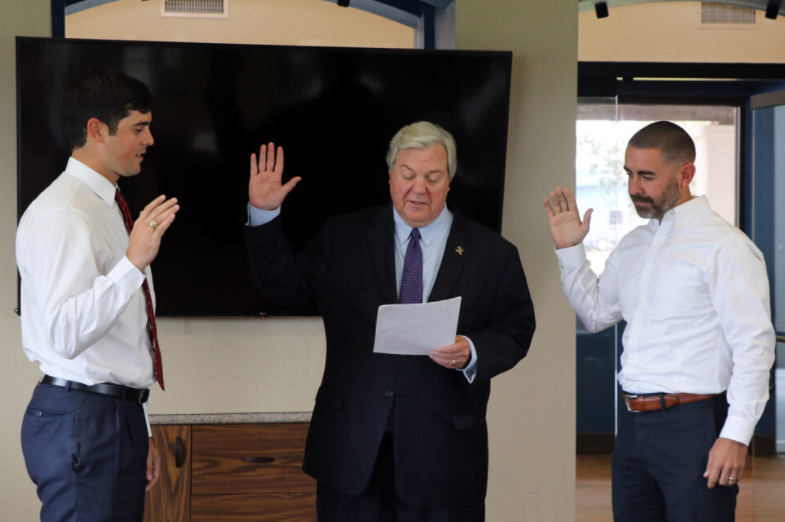 Two new commissioners were sworn in as part of the Port of Harlingen Authority Commission, Thursday, Nov. 10, during the regular commission meeting. Ryan Newman and Chris Villarreal fill two new seats created as part of Senate Bill 635, which was signed into law May 2021. Along with expanding community representation from three to five commissioners, the bill also gave the Port the autonomy to set, approve and levy an ad valorem tax rate.
"I am excited about being a part of an organization where every member of the Commission loves Harlingen, cares about our community, and is focused on the greater good with no personal agendas," Newman said. "Growing up in Harlingen, I have always been aware of the Port of Harlingen, but not the day-to-day operations or the amount of growth it's had. Over the past few years, as I have driven by, it has been obvious that something exciting was happening there. That led me to seek nomination for the vacant port commissioner position."
Since 2017, the Port has experienced a 112% increase in the volume of cargo moving over through its facilities and a 29% increase from FY19-20 to FY20-21, breaking the 3 million tons mark. The port facilitates trade of dry and liquid cargo including petroleum, sugar, fertilizer, aggregates, and agricultural products. Villarreal said his work will be to take the port from a billion dollars in economic activity to the next level.
"Working as a banker has allowed me to witness firsthand the economic impact that the port has on the Valley," Villarreal said. "As a Commissioner, I will be stepping into a situation with established leadership and a clear plan. I will learn from those who came before me and lend my professional experience wherever possible and I look forward to the opportunity, the future challenges, and the success coming to the port."
Both Newman and Villarreal ran unopposed for the new seats. As per the new legislation, Newman and Villarreal hold places four and five. All though all seats serve four-year terms, the incumbent three commissioners will draw lots to assign them to places one through three and determine which two commissioners will serve a term expiring Dec. 1, 2023 and, which one will serve a term expiring Dec. 1, 2025. Corresponding elections will be held November 2023 and 2025. Place assignments will be determined at the next regular commission meeting, Thursday, Nov. 18.
In addition to the new commissioners, the current commission includes Alan Johnson, Chair; Bryan Duffy, Secretary; and Neil Haman.
"As the port grows, so does the importance of accountability to our stakeholders," Johnson said. "As representatives of the community, we bring the perspective of those investing in the port, the taxpayers. The experience and background these two gentlemen have will bring a wealth of knowledge and add even more credibility to the vision of what the Port of Harlingen can become."
"More representation by the community is always a great opportunity," Port Director Walker Smith said. "Both the new commissioners are from the area and have Harlingen's community and business interests at heart. We are looking forward to the voice and viewpoints they will bring to the Port of Harlingen."
The Port of Harlingen Commissioners meet at noon, the first and third Thursday of each month at the administrative office. For more information on meeting schedule, or agendas, visit portofharlingen.com/port_commission/.
BACKGROUND:
Chris Villarreal: A Harlingen native, after graduating from Harlingen High School, Villarreal earned his degree in Construction Science from Texas A&M. After several years of managing large scale construction projects, an opportunity arose in banking. In 2018 I moved back home to Harlingen to begin a new career as a Lender with Texas Regional. He is active in the community serving as a member of the Rotary Club of Harlingen.
Ryan Newman: Originally from Paducah, KY, Newman moved to Harlingen when he was 8 years old and graduated from Harlingen South High School in 1994. He went on to earn a Bachelor's in Business Administration from Hardin Simmons University in Abilene in 1998. After which, he moved back to Harlingen and has been in the insurance business for the past 22 years. Currently, he is the area sr. vice president for Gallagher, a global insurance, risk management and consulting service company. Over the last 20 years he has served on numerous boards including:
Boys and Girl Club of Harlingen Board (2011 to present) – Current Chairman
Past board member of Valley Baptist Health Systems Investment Holdings Board and Audit and Compliance Committee
Past Board Member and Past Chairman of Harlingen Industrial Foundation
Past Board Member of Independent Insurance Agents of the RGV
Past member of Independent Insurance Agents of Texas Agency Management Advisory Council
Past Board member of the Algodon Club
Past Vestry Member and Sr. Warden of St. Albans Episcopal Church in Harlingen
He and his wife, Brooke, have two children, Nate and Adeline.