San Jacinto College Recognized for Building a Talent Strong Texas
Date posted
December 19, 2022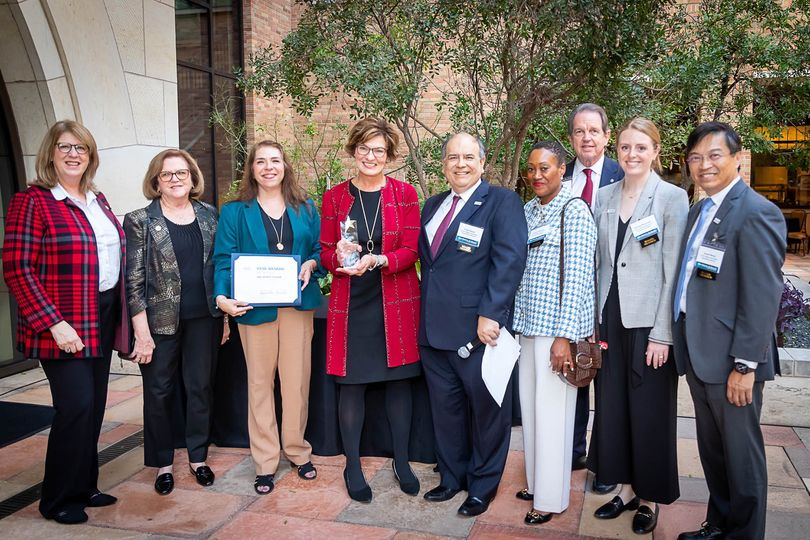 Photo courtesy of San Jacinto College.
The Texas Higher Education Coordinating Board recognized San Jacinto College as one of five institutions to receive the state's Star Award for helping to Build a Talent Strong Texas.
The institutions selected for this year's award demonstrated a focus in one or more of the following categories:
Increasing attainment of postsecondary credentials for adult learners by expanding work-based learning programs and a broader array of short-term credentials or badges.
Streamlining academic and career pathways for students through innovative courses and program redesign and enhanced support services that lead to increased credentials of value and allow for upward social mobility and address state workforce needs.
Increasing opportunity and affordability through strategic uses of financial aid programs and making the cost of postsecondary education more transparent.
Aligning applied research and development efforts with state economic and workforce development priorities, particularly in fields with high current or projected demand.
"We are honored to be recognized by the Texas Higher Education Coordinating Board with this award," said Shelley Rinehart, assistant vice chancellor for instructional support and program efficacy. "San Jacinto College is committed to working with our industry partners to ensure they have the skilled workforce that is critical to the region and state's economy. Our industry partners server a vital role in shaping our workforce curriculum, work-based learning and experiences, and our facilities. We are thankful to those partners for all they do for San Jac students."
Over the last year, San Jacinto College has worked closely with partners in aerospace, maritime, and petrochemical, while helping students complete their credentials in less than 12 months. The Fast Track program focused on 22 credit and continuing education programs that could be completed in six to 12 months, putting students on a track to making a livable wage. San Jac was able to use money from its allotment of the Higher Education Emergency Relief Fund (HEERF) to provide more than $2.2 million to 1,250 students who are now earning meaningful credentials in both credit and continuing education programs.
"Identifying these fast track programs and students who qualified for funding was important because we know that students often don't have the means to pay for their credential," added Rinehart. "The HEERF funds were an important part of the success we have had in supporting our industry partners workforce needs."
San Jacinto College also used funds from the Governor's Emergency Education Relief Fund, along with additional HEERF money, to help students who already had college credit complete their credential. Dubbed the Finish Line scholarship, eligible students received $2,500 to complete their credential in one of 40 credit programs. Nearly 800 students were able to complete their credential in areas such as teaching, welding, nursing, health information-medical billing, and computer information technology.
"The Star Awards have a long history of recognizing innovation and excellence in Texas higher education across our great state," said Dr. Fred Farias, chairman of the Texas Higher Education Coordinating Board. "I am inspired by this year's winning institutions and their extraordinary efforts and commitment to Building a Talent Strong Texas."
This year's awardees are:
Amarillo College for its corequisite program and reform of developmental education
Del Mar College for its continuing education programs
San Jacinto College for its work-based learning programs
The University of Houston for its "Scholar Enrichment Program"
The University of Texas at Arlington for its "eLearning Transformational Model Program"