Suderman & Young Towing Company Relocating Headquarters to East River
Date posted
March 21, 2023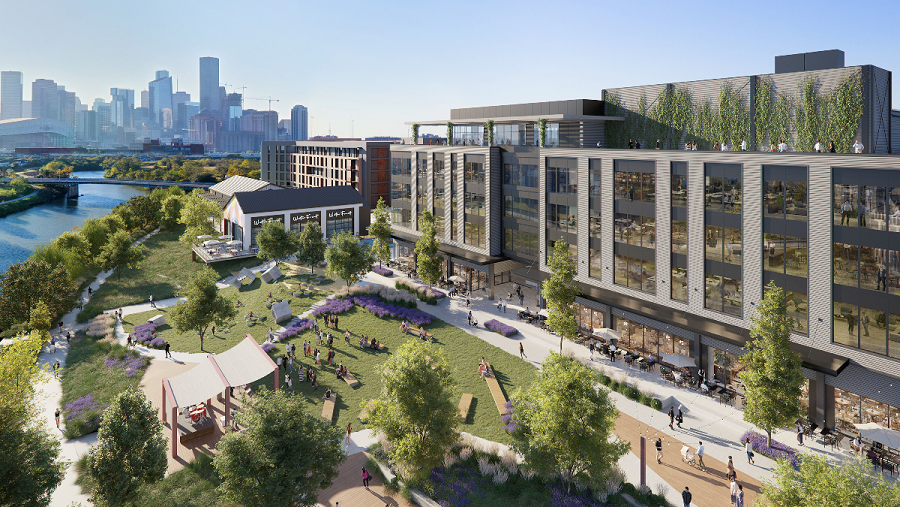 Image courtesy of Midway | Suderman & Young Towing Co.
Suderman & Young Towing Company has leased approximately 6,000 square feet in East River's Trail Head 1 (Building F) office building, adjacent to the project's bayou-side greenspace with stunning views of downtown Houston.
"We are thrilled that Suderman & Young has chosen to office at East River, and we look forward to welcoming their employees to experience the dynamic and amenity-rich work environment we have curated," said Anna Deans, vice president of investment and development for Midway, the East River development firm. "We are right on target for debuting this transformational project in the fall as we close out building construction and move into the next stage of tenant buildouts" she added.
Founded in the late nineteenth century in Galveston, Texas, Suderman & Young Towing Company has provided professional towing and ship assist services to all types of vessels in Texas Gulf ports for over a century. Headquartered in Houston, the company's tug fleet is strategically located in the ports of Houston, Galveston, Texas City, Freeport and Corpus Christi. Its full range of tug services include ship docking, undocking and harbor assistance; vessel escort; rig and special projects; and LNG terminal vessel assistance. Suderman & Young's diverse tug fleet, which includes Z-Tech tractor tugs, can handle any vessel size. All tugs are ISM and AWO RCP certified.
"We are very excited to relocate our headquarters to East River on a very historical section of Buffalo Bayou. With all the great amenities offered here, we look forward to moving into our new space and hosting customers and others at this fantastic development," said Kirk Jackson, president of Suderman & Young.
Construction Update
As leasing momentum continues, Midway has completed building construction on three retail/office components East River's first phase. Two office buildings (Building F and Building C), which both feature retail space on the ground floor, are now complete, as is the retail component of The Laura multifamily community. Tenants are beginning to build out their spaces, with the majority slated for completion prior to the mixed-use development's fall 2023 opening.
In total, Phase 1 of East River will offer 300,000 square feet of leasable office space designed to fit a wide variety of business needs; three 10,000 square-foot independent office structures dubbed The Studios at East River, which are currently under construction and geared towards businesses looking to own their own space; The Laura, a five-story, modern-industrial multifamily community of 360 apartment homes; and an additional 100,000 square feet of retail at the ground floor of the office buildings, district garage, and bayou restaurant pavilions that will fuse commerce and culture with restaurant, hospitality, retail, medical, and entertainment forming spaces.