Crowe Again Named One of Fortune 100 Best Companies to Work For in 2023
Date posted
April 24, 2023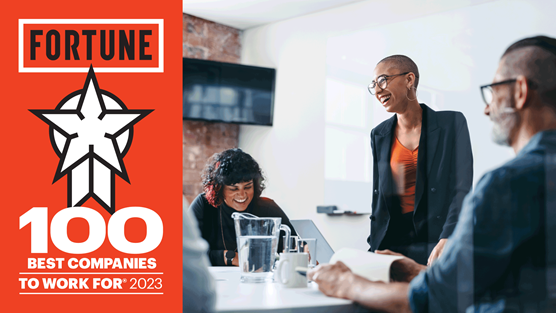 Firm Ranks Above Benchmarks in Justice, Community and Leadership Behavior
Crowe LLP, a public accounting, consulting and technology firm in the U.S. with offices around the world, has once again earned a spot on the Fortune 100 Best Companies to Work For list. This is the firm's fifth appearance on the premiere best workplaces list, based on an analysis of survey responses from more than half a million U.S. employees at Great Place to Work Certified™ organizations.
"We take tremendous pride in this recognition because it is directly linked to how our employees feel about our firm. At Crowe, everyone plays a role in fostering and living by our strong, values-based culture," said Crowe CEO Mark Baer. "Appearing on this list reaffirms that our employees feel valued, trusted and supported both as human beings and in their careers."
Companies were selected for the Fortune 100 Best Companies to Work For list based on their ability to offer a great workplace and positive experience for all employees – regardless of job role, race, gender, sexual orientation, work status or other demographic identifiers. Crowe ranked at or above the list's benchmarks for almost all of the survey's focus areas.
"Since joining Crowe a year ago, I've been able to see and feel firsthand how Crowe is different from other organizations," said Crowe chief people officer Katie Hamada. "We're focused on creating more than just a workplace for our people, but also a destination for a meaningful and rewarding life and career."
Focusing on diversity, equity and inclusion ("DE&I")
"Justice" was the firm's highest scoring focus area, defined as, "the extent to which employees perceive that management promotes inclusive behavior, avoids discrimination and is committed to ensuring fair appeals." DE&I is an essential part of Crowe's strategy to engage, motivate and help its people grow in their careers. The company's business resource groups underline the importance of allyship and help establish connections between colleagues with diverse backgrounds. Holding itself accountable, Crowe published its first transparency report last year – outlining concrete goals to continue fostering a diverse and inclusive environment.
Committing to well-being
The firm defines well-being as physical, mental and financial health – as well as an individual's relationships and connections to others and to their communities. Benefits and programs at Crowe that support recognition, physical and mental health, financial growth and career stewardship continually evolve with employee feedback, allowing individuals to thrive, personally and professionally. A few significant data points gleaned from Crowe employee responses to the Great Place to Work survey:
91% of respondents said they are able to take time off from work when they feel it's necessary.
Regarding professional growth, 90% said they're offered training or development to further themselves.
Driving shared purpose and values
The culture at Crowe is centered around working together toward sustainable impact – living the firm's values and purpose, to shape a better tomorrow for its people, clients and communities. Crowe's foundation is built on trust – trusting its people to deliver high-quality work while providing flexibility in where and how they do it, well before industry standards or the pandemic normalized the approach. When surveyed, 91% of Crowe respondents said they felt good about the ways Crowe contributes to the com
munity, and 90% said firm leadership fully embodies the best characteristics of the company – a statistic that has risen year over year." While making this list is a great accomplishment for our firm and our people, we will never stop pursuing improvement," said Baer. "We will continue to take the time to listen, really listen, and learn from our people because it is so critical to the success of our firm. We have a culture with a listen-and-learn mindset and focus on inclusiveness in every sense of the word."