March Commerce Club Featuring Vincent DiCosimo, Targa Resources
Expanding the Most Important Transportation Artery in the World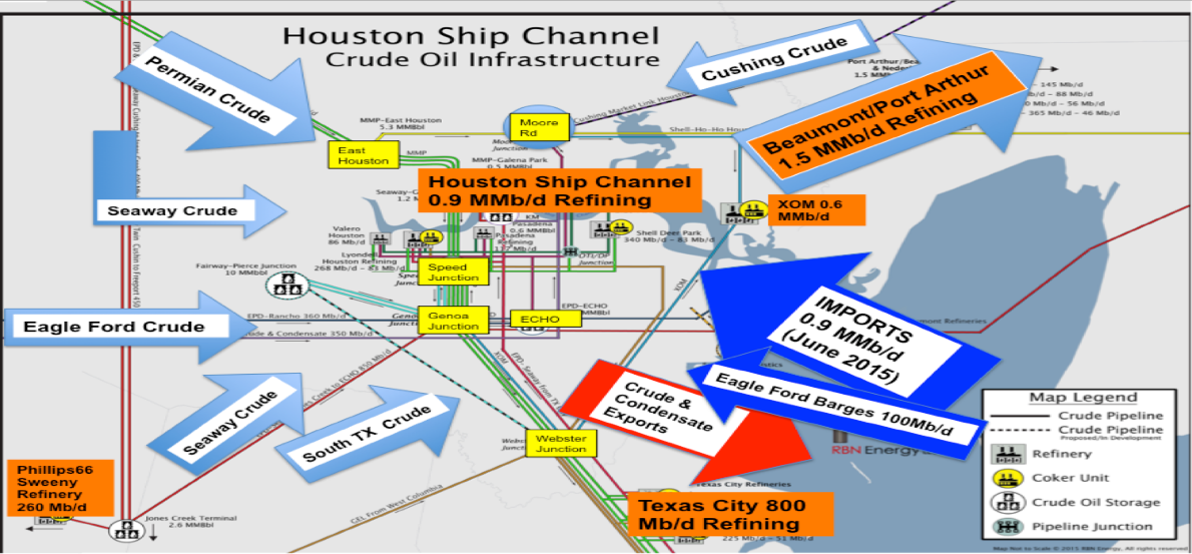 "It's one of the most important things we can be doing in Houston, Harris County, the state of Texas, and frankly, in the United States," said Vincent DiCosimo as he opened his presentation on the importance of expanding the Houston Ship Channel at the Port Bureau's virtual Commerce Club webinar on March 11. DiCosimo is senior vice-president of petroleum logistics at Targa Resources.
"I am not an expert but want to tell you why I'm involved and why we need to help expedite in making the Houston Ship Channel safer and more efficient," he explained.
Rebounding in a COVID-19 Commodity Environment
To fully demonstrated the importance of deepening/widening the Houston Ship Channel (also referred to as Project 11), DiCosimo looked back over the last year, pointing out that despite dire predictions, vessel activity in Houston was only off by 4%, a number less than anticipated. Examining just the crude oil and LPG commodity category, DiCosimo stated that 2019 numbers will likely be surpassed by the end of 2021.
"The forecast now is for us to reach over 100 million barrels of demand – which is where we were in 2019 – by August," DiCosimo said. He also briefly reviewed crude exports, resins exports, container imports and exports, and propane exports as well as energy demand globally, pointing out that this business relies on the port region.
"There is no other port like Houston. There is no other port almost in the world that has the infrastructure that we have for industry and manufacturing, for imports, and for exports," stated DiCosimo unequivocally.
Channel Improvements are Critical
The number and size of vessels continue to grow. This includes not only container ships but also LPGs and crude carriers. Like the larger container ships, LPGs will require a deeper/wider channel.
"LPG ships are important in lowering greenhouse gases," DiCosimo noted. "They help provide fuel for warmth for over three billion people per day." He also noted that crude and petroleum products rank at the top of exports by value for Texas, accounting for 17.5% of the state's total exports.
The public and private terminals of the greater port of Houston drive economic impact across the region as well as the United States. As the port is first in international trade, first in project cargo, first in steel, and first in the Gulf as a container port, Houston Ship Channel improvement are essential for preserving and growing this vital market share.
Expediting the Expansion Project
"Port Houston has done a great job of preparing to bring in larger ships," said DiCosimo, highlighting such improvements Port Houston's $35 million investment in cranes that can handle a vessel up to 18,00 TEUs in capacity. "But the narrowness of the Houston Ship Channel and 45-foot water depth limits Houston to mostly handling ships of 6,000 to 8,000 TEU capacity."
DiCosimo emphasized the value of the Project 11 expansion project for all of industry stakeholders, advocating an expedited timeline for completion. To accelerate completion to within five years, a "Locally Preferred Plan" (LPP) must be set in place. The LPP necessitates additional funding. "It takes all of us to move forward," DiCosimo said. "I remind you the Houston Ship Channel has over 18,000-plus transits a year. That's inbound and outbound."
A wider and deeper Ship Channel is a safer waterway. In addition, expansion will reduce idle times, saving money, emissions, and fuel. It also protects market share and provides national security as a gateway to the world.
"Chairman Campo and the Port have put in a tremendous amount of time to make this a better channel and an environmentally-better channel. My hat's off to them," he said. "We all live in the same world and want the same clean air and clean water." The cost of the LPP for expansion is $1 billion, with half of this cost requiring additional funding outside the Army Corp of Engineer's budget. An extended Q&A followed the presentation. The discussion included potential fees, maintenance, demurrage, and Army Corp procedures and requirements. "I appreciate everyone tuning in today. I say this to you with all sincerity. It is the singular most important project happening in the United States … It is the lifeblood, the main artery of economic growth of not just Houston, Texas, but of all the southeast and southwest region," concluded DiCosimo.
Watch the full presentation here.
---
Thank you to our sponsors:
Enterprise Products Partners • Kinder Morgan • Houston Marriott South • Houston Pilots • Intercontinental Terminals Company • Moran Shipping Agencies, Inc. • Regions Bank • Targa Resources • West Gulf Maritime Association