NYK Group Begins Regular Service to Port Freeport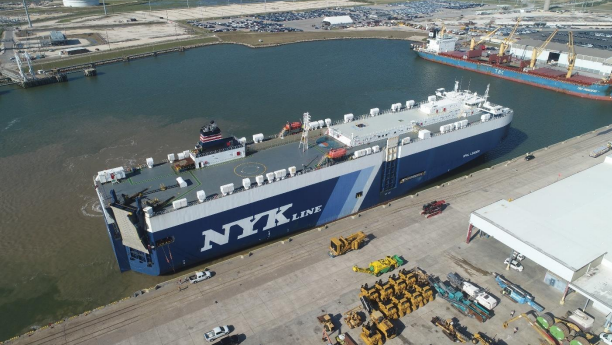 NYK Line's Opal Leader docked at Port Freeport. Photo courtesy of Port Freeport.
Port Freeport has announced that NYK Line made its initial port call to Port Freeport signifying the start of regular service to the port. Headquartered in Tokyo, Japan, NYK Line is a market leader in Roll On / Roll Off ("RoRo") shipping and vehicle logistics, managing the distribution of cars, trucks, rolling equipment and breakbulk cargoes.
"We are excited to welcome NYK Line to Port Freeport and look forward to this new partnership," said Phyllis Saathoff, executive director and CEO. "The Port's proximity and efficiency to regional and global markets combined with room for expansion makes Port Freeport a strategic hub for vehicle imports and exports."
As the world's largest RoRo shipping Line, NYK has an extensive global network and operating the largest Roll On / Roll Off fleet worldwide. With more than 136 years shipping experience, NYK is trusted to safely carry more than 3 million cars to destinations across the globe every year.
NYK Lines' Opal Leader made its initial voyage to Freeport on Saturday, April 23, and discharged OEM vehicle units and high & heavy cargo. The service will call foreign ports in Mexico, Panama, Colombia and Brazil and will call Port Freeport monthly.
We are honored that NYK Line has chosen Port Freeport as its home for its U.S. Gulf operations," said John Hoss, Port Freeport's commission chairman. "This new RoRo service means more good-paying jobs for the men and women in our local community."
Port Freeport is a leading port in the export of crude oil and natural gas liquids and ranked 6th in chemicals, 11th in foreign waterborne tonnage, and 26th in containers.