Sánchez Shares Cryptocurrency Impact on Global Market at Commerce Club
Date posted
February 21, 2022
February 2022 Commerce Club Featuring Manolo Sánchez, Adjunct Professor, Jones Graduate School of Business, Rice University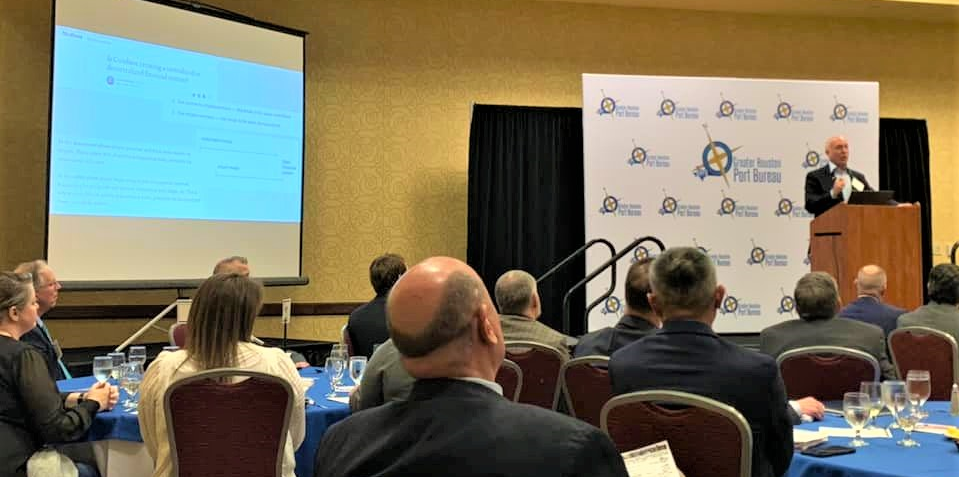 Manolo Sánchez, an adjunct professor at Rice University's Jones Graduate School of Business, presented "How Cryptocurrencies Revolutionize Money and Rearchitect Trust Systems in our Society" to guests at the February 10 Commerce Club. The event was hosted at the Houston Marriott South at Hobby Airport.
Sánchez discussed the events leading to the birth of Bitcoin as a concept and the spreading influence of cryptocurrencies in today's global marketplace. His presentation included a lively Q&A. The subject is also informatively recapped in more detail in the guest article he authored for the Port Bureau in this month's magazine. Click here to read the article on our website.
A director at Fannie Mae, Stewart Information Systems, and BanCoppel (Mexico) after having served as chairman and CEO of BBVA Compass for 10 years, Sánchez teaches disruption in financial services with a focus on cryptocurrencies and blockchain at the Jones Graduate School of Business. He is also an advisor to several fintech and blockchain start-ups, including SpringLabs (blockchain-based credit and identity data), Securitize (blockchain digital securities platform), and Topl (supply blockchain focused on ethical and sustainable practices).
Thank you to our Commerce Club sponsors!
Annual Table sponsors:
Callan Marine • Enterprise Products Partners • Kinder Morgan • Houston Pilots • Intercontinental Terminals Company • Moran Shipping Agencies, Inc. • Regions Bank • Targa Resources • Vopak • West Gulf Maritime Association
February Table sponsors:
Blades International • Houston Mooring • P.M.I. Norteamerica