Women in Maritime Happy Hour
Date posted
April 28, 2023
Cruising on the Houston Ship Channel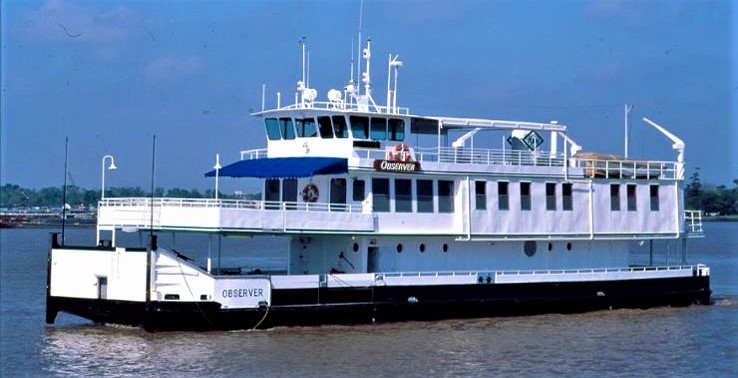 The Greater Houston Port Bureau's Women in Maritime Happy Hour on the Kirby's Observer boat took place on April 3 with a 100+ professional women attending.
Port Bureau board member and chair of the Outreach Committee, Sharon Beemer, Vopak, was the master of ceremony for the event and program.
VP-Project Management Office for Kirby Corporation, Taylor Dickerson, provided insight on working in the brownwater industry. Dickerson started her career in the maritime industry in 2008 with Kirby and served in many roles within logistics, sales, operations, maintenance, safety, finance, and most recently in special rojects. Today, she is responsibl for managing the
portfolio of executive level projects in environmental sustainability, technology advancement and innovation, mergers and acquisitions, corporate strategy, process improvement and efficiency, analytics, and more. She is also serves on three separate board of directors as: president of Texas Waterway Operators Association (TWOA), next president for Women in Maritime Operations Association, and vice president of Hiro Health Corporation.
Stephanie Cavaliere, Kirby Port Captain, gave the safety instructions as well talking about her career in maritime. After graduation in 2011, she joined Kirby Inland Marine as a MOTV in their steersman program and gained experience transiting the Mississippi River and the Intracoastal canal. She worked as a pilot and was promoted to relief captain after obtaining her Masters of Towing Vessels Upon Great Lakes, Inland Waters, and Western Rivers. Today her shoreside role as port captain is to manage a fleet of 12 vessels, oversee budgets, safety and compliance initiatives, crewing, and training, while maintaining important customer relationships and serving as vessel liaison for multiple customer contracts.
CDR Corrina Ott, U.S.Coast Guard Sector Houston-Galveston Sector, currently serves as the Chief of Prevention, Marine Transportation System at Sector Houston-Galveston. She discussed the Houston Ship Channel navigation and regulations. Ott oversees waterway management that includes Aids to Navigation, the Vessel Traffic Service, and waterfront facility inspections. A native Texan, she enlisted in the Coast Guard in 1997. She received her commission in 2004 and her assignments included the CGC Buttonwood out of San Francisco, Calif.; Marine Safety Office Boston, Sector Detroit, USCG Personnel Support Command, Marine Safety Unit Texas City.
The event concluded with a thank you to CAPT Bill Diehl, president of the Port Bureau and CAPT Jason Smith, port captain, U.S. Coast Guard Sector Houston-Galveston, for their support for the Women in Maritime. They both will be retiring from their roles in the next few months.
Thank you to our sponsors, Kirby Observer crew, and drawing sponsors: Haugen Consultants (1-day demurrage seminar), Houston Maritime Center (1 annual membership), and Riverside Seafood & Grill (gift card). Events like this are only possible with the support from our members to help educate and support diversity in maritime and logistics industry today and for our future generations.
For information about sponsorship for Women in Maritime Happy Hour, please email alavorgna@txgulf.org