2023 Maritime Leader of the Year: David Grzebinski
David Grzebinski, president and CEO of Kirby Corporation ("Kirby"), has been named the 2023 Maritime Leader of the Year. Grzebinski will be honored at the Port Bureau's Annual Maritime Dinner on August 26, 2023. The Port Bureau Board of Directors named Grzebinski as the 2023 honoree for his steadfast commitment to improving the greater Houston port region.
Grzebinski joined Kirby in 2010 and has served as president and CEO since 2014. His leadership has strengthened Kirby's commitment to its core values – Safety, People, Integrity, Excellence and Community.
Kirby is recognized for its guiding principle for safety: "No Harm to People, the Environment, and Equipment" and its robust environment, social, and governance ("ESG") efforts. Grzebinski is a Chartered Financial Analyst and holds a Master of Business Administration degree from Tulane University and a degree in chemical engineering from the University of South Florida. He serves on the boards of the Blue-Sky Maritime Coalition, Coast Guard Foundation, and American Bureau of Shipping.
What experiences and lessons played a vital role in getting you to where you are today?
I started my education at University of South Florida studying chemical engineering. I participated in a co-op program at Farmland Industries' fertilizer plant and the USF physical plant, where I began to write software to control the equipment and to monitor its performance.
After graduation, I took a position as process control engineer, writing computer programs to optimize the operation of a Dow Chemical facility in Plaquemine, Louisiana. The company and my colleagues provided an excellent learning environment for me as a young engineer. The level of responsibility they gave me as a young person helped me grow tremendously. The experience in a manufacturing environment also helped me gain a further appreciation for those men and women doing the hands-on work at a plant. As engineers, we are highly effective when we listen to the operators and the shift supervisors who are actually running the plant.
During the fourteen years I was at Dow, I had the opportunity to work in both Plaquemine and in Midland, Michigan. I moved back and forth a couple of times for different projects, including being involved in the startup of a new Dow-ExxonMobil joint venture facility making thermoplastic elastomers. I became interested in the business side of the chemical world and pursued an MBA at Tulane while managing one of the chemical plants in the Plaquemine complex. Dow was a wonderful place to work, with great people and a great safety culture.
What steered you into maritime transportation field and why?
After Dow, I worked in a series of executive-level positions at FMC Technologies before joining Kirby in 2010. Dow, FMC, and Kirby all had something in common: they were filled with people who were really hard-working and knew what they were doing. At Kirby, mariners and mechanics are the face of the organization. They interact daily with our customers and try to provide great customer service. They do so with a large fleet of boats and barges. Today, Kirby's inland tank barge fleet represents approximately 26% of the U.S. inland tank barge capacity, transporting petrochemicals, black oil, refined petroleum products and agricultural products. Kirby's inland fleet consists of 1,043 tank barges with 23.2 million barrels of capacity and 282 towboats. Being part of a large group of people that care deeply about the maritime industry and its entire eco-system has had a huge impact on me. I truly love this industry.
---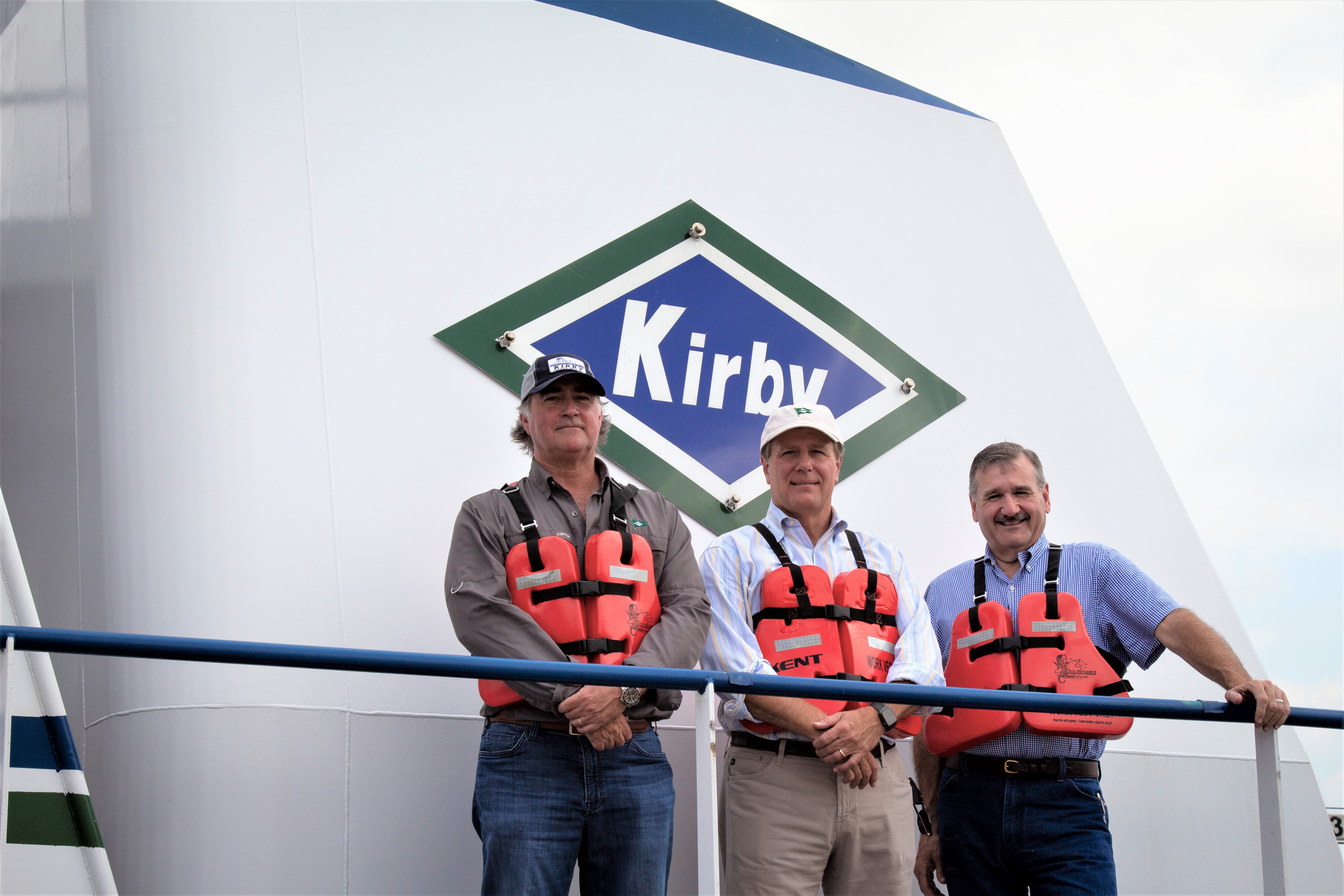 Christian O'Neil, marine group president; David Grzebinski, president and CEO; and Jim Guidry, executive VP of vessel operations. Photo courtesy of Kirby Corporation.
---
Safety is a core value of Kirby. How do Kirby's safety initiatives put people and the environment first?
Kirby is out front in challenging the status quo and pushing its operations to be the safest in the industry. We were one of the first one hundred service companies to receive an ISO registration in 1993. Our safety culture is deeply rooted in our overall business strategy and commitment to providing necessary resources, support and training toward ensuring each and every employee returns home safely at the end of their day or watch. Our safety initiatives are structured around an effort that puts people and the environment first.
We demonstrate our commitment by investing heavily in our people through safety training, monitoring workplaces, maintaining existing assets, building new equipment, and other programs that allow us to achieve a culture driven to the goal of zero incidents. It is Kirby's belief that every incident is preventable and with a combination of proper education, engineering, documentation, equipment, incentives, and monitoring, we can achieve new standards for safe operations. We tell our employees it is not their right to stop an unsafe operation, it is their duty. Every year, we recognize and celebrate employees who spoke up and stopped an unsafe practice. We want the fleet to know it is more than a slogan. We mean it. Nobody wants to tell a customer "No." But if it is a safety issue, our most junior employee can tell our most valued customer "No, stop this operation." What we have found is that our customers value this commitment as much as we do. Some of these employees have been recognized for their commitment to safety not only by us, but by the leadership of the very customers they said "No" to.
We continually strive to keep improving our safety efforts. We ensure that we have consistency within our business, regardless of where we operate, or the task being performed. Kirby's safety culture is reinforced by a mindset of thinking "safety first," as well as through active behavioral safety and risk assessments and active crew resource management. These practices provide a level of confidence and professionalism that ensures our ability to remain an effective, innovative, and safe service provider. This belief is shared by our management team and workforce and is engrained in every decision we make as an organization. We know that only a safe decision is a correct decision.
We also have the only company-owned inland marine training center that offers 16 U.S. Coast Guard approved courses that lead to mariner qualifications or licenses. Our goal is to provide in-house all the training a mariner needs from their first day at Kirby, right out of high school, through their retirement as a captain, engineer or whatever other career path they choose within the company. We do not just offer jobs, we offer careers. We are proud of our career ladder and think our combination of classroom, on-line and on-vessel training is the right foundation for a safe career in the maritime industry.
---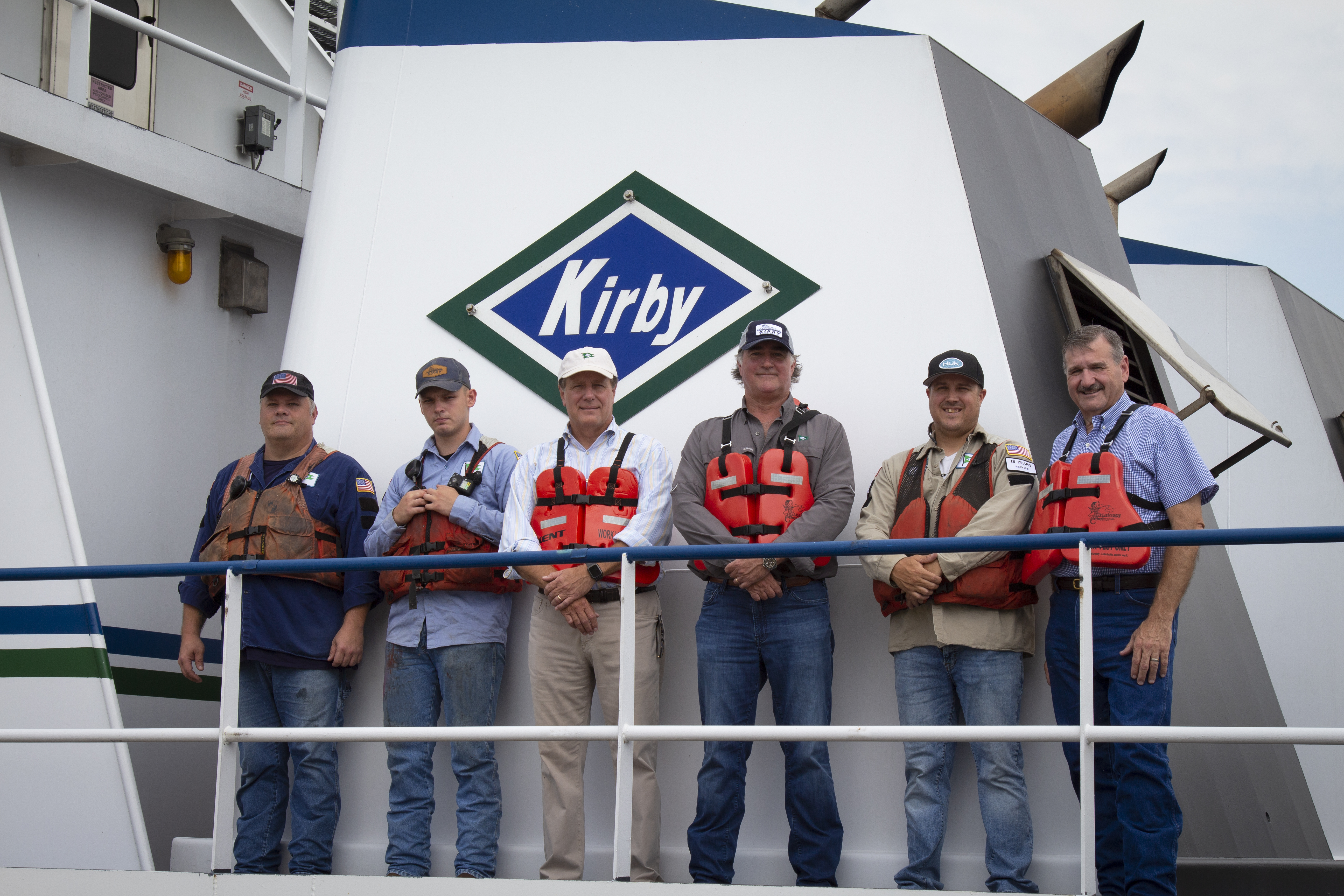 Davey Cheramie Jr., Ethen Perkins, David Grzebinski, Christian O'Neil, John Wheat, and Jim Guidry. Photo courtesy of Kirby Corporation.
---
You're a founding member and a director for Blue Sky Maritime Coalition supporting the transition to zero net GHG emissions. How is Kirby contributing?
I am a founding member and a director for Blue Sky Maritime Coalition that is supporting the transition to zero net Greenhouse Gas ("GHG") emissions. In 2020, Kirby met its 25% emissions reduction target early as the result of COVID-19 pandemic and the associated reduction in economic activity. Overall, Kirby emissions are expected to decline 25% per barrel of capacity by 2024. Our long-term target and decarbonization goal is a 40% reduction of emissions by 2040 – or roughly 160,000 metric tons of CO2. Also, Kirby will be the first inland marine transportation company to build, own and operate a plug-in diesel-electric hybrid push boat in the U.S. Its energy storage system will significantly reduce emissions and use up to 30-80% less diesel than a comparable conventional boat. We expect that vessel to begin service in August of this year, right here at the Port of Houston.
Our subsidiary, Kirby Offshore Wind, is working with Maersk Supply Service ("Maersk") to design and provide barge transportation services for offshore wind towers and turbines here in the United States. Maersk has been selected by Empire Offshore Wind, a joint venture between Equinor and BP, as the installation contractor for a project off the coast of New York. We are looking at investing in and operating two new U.S. built, American Bureau of Shipping ("ABS") classed, feeder barge and diesel-electric hybrid tugboat units. These units will be very efficient and could have the ability to substitute alternative fuels for diesel. Each feeder barge will have the capacity to transport next-generation turbines of 15 megawatt ("MW") and higher as turbine technology advances in the future.
Separately, but certainly not unrelated, Kirby is also engaged in the distribution and service of large engines, gears, generators and related equipment for marine, energy, transportation, and industrial uses. This also positions Kirby well to be a leader in the transition to zero net GHG emissions. We are at the forefront in efforts to electrify the hydraulic fracturing industry and provide a cleaner, more efficient, lower cost way to produce oil in the U.S.
What advice would you give to the younger generation?
Much is said these days about the pace of change in the world and while change is rampant, especially on the technology front, I think we must realize that the world has been on a course of rapid change for several generations. Our grandparents might have been born in a home with no electricity or running water at a time when horses provided transportation and airplanes were a dream, yet they lived to see a man on the moon and experience international jet travel. So, I think the next generation will adapt to change, like mine and others have. I think what remains constant is the need to focus on the fundamentals: integrity, work ethic, and finding a career you enjoy. You have to follow your passions and not be put into a box that is uncomfortable for you.
I wanted to go to college. I enjoyed it ,and it was a fit for me. Some prefer to work with their hands rather than put their head in a book. There is absolutely nothing wrong with that and Kirby is a prime example of a place where there are great careers for people with all sorts of interests, educational goals and work interests. You can come to us right out of high school and be making over $100,000 a year after just a few years of working on a boat and we will give you all the training you need to do that.
That said, you can also join Kirby direct from college, university, or a maritime school for many different roles including financial, commercial, engineering and a host of others. Many of our mechanics attend trade schools before coming to work for us. Some of our people have predictable schedules in office jobs and some have lots of travel and field work. Opportunities are out there. Follow your passions and find the position that fits for you.
You are married and have three children (Jacob, Sarah, Rebekah). What life legacy do you hope to leave them?
I am truly blessed to have a great life partner with Elizabeth, my wife of 36 years. She has been a rock and a guiding force for me and our children. What we fervently hope is our children remain grounded in their faith with high levels of integrity and a desire to do good things in the world.