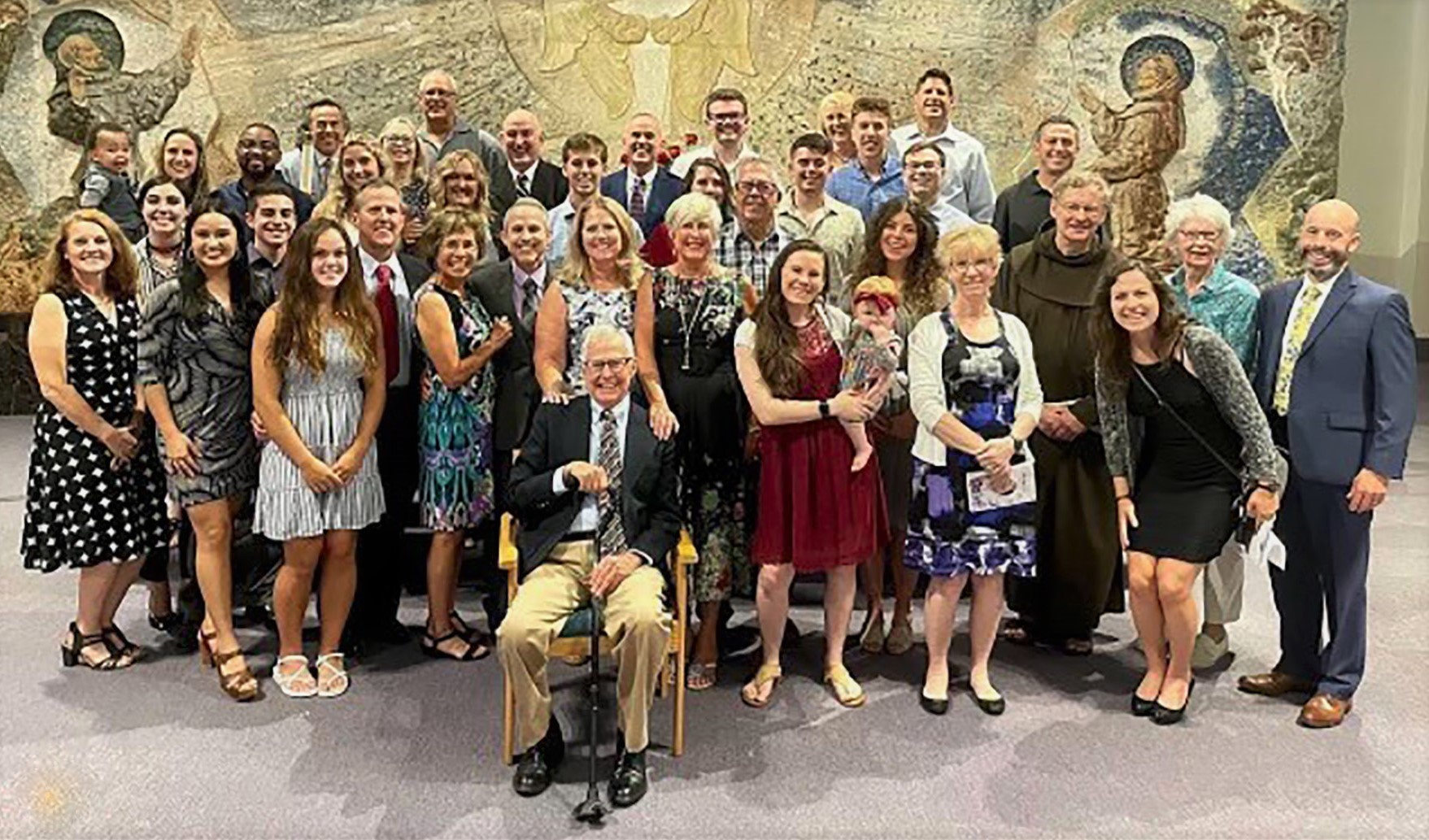 By CAPT Bill Diehl, GHPB President
My mom passed away last year at the age of 91. She had a long, complete life and died with no regrets, knowing that she was deeply loved. Since COVID had closed New York State at that time, we were not able to gather as a family until the end of June to hold a memorial mass. Our picture here shows the wake she and my dad will leave behind – 43 family members and growing!
Mom was feisty, patient, and full of adventure. By feisty, I mean she was a strong woman, tough and independent. Her candor was sometimes blunt but never unkind. But the attribute that I admire the most was her patience. I do not ever remember her complaining when life threw her curve balls, or in the daily grind of running that house of chaos with 9 rowdy kids. She encouraged us to get into the game of life, to do our best, but not to take it too seriously.
You may recall that I entered the Coast Guard the day after high school graduation. I was 17 and missed my family and friends. I tried to quit. She told me great adventure lay ahead for me, to stay patient, and be enthusiastic. Later, as I became more persistent in quitting, she and my dad convinced my younger brother, Bert, to join me by telling him that I was having a blast. She then told me again to be patient; when Bert arrives, it will get better. She was right, and we both had long careers in the Coast Guard.
In my Port 101 class in early June, we looked at the Suez and Panama canals. I spoke a lot about Ferdinand De Lesseps -- the Frenchman credited with building the Suez Canal and beginning work on the Panama Canal. He led a colorful, adventurous life that can be defined by these two great maritime canals. Noted for his energetic pursuits, Lesseps, too, believed great enthusiasm and patience were required to accomplish anything great in life.
In our port community, we stand at the crossroads of our own maritime adventures. The decisions we make today will have a tremendous impact on tomorrow. We know must innovate to meet demand and stay competitive, making numerous goals compete for our attention and our pocketbooks. Two on the list are worthy standouts: digitizing the port and Project 11.
Both are imperative projects for the future of our port. Both require investments of time and money – and show a bit of uncertainty as to the clearest path for the best ROI. Both have the potential to change the way we operate. Both will have a lasting impact on our region, our state, and even our nation. Both require the great patience and enthusiasm of De Lesseps.
Both may also require some of my mom's advice in that we all need to get into the game and try our best. Her comment about not taking it too seriously also plays a part here, as I believe she would advise us to seek fellowship and have fun in the adventure. Admittedly, it's counsel that might be easier said than done at times, but so helpful when hitting roadblocks in the journey.
To that end, I encourage you to bring your enthusiasm and your patience to the tasks at hand with the Port Bureau. They are qualities that keep us fueled for success, and teaming up together to carry a little "fun" into the process will make us a powerhouse for accomplishing our goals. Join us as we work to advance progress and bring more business to the port region. I assure you: great adventures lay ahead!
---