Ammonia in the Journey to a Net-Zero Future
April 2022 Commerce Club Featuring Nick Karim, General Manager, Vopak Moda Houston Terminal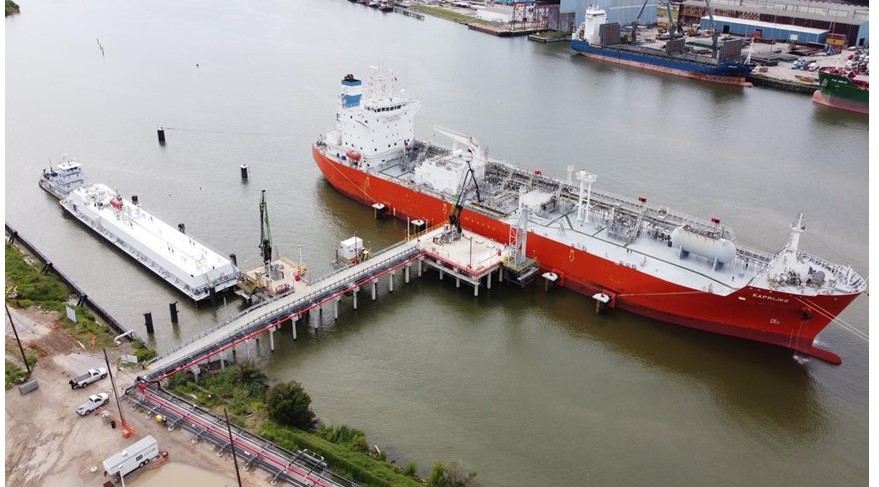 Photo courtesy of Vopak Moda Houston.
In the journey to reach net-zero emissions, Nick Karim, general manager of Vopak Moda Houston, is excited about ammonia. Because ammonia has three hydrogen atoms and one nitrogen atom and can flexibly be produced with conventional or renewable resources, Karim has shifted gears in his long career in the oil and gas industry to help develop ammonia's potential for a low-carbon future.
"Ammonia has no carbon in it, and there is no carbon dioxide when you burn it. Combustion-wise, it's not perfect, but there's no carbon there," Karim said as opened his talk at the Port Bureau's April 12 Commerce Club luncheon. "It's intriguing!"
Formed in 2016, Vopak Moda Houston is a joint venture between Royal Vopak and Moda Midstream. Strategically located in Houston's refining and petrochemical corridor and in close proximity to multiple ammonia, hydrogen and nitrogen pipelines, Vopak Moda Houston is the first greenfield terminal development in the port of Houston in more than a decade. It is the only waterborne ammonia terminal in the port of Houston with deepwater capabilities.
Ammonia is a potential hydrogen storage and carrier. Transporting ammonia is much safer when compared to transporting hydrogen by itself.
"My father would say to me 'hydrogen is a very slippery molecule'. It's true. It's very hard to keep hydrogen. We've transported ammonia by ship via VLGCs [Very Large Gas Carriers] for years. They transit the world, and they can arbitrage hydrogen region to region by moving ammonia."
It can be utilized for a wide range of applications, including fuel, working fluid, refrigerant, hydrogen carrier, fertilizer, feedstock, chemical, cleaning agent, and more. Ammonia is a strong candidate for fuel for engines, gas turbines, power generators, and burners – and the modifications needed for such engines are relatively small.
In breaking down the manufacturing cycle utilized in ammonia, Karim explained that it is typically formulated with hydrogen and nitrogen. It can be utilized for renewal energies with a no-carbon footprint, or it can be produced by using methane with a low-carbon footprint. Ammonia is categorized as colors based on the which type of manufacturing processed is utilized for its production. Of interest for renewables are green ammonia (manufactured via electrolysis) that has no carbon footprint and blue (manufactured via reforming or gasification) that has a low-carbon footprint.
Karim noted that numerous projects that include ammonia as an energy carrier have been announced. Some are under construction, with a final investment decision or feasibility studies completed.
"The port of Houston can be a low carbon fuel supplier to the world," said Karim. "We bring the ammonia in. We can burn it in our power or chemical plants in the region, or we can proffer it to others using ammonia for their hydrogen uses. We could also fuel ships."
In discussing the risks of utilizing ammonia as a fuel, Karim compared the warnings and precautions for ammonia and gasoline. "This is the mountain we'll have to climb for ammonia," explained Karim. "It has all the right combustions, but can we get past the health hazards?"
Karim compared the ideas to what initial discussions for using gasoline might have resembled when gasoline was first suggested for use in automobile engines. "If we can manage the risk of something as explosive as gasoline in everybody's car, can we do the same with ammonia?"
Karim concluded his presentation with a Q&A session. Topics included some of the requirements for transporting ammonia in LPG tanks, the economics of utilizing ammonia for renewables, and research underway for utilizing ammonia as a fuel.
Thank you to our Commerce Club sponsors!
Annual Table sponsors:
Callan Marine • Enterprise Products Partners • Kinder Morgan • Houston Pilots • Intercontinental Terminals Company • Moran Shipping Agencies, Inc. • Regions Bank • Targa Resources • Vopak • West Gulf Maritime Association
April Table sponsors: