The Tugboat, Towboat & Barge Industry: Relevant, Resilient and Ready for the Future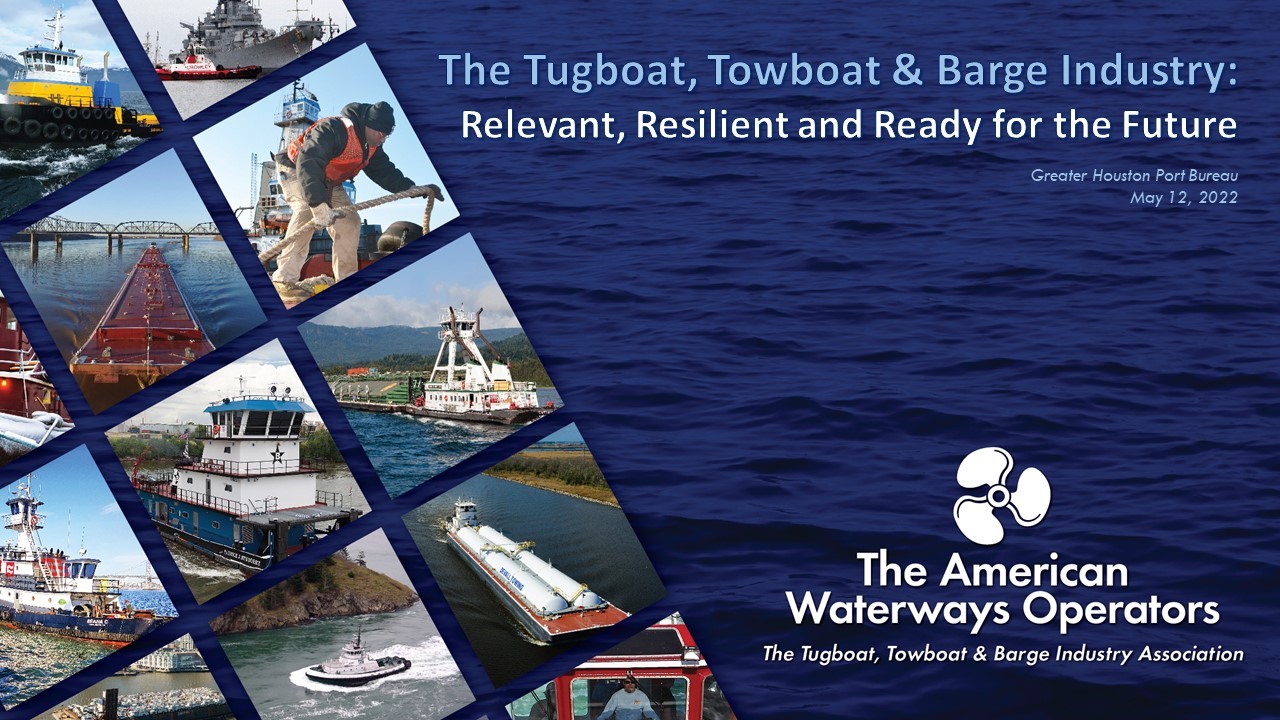 May 2022 Commerce Club Featuring Jennifer Carpenter, President & CEO, The American Waterways Operators
Jennifer Carpenter, president & CEO of The American Waterways Operators ("AWO"), was the featured speaker at the Port Bureau's May Commerce club luncheon. Carpenter highlighted the national importance, career appeal, and current challenges to the industry.
Introducing her presentation with a video from AWO to show the large array of vessels and mariners at work in the inland, coastal and harbor areas, Carpenter stressed the tugboat, towboat and barge industry is the largest segment of American maritime, moving nearly 700 million tons of cargo annually, is the greenest mode of freight transportation, and offers family-wage careers young people may pursue right out of high school.
Carpenter also emphasized the importance of Jones Act policies. She described present bi-partisan support for the Jones Act as "rock solid" but reminded attendees that representative positions change regularly. It is important to keep the messaging of how the Jones Act provides American jobs and secures the supply chain within the nation.
Speaking to current and future goals, Carpenter said the Infrastructure Act was "the most important legislature since the New Deal" and would play an important role in meeting of meeting the challenges to a carbon neutral reality. A truly optimized domestic maritime industry will reduce carbon emissions, enhance safety in freight movement, and continue to provide good paying jobs for Americans.
She urged prioritizing how to tell our story to diverse groups and not rest on any assumptions that people really know what the maritime industry does.
"I encourage each one of you to think of yourself as an advocate," said Carpenter.
Her presentation was followed by a Q& A session that included the topics of emissions, educating for the sharing of data, and barge/rail intersection.
Thank you to our Commerce Club sponsors!
Annual Table sponsors:
Callan Marine • Enterprise Products Partners • Kinder Morgan • Houston Pilots • Intercontinental Terminals Company • Moran Shipping Agencies, Inc. • Regions Bank • Targa Resources • Vopak • West Gulf Maritime Association
May Table sponsors:
Buffalo Marine Service, Inc. • Kirby Corporation • Pemex Deer Park • Shell