Auld Lang Syne
Date posted
April 28, 2023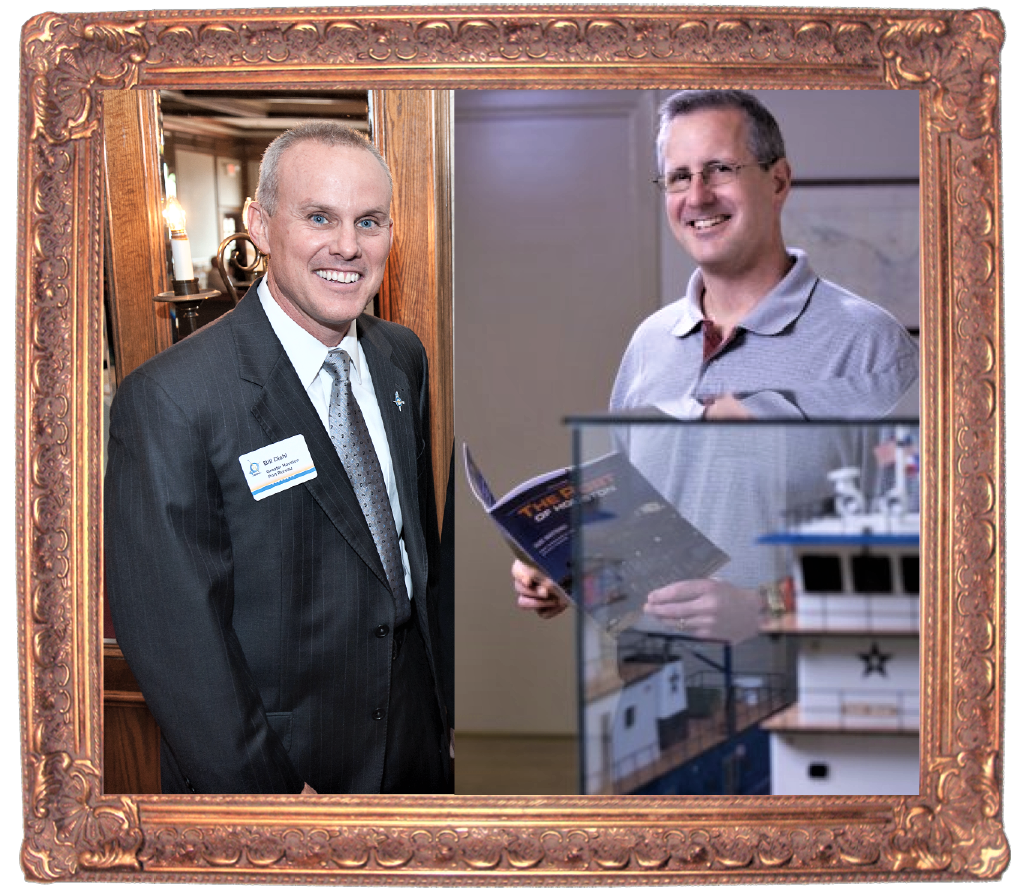 We two have paddled in the stream,
From morning sun till dine;
But seas between us broad have roared
Since long, long ago.
And there's a hand, my trusty friend!
And give us a hand of yours!
And we'll take a deep draught of good-will
For long, long ago.
A new year, a new quarter, a fresh start. The old has been displaced by the new and what has been matters no more - for the present is here. Scotland's national poet, Robert Burns, treasured the memories of what was in his famous poem Auld Lang Syne. Old Long Since or in the vernacular – Days Gone By – captures the memories of two old friends waxing nostalgically as they quaff a pint or two. They have run from hill to dale and seen many a setting sun whose gloam across the horizon has warmed a long and fruitful friendship. Their shared reminiscences tug the heart strings when one considers that the days ahead are far fewer than those that have flit for the two aged acquaintances.
The fading wakes of ships steaming to and from Texas ports were more numerous as the books closed on the year's first quarter. March, in particular, was a boon to all ports -save Galveston – where all but the state's cruise ship capital posted double-digit gains. An impressive accomplishment that pushed the aggregate deep draft vessel arrival statistics 1% higher than the prior year. Things were not as sanguine for the brownwater community given that 1% fewer tows transited into or across the Houston Ship Channel.
Ironically, Galveston, the only port that experienced a monthly wane, is head-and-shoulders above its sister ports on a year-to-date basis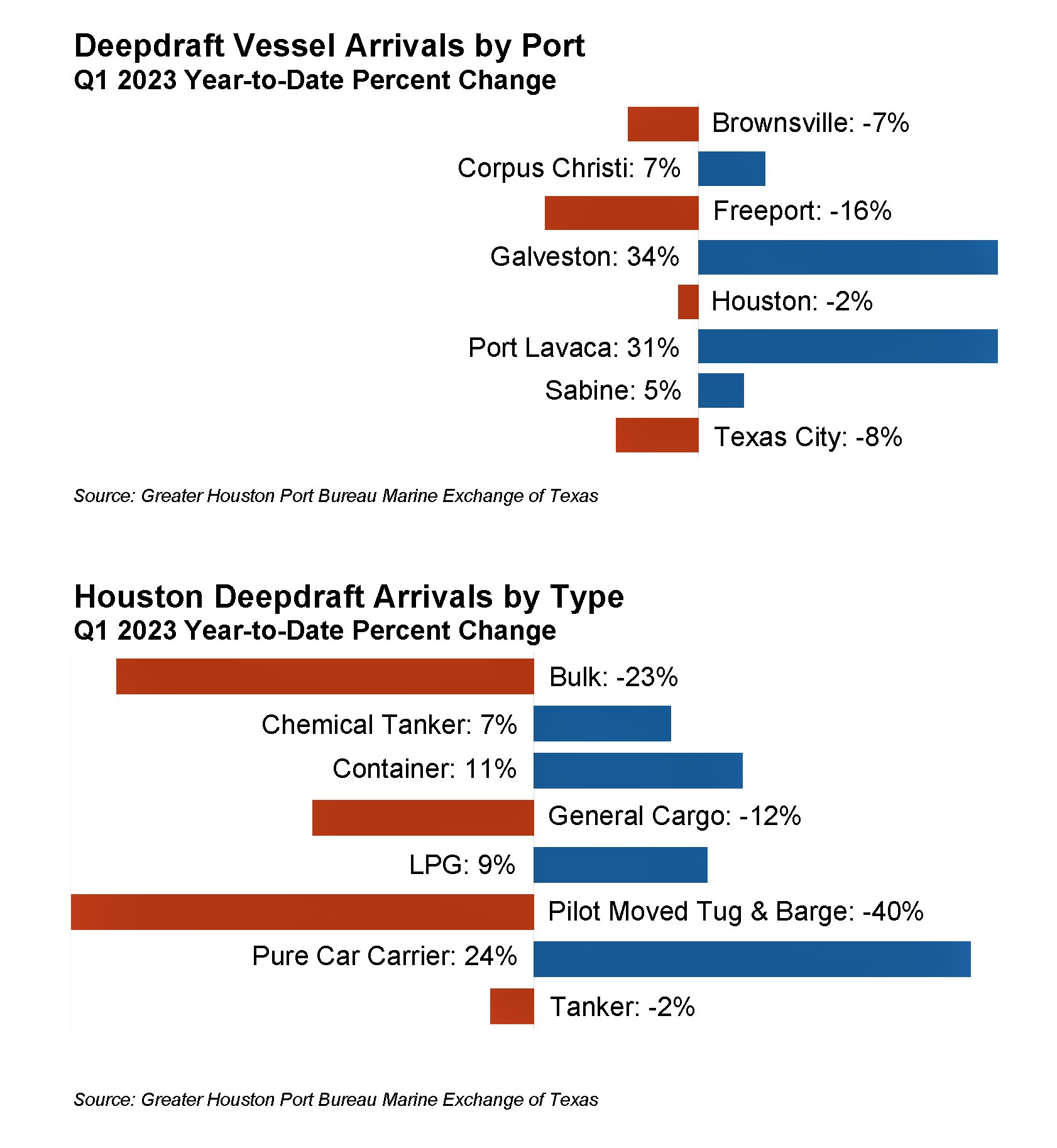 at 34%. Cruise ship arrivals have doubled over the prior year and even higher numbers are on the horizon for this vessel category. Nonetheless, the bounty of 2023 is not entirely attributable to RCCL et al with 10% more bulkers; 45% more chemical tankers; 69% more reefer vessels; and 27% more general cargo vessels. Galveston's rebound is keeping her piers full.
Freeport's March monthly jump was not nearly as robust as Galveston's year-to-date percentages but 31% is still worth crowing about. Unfortunately, despite its first 100+ monthly arrival since June of last year, it still lags last year's haul by 16%. Significant drops in the LPG, car carrier and tanker vessel arrival counts are the primary reason for the lackluster performance during the first quarter of 2023. Brownsville, year-to-date wise, also trails 2022's arrivals by 7%; however, its most recent monthly jump of 25% aided in erasing a few percentage points from last year's deficit.
Retracing one's track line from the terminus of the Texas GICWW, the Port of Corpus Christi is outpacing last year's vessel arrival tally by 7% after March's 15% monthly climb. Tankers are by far the largest composition of the vessels that call upon this burgeoning port. Yet, the 66% year-over-year growth of chemical tankers underscores the port's growing role as a major exporter of petrochemical constituents. Sabine's tanker count pales in comparison to that of Corpus Christi but very few ports in the United States – other than Houston – can match its LPG count. Over the past quarter, 16% more LPG vessels have sailed from this port, compared to last year. Even more impressive is the fact that chemical tanker arrivals leapt 80% on a month-over-month basis; driving the year-to-date numbers up by 23%.
The Port of Texas City has been struggling to regain maritime momentum since COVID took the wind out of its sails. The final month of the year's first quarter saw its highest arrival count since last July, resulting in the highest monthly increase of all Texas ports at 48%. Be that as it may, Texas City is still off by 8% compared to this time last year despite 11% more chemical tanker moorings. Ultimately, 13 more chemical tankers in Q1 cannot offset 22 fewer tanker arrivals.
Houston certainly does not lack for chemical and oil tankers which were up for the month by 43% and 44% respectively. While these two vessel categories comprise the lion's share of total vessel activity for the port, Houston requires 2% more arrivals in order to equal last year's numbers. Bulkers have fallen 23% year-to-date; general cargo arrivals are languishing 12% for the year; and ocean-going tows have plummeted by 40%. The gains over the last year in LPG arrivals (9%), container vessels (11%); and chemical tankers (7%) have almost completely offset the declines of the previously-enumerated categories. Indeed, the halcyon days of old, where petrochemical exports dominated the waterfront and the ever-growing population of Harris County stimulated imports via containers, continues unabated.
Houston's dominance as the nation's busiest port complex is a manifestation of the region's economic diversity and vitality. Indeed, it is a legacy owed to the entrepreneurial grit imbued in the untold number of business owners that have sought opportunities, assumed risks, and invested capital to fuel this dynamo of a waterway. Reflecting upon the achievements of those individuals is worthy of a toast of the heartiest of ales or finest of wines.
Yet, we would be remiss if we did not consider those that trumpeted our magnificent port and tirelessly advocated for its infrastructure. Many have done so over the past century but few have done so with such passion. So, it is with a grateful heart that I bid adieu to a raconteur extraordinaire, a selfless leader and priceless friend – Captain Bill Diehl.
---
About the Author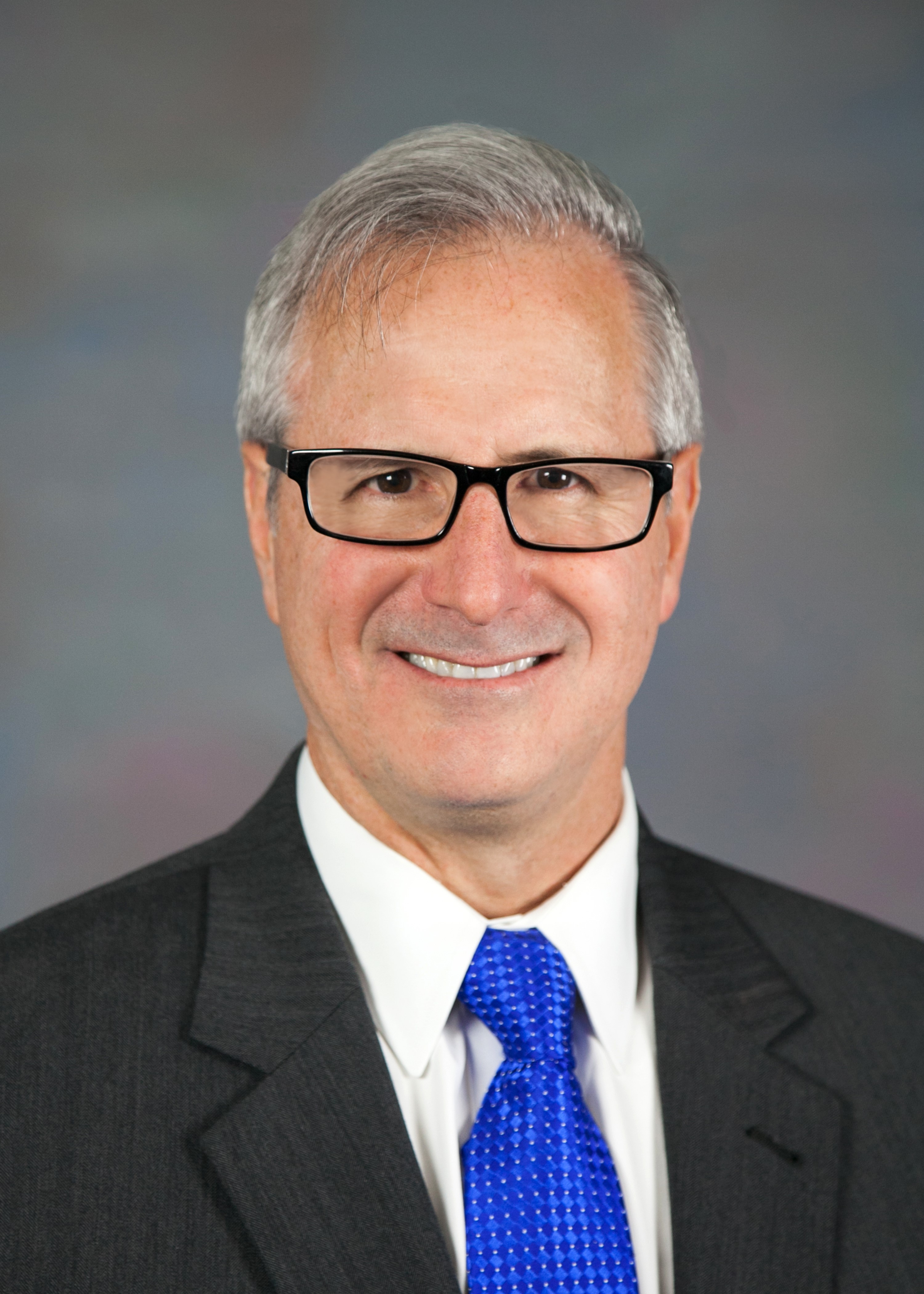 Tom Marian is the General Counsel of Buffalo Marine Service, Inc. He also serves on the Executive Committee of the Port Bureau Board of Directors.