Dave Grzebinski Honored for Commitment to Port Region Improvement at 94th Annual Maritime Dinner
Date posted
October 31, 2023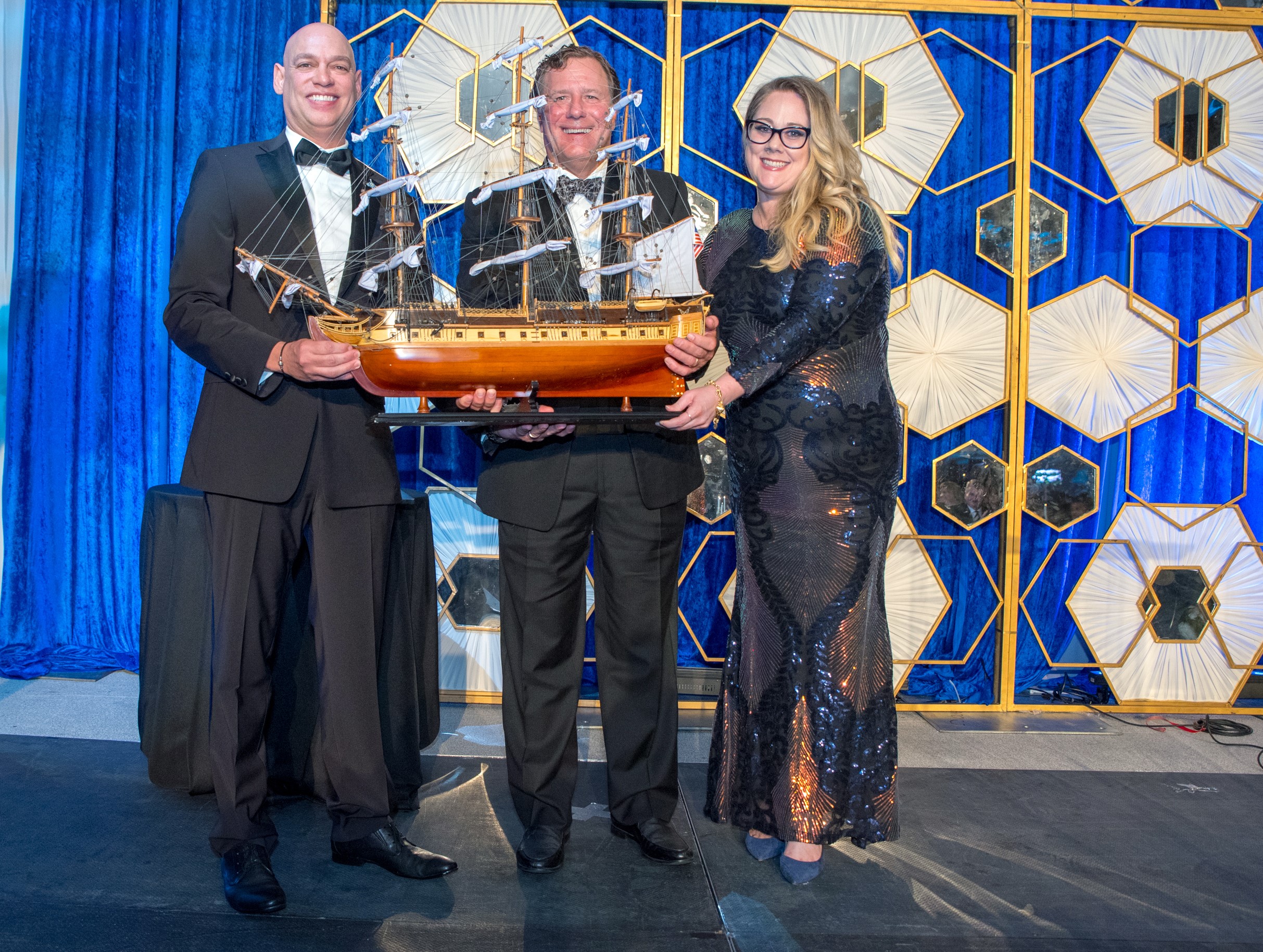 CAPT Eric Carrero, Greater Houston Port Bureau, (L) and Rachel Tolar, Suderman & Young Towing Co., (R) with David Grzebinski, Kirby Corp., (C), as he receives the replica of the U.S.S. Constitution at the conclusion of the recognition program at the 94th Annual Maritime Dinner.
The Greater Houston Port Bureau welcomed more than 800 guests at the Bayou Center Event Center as Houston's maritime community gathered to honor Dave Grzebinski, president and CEO of Kirby Corporation, at our 94th Annual Maritime Dinner on Aug. 26. Grzebinski was recognized as the 2023 Maritime Leader of the Year at the event for his steadfast commitment to improving the greater Houston port region.
Title sponsor Kirby Corporation and Queen of the Fleet sponsors Callan Marine, Enterprise Products Partners, Kinder Morgan, Port Houston, and Shell helped make it an unparalleled evening of celebration.
The evening kicked off with a cocktail reception and silent auction. As guests enjoyed the "meet and greet", the convivial atmosphere was enhanced by music from the Mercury Chamber Orchestra. Many guests shared pictures from the photo booth and added their congratulations to the event's "social wall", adding to the celebratory atmosphere of the Annual Dinner. Greg and Mona DeLong won the raffle sponsored by John Bludworth Shipyard – a pair of 5 cwt Badgley Mischka diamond stud earrings!
Following the fine dinner featuring a dual entrée of beef tenderloin with chimichurri sauce paired with an herb crusted salmon pinwheel, the recognition program highlighted accolades from industry leaders and public officials. Houton Mayor Pro Tem Dave Martin presented Grzebinski with a proclamation from the City of Houston, naming Aug. 26 as "Dave Grzebinski Day". He also received a proclamation from Harris County and was named an "Admiral in the Texas Navy".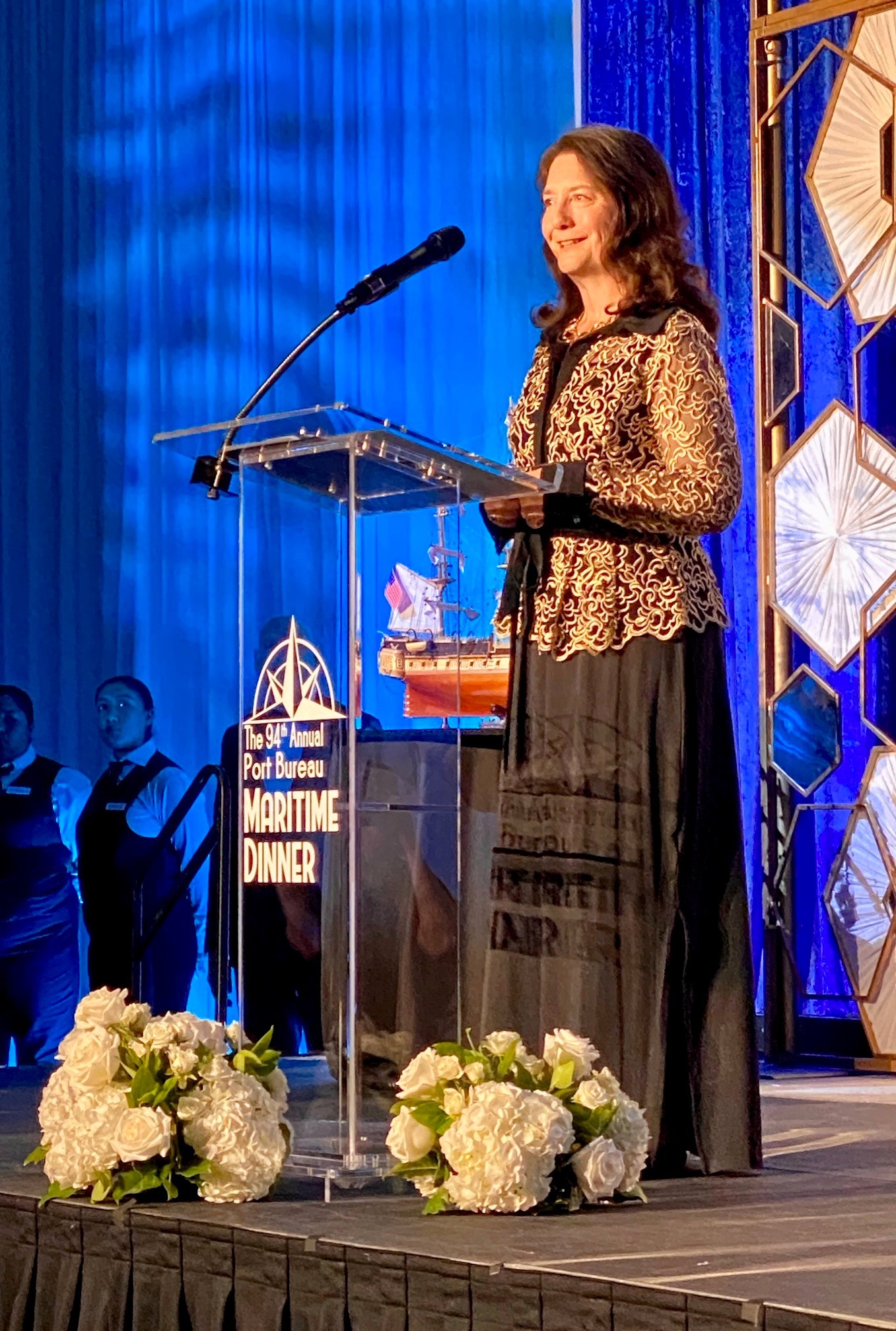 Keynote speaker Karrie Trauth, senior vice president of Shipping & Maritime, Shell, lauded Grzebinki's leadership in safety and environmental goals. She referenced Shell's involvement with Kirby in plans to charter and supply power to Kirby's new Green Diamond, the nation's first plug-in hybrid electric inland towing vessel, on the Houston Ship Channel. Trauth's remarks were followed by a specially prepared recognition video highlighting Grzebinski's commitment and accomplishments.
Grzebinski expressed his appreciation to everyone and particularly noted the people of Kirby for their commitment to Kirby's guiding principle for safety: "No Harm to People, the Environment, and Equipment". He was presented with a replica of the U.S.S. Constitution by Rachel Tolar, customer service representative for Suderman & Young Towing Co. and chair of the Port Bureau's dinner committee. The presentation of the ship to each honoree has been a Port Bureau tradition for many years.
The celebrations were topped off by an "After Party" in the lounge area that featured jazz by Kevin Charles Music, caricature portraits by a local artist, a dessert station, and coffee bar. The After Party was a new feature at this year's Annual Maritime Dinner, and it proved popular with guests. More than 500 attendees stayed to enjoy the music, conversation, and the party amenities.
During the After Party, an impromptu presentation was made by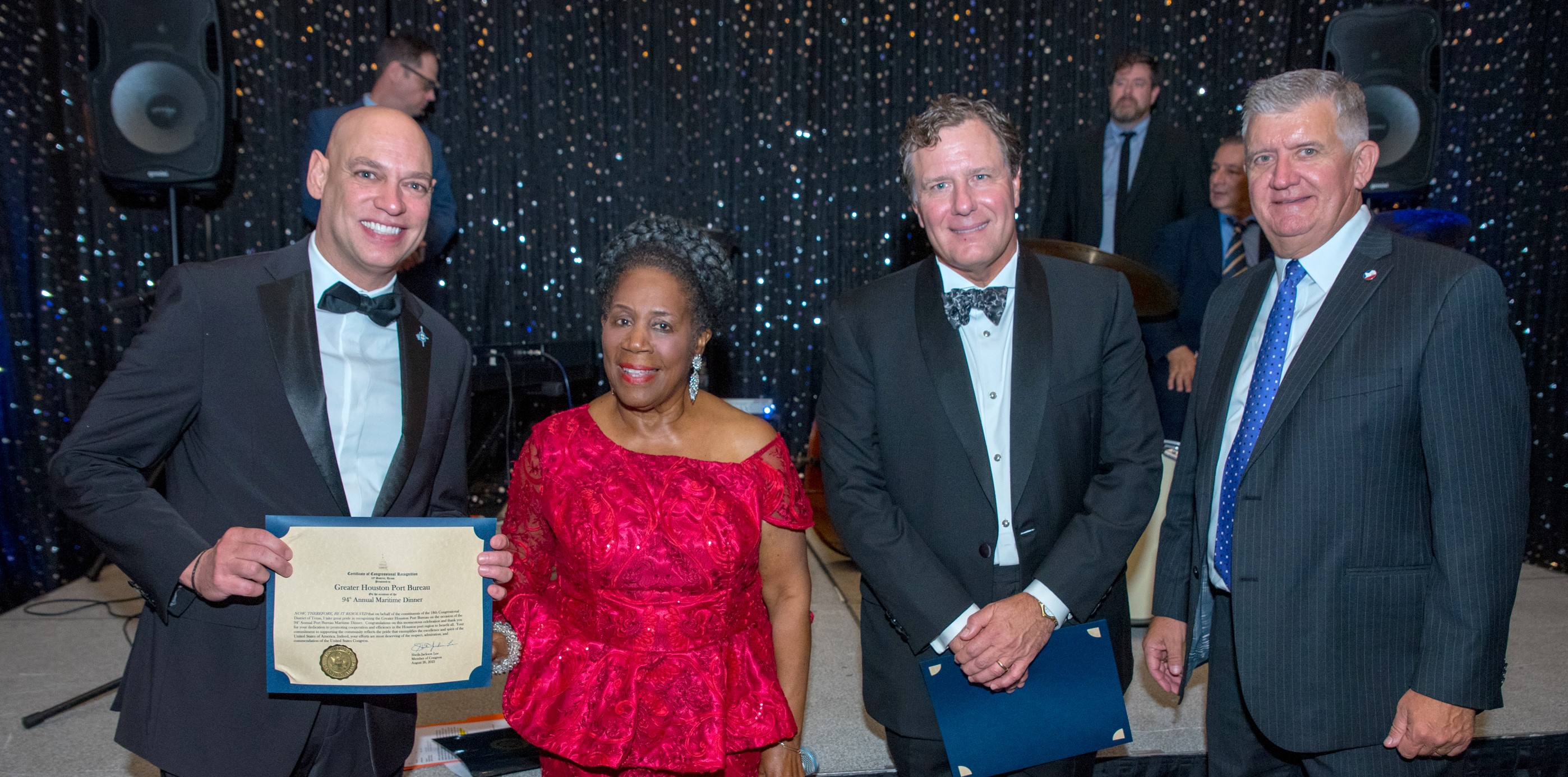 Rep. Sheila Jackson Lee. She recognized Grzebinksi for his leadership and to Port Bureau President Eric Carrero for promoting cooperation and efficiency in the port region with Congressional Proclamations.
The Port Bureau is privileged to serve the port region and to honor leaders and companies offering outstanding commitment to Houston's maritime community.