Decarbonization and the Maritime Sector – A Conversation on Perspectives Across the Industry
Date posted
October 31, 2023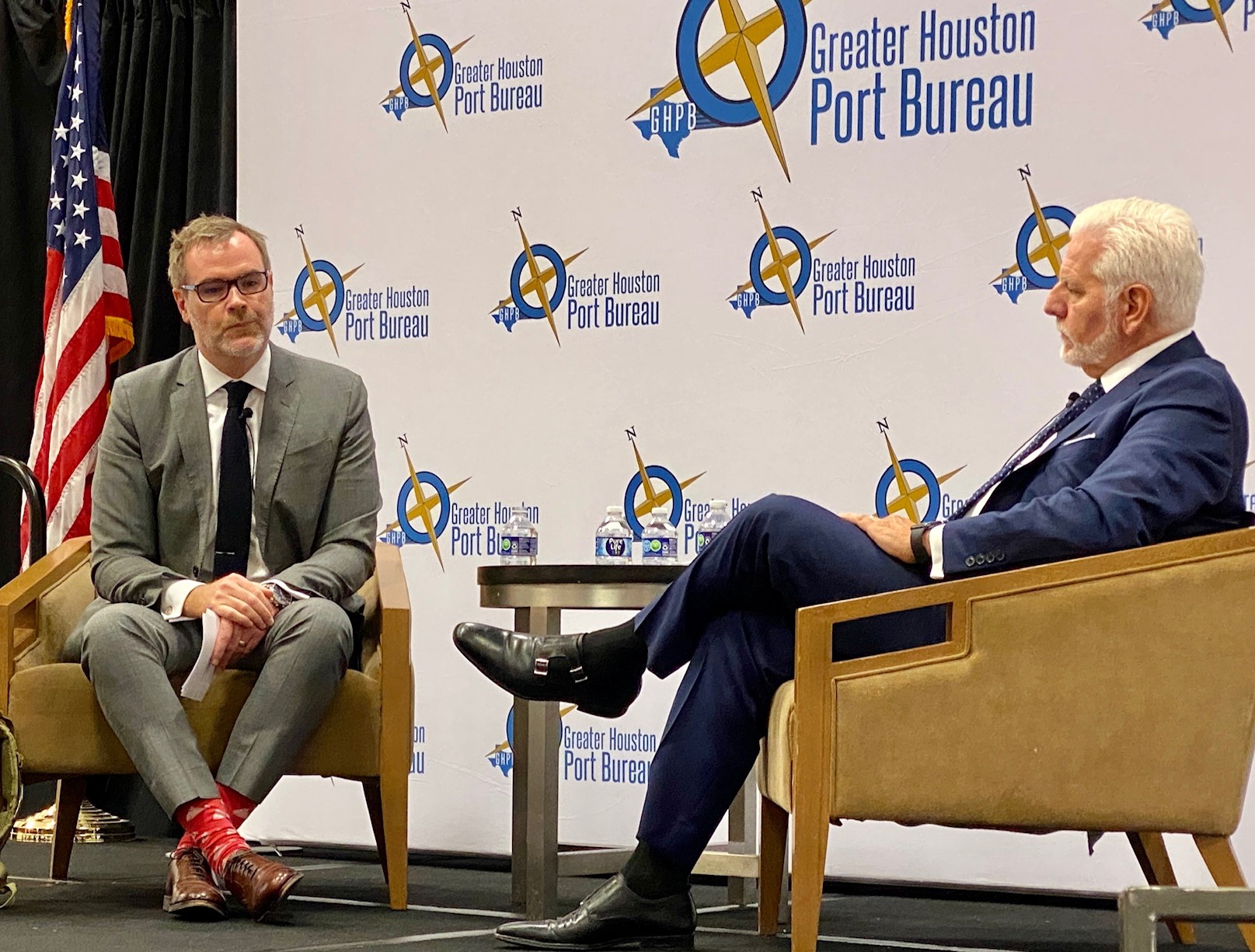 Geoffrey Gauthier (L) and Vincent DiCosimo (R) discuss maritime decarbonization at the Port Bureau's Commerce Club luncheon on Sept. 14.
The Port Bureau hosted a conversation-style presentation focused on decarbonization and the maritime sector at the September Commerce Club luncheon with Geoffrey Gauthier, Manager, Commercial and New Business Development for Shipping and Maritime, Shell. Moderating the conversation was Vincent DiCosimo, vice president of governmental affairs at Targa Resources and first vice chairman of the Port Bureau's board of directors.
Conversation Highlights
Current drivers and methodologies in lowering emissions. The continued growth of shipping and its importance to the global economy is a central driver in lowering emissions. Shell is focused on achieving the net-zero emissions goal and supporting their customers in reaching sustainability goals. Gautheir referenced Shell's "All Hands on Deck 2.0", an industry perspective published in collaboration with Deloitte last March, for detailed specifics. The report offers analysis and recommendations in the goal to reduce emissions goals.
While numerous factors will play a part in achieving lower emissions, collaboration will be a key factor in success. The projects may not be perfect, but pushing forward in collaboration between stakeholders, including government, charterers, energy providers, infrastructure providers and others, will bring results.
Gautheir named Kirby Corp.'s recent introduction of the Green Diamond towing vessel into their fleet as an example of stakeholder collaboration. The Green Diamond is the first plug-in hybrid electric inland towing vessel in the U.S. Kirby "took the risk" to build the boat. Shell is providing clean energy, investing in the charging infrastructure, and is chartering the vessel.
The challenge, said Gautheir, can be bringing businesses and organizations together. Issues such as lack of clarity on regulation, both on the water side and land side, can be a roadblock. If stakeholders can meet at "the table to talk", greater progress can be advanced.
Getting buy-in for cleaner ports. Community needs to be able to see how decarbonization within the port directly benefits them. He referenced Shell's involvement with two local projects. Port Houston and Shell have committed to exploring key energy, mobility, and decarbonization projects that could be implemented at port terminals. In Galveston, Shell, together with Galveston Wharves, Carnival Corporation, CenterPoint Energy, Royal Caribbean and Texas A&M University at Galveston, are working toward potential solutions to develop environmentally beneficial shore power at the port. Decarbonizing at the ports also reduces the emissions in the local community  a valuable benefit to surrounding neighborhoods.
Alternative fuels. Shell has a very robust fuel portfolio, with decades of experience as a marine fuel supplier across the world. Electrification projects have been highlighted in the current discussion because they are "here now", but Gautheir noted the availability of LNG, Ultra-Low sulphur fuel oil, very low sulphur fuel oil, DMA/MGO, and biofuels (Europe and Singapore) through Shell. He noted that in supplying these alternative fuels, "it does come back to the importance of ports and infrastructure providers being ready to distribute these things."
What local stakeholders and community can do. Gautheir noted that the Galveston and Houston initiatives to reduce emissions is also an investment in the whole community. What helps move these projects along is the support of all industry and community. "Call your congressman to stress the importance of projects," urged Gautheir. "This makes it easier for these projects to move forward."
Hosted by the Greater Houston Port Bureau at the Houston Marriot South at Hobby Airport on the second Thursday of the month, the Commerce Club luncheon features insightful speakers from industry and education.
Thank you to our Commerce Club sponsors:
Annual Table sponsors:
Callan Marine • Cedar Port Industrial Park • Enterprise Products Partners • Kinder Morgan • Houston Pilots • Intercontinental Terminals Company • Moran Shipping Agencies, Inc. • Shell • Targa Resources • TGS Ceder Port Industrial Park • Vopak • West Gulf Maritime Association
September Table sponsors:
Houston Mooring Company • Pemex • Campbell Transportation Co. • Wilhelmsen