GAC and GBF Debut Biofuel Lifting at Ireland's First Clean Fuels Terminal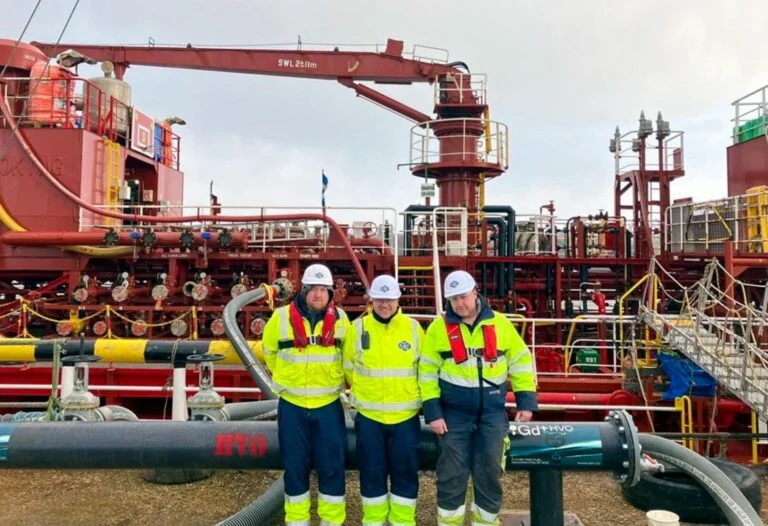 GAC Ireland's Mark Drake, Andy Bann and Keith Brady assisting with the first ever cargo discharged at the terminal from the tanker Stolt Greenshank. Photo courtesy of GAC.
GAC Ireland and Green Biofuels Limited UK ("GBF") have celebrated the debut lifting of biofuels from Ireland's first clean fuels terminal.
GAC began operating and maintaining GBF's Cork Terminal in March 2023. The first 39,000-liter lifting of GD+, made from renewable feedstocks and dramatically reduces harmful emissions by up to 90%, was completed in April under the eagle eye of Kenneth Long, GAC Ireland's Cork Terminal Manager. The fuel was heading to Mullingar in central Ireland where it will be used for several applications.
Previously, GBF leased tanks in the UK through third parties. The beginning of operations at their own facility is a major milestone for them – and they have selected GAC as their partner to provide the manning and oversee day-to-day terminal activities.
Under the agreement, GAC provides terminal management services at the site, including providing terminal operators, loading masters and jetty operators who are responsible for the day-to-day operations of the terminal, discharging fuel from vessels and overseeing the loading of fuel onto trucks for delivery.
"We awarded GAC the management of the terminal due to the experience and expertise of their people and their superb safety, environmental and reliability ethos," said Alex Azadegan, GBF's operations manager. "We believe these are the principal ingredients required to successfully deliver a visionary, new facility."
In 2021, Ireland imported over 8 million liters of GD+ HVO from the UK, and GBF is seeing significant growth to this figure as industries turn to greener alternatives to fossil fuel. Ireland has committed to reduce greenhouse gas emissions by 51% by 2030 and reach net-zero by 2050. GBF is in the business of introducing low-carbon, drop-in replacement fuels to the UK and Irish markets, and is powering the BBC's coverage of this year's Eurovision Song Contest.
"Together with GAC Bunker Fuels, we are committed to facilitating the growth of biofuels as an alternative fuel of the future throughout the UK and Ireland," said Nicholas Browne, managing director of GAC UK & Ireland. "It is fantastic to support GBF and to work with the Port of Cork on this project."
The Cork Terminal currently only handles GD⁺ but options to store other clean fuels there are being explored. The current capacity of 38 million is set to increase to 53 million with further development. The beginning of operations marks the beginning of a long, successful partnership in the journey towards net zero.