Gulf Center for Sea Turtle Research at TAMUG Works to Restore Sea Turtle Populations
Date posted
April 28, 2023
The Gulf Center for Sea Turtle Research ("GCSTR") at Texas A&M University at Galveston ("TAMUG") was created to bring attention to the lack of research infrastructure and expertise in the western Gulf of Mexico and the Texas coast. Through conservation programs such as the Sea Aggie Sea Turtle Patrol, sea turtle rescue and recovery and a rehabilitation hospital on the TAMUG campus, the GCSTR has been able to rescue hundreds of sea turtles and involve thousands of volunteers as well as students in sea turtle preservation.
Sea Aggie Sea Turtle Patrollers are a dedicated team of TAMUG students and volunteers. They monitor and protect nesting Kemp's ridley sea turtles – as well as other sea turtle species – to assist in the recovery of turtle's population.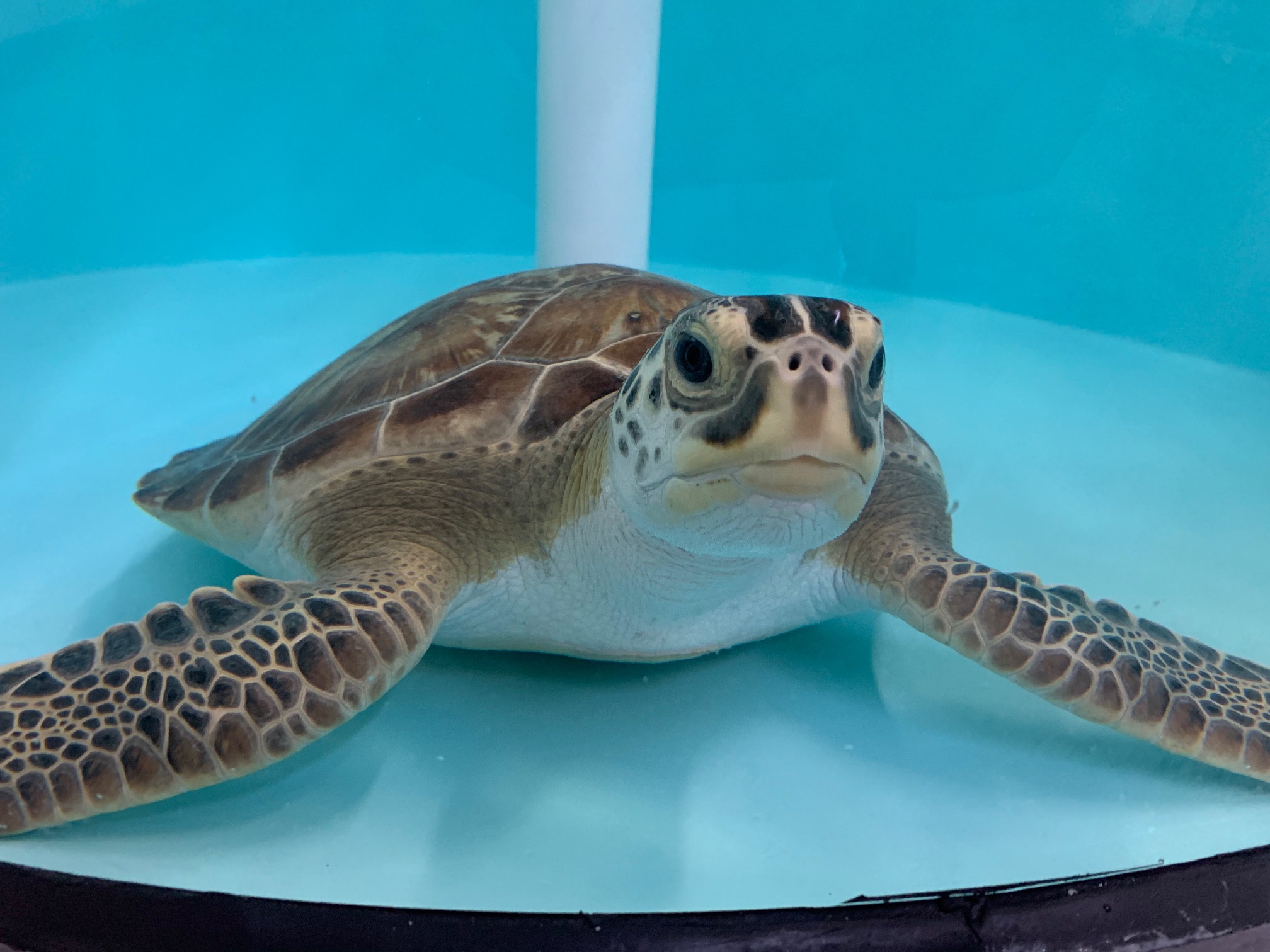 The Kemp's ridleyis the most critically endangered species of sea turtles. Making their home in Texas, they return yearly to nest and utilize our bays and estuaries as habitat for foraging. They are also the State Sea Turtle. Researchers at the Gulf Center for Sea Turtle Research ("GCSTR" or the "Center") at TAMUG's research program have learned these sea turtles use all parts of the Galveston Bay Estuary System, sometime traveling as far north as Trinity Bay, west to the Houston Ship Channel, miles into Clear Lake, and travel in and out of Bolivar Roads. Upper Texas Coast sea turtles can be found both in the bays and in nearby coastal environments off beaches.
The GCSTR conservation programs engage thousands of people each year. The Sea Aggie Sea Turtle Patrol program manages over 300 volunteers to monitor the beaches from April through July for nesting sea turtles, so the eggs can be protected and transported to Padre Island National Seashore for safe incubation and release. Since its inception in 2019, the GCSTR has responded to over 500 stranded sea turtles, and the rehabilitation hospital has treated over 275 patients.
In March, the Center hosted their first Nest Fest to help clean the beaches for sea turtle and shorebird nesting season. Planned as an annual event, 312 volunteers showed up and cleaned approximately 2,358 lbs. of trash from the beaches. A busy month, the Center also conducted their Sea Aggie Sea Turtle Patrol nest responder training as well as releasing five sea turtles into the ocean. The turtles had been under their care for several months. Four of them were Kemp's ridley sea turtles that had lost their way and were found cold stunned in Massachusetts. The fifth, a green turtle, was found cold stunned locally at Christmas. The team satellite tagged the green sea turtle to monitor its movement throughout Galveston Bay.
"Now they're going back to the wild and hopefully they'll be participants in the population and do their turtle thing and reproduce," Dr. Christopher Marshall, a professor at the Department of Marine Biology at Texas A&M Galveston, told the Houston Chronicle in their March 23 story on the turtle release.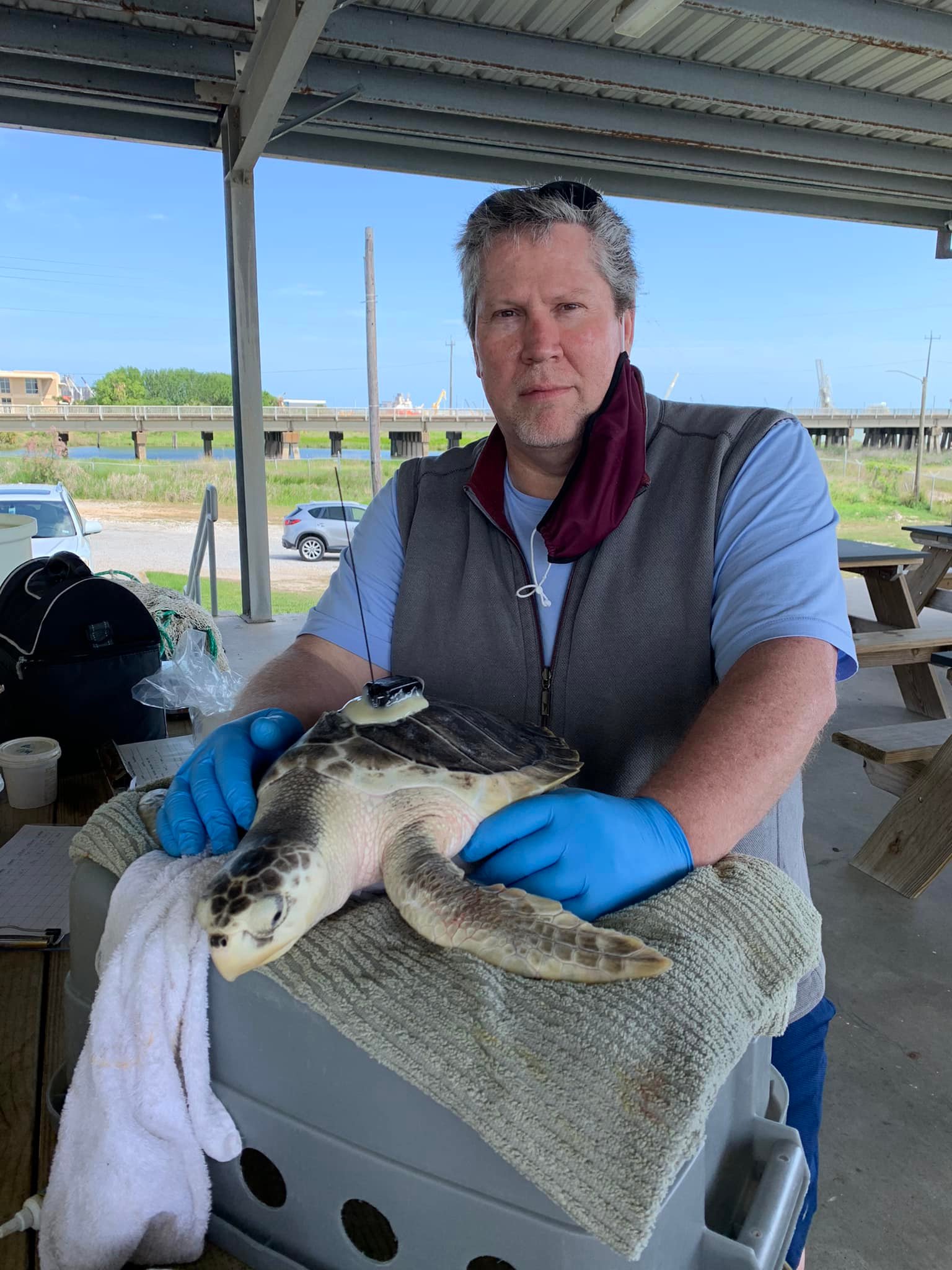 The GCSTR also seeks to develop positive, beneficial relationships with industry entities. As the sea turtle populations increase, the risk for industry impacts increases. According to the Center, numerous biological opinions have been relying on outdated data, which negatively impacts trade, manufacturing, fisheries as well as sea turtle conservation.
With the research conducted by the GCSTR, improvements can be made to benefit time and money spent on the blue economy. Recent projects like the Coastal Spine have a significant risk to sea turtles -- from both the dune construction and beach renourishment projects to the gate system that will restrict movement through Bolivar Roads. With their studies on sea turtle ecology and movement, the Center provides vital current data that can be used to inform project and wildlife managers to ensure coastal restoration projects are mutually beneficial to marine wildlife like sea turtles and to the coastal community.
To accommodate the Center's growing need for space, Texas A&M University is in the process of fundraising for a new public outreach and education facility and sea turtle hospital that will allow them to become financially independent as well as able to reach a wider audience to educate the public about sea turtles, marine conservation, and resilient and sustainable coastal communities.
The National Oceanic and Atmospheric Administration ("NOAA") Galveston laboratory is no longer addressing sea turtle research & conservation activities on the upper Texas coast, there is no other entity in the region that can conduct this work. The region needs a sea turtle hospital to replace the NOAA facility as exemplified during the historic turtle stunning event during Winter Storm Uri in 2021. Texas A&M University at Galveston is the most qualified to conduct this work due to the strong history of sea turtle research, its established programs, and the Sea Grant mission that encompasses the Texas A&M University at Galveston campus. The GCSTR is currently seeking corporate sponsors for the new facility and there are naming opportunities as well. If interested, please visit www.tamug.edu/GulfCenterforSeaTurtleResearch/ for more information or visit here to make a donation.
Photos courtesy of the Gulf Coast Center for Sea Turtle Reseach.