Harris County Flood Control District Explores Texas-Sized Tunnels for Stormwater Mitigation
Date posted
April 27, 2023
February Commerce Club Featuring Scott, Interim Deputy Director of Engineering & Construction, Harris County Flood Control District
In the wake of Hurricane Harvey, Harris County officials challenged the Flood Control District ("the District") to develop new flood risk reduction tools. Since then, the District has actively explored the potential of utilizing a network of huge, Texas-sized stormwater tunnels as an effective solution to mitigating storm waters in Harris County. The District's interim deputy director of engineering & construction, Scott Elmer, presented "What We Know, and Where We Are Going" based on the project's feasibility study at the February Commerce Club.
"We cannot estimate the value [of our project] to quality of life in Harris County," said Elmer in opening his presentation.
"What We Know"
The second phase of the feasibility study results released last June shows that a potential tunnel system, if added to the existing bayou channels and detention basin network, could be a highly effective option for reducing flooding. The potential eight tunnel locations, known as alignments, identified in the feasibility study represent the foundation of a Harris County tunnel system that could potentially reduce flooding in and around areas designated as damage centers. A damage center is a concentrated area that has and will continue to flood repeatedly, with water in homes and businesses.
Phase 1 of the study confirmed it is potentially possible to construct tunnels in many areas of Harris County. In Phase 2, potential individual tunnel locations, considering various elements such as elevation, community impacts and availability of vacant land for traditional projects were identified. Potential benefits to be gained when tunnel alignments work synergistically with each other rather than independent alignments were also identified. Using a tunnel system in conjunction with the existing drainage system can provide significantly more benefits by allowing the different alignments to reduce the flood risk across multiple watersheds.
Phase 2 also found that tunnels would require the acquisition of much less property, as compared to traditional flood risk reduction projects. Also, because the majority of tunnel construction would happen deep underground, a tunnel may have a flexible alignment that is not tied as closely to a bayou or creek. For example, a tunnel could potentially provide benefits to flood damage centers in more than one watershed.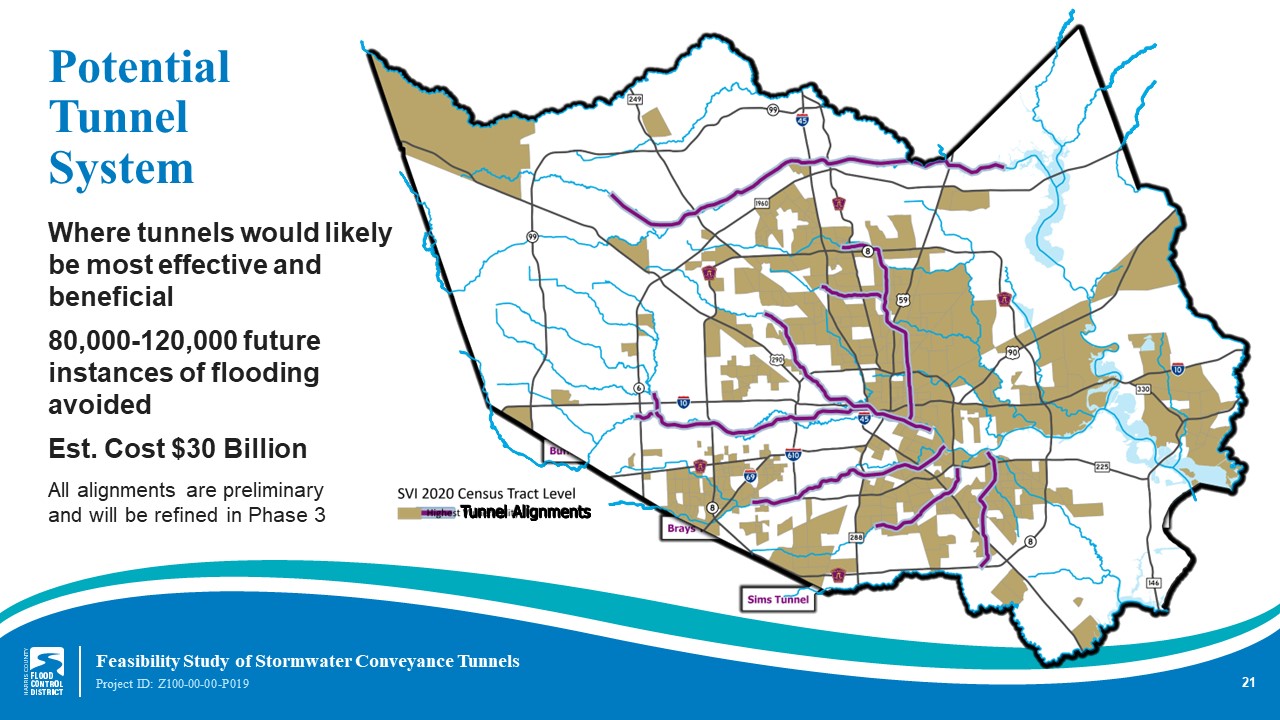 Tunnels are being considered as an addition to – not a replacement for – the county's existing stormwater management network of bayous, channels, and stormwater detention basins. The Phase 2 report recommends eight tunnel alignments in the following watersheds: Brays, Buffalo, Clear/Berry/Vince, Greens/Halls/Hunting, Halls/Hunting, Little Cypress/Cypress, Sims, and White Oak.
Tunnels are projected to be 30-45 feet in diameter and 9-25 miles in length and be placed 80 to 100 feet underground. The tunnel system utilizes gravity and the capacity to carry exponentially more water than a storm sewer. As a channel fills during heavy rain, water drains into the tunnel inlets. There are several inlets projected for each tunnel. The water then moves downstream to a strategically placed outlet.
In Texas, there are stormwater tunnel systems utilized in San Antonio and in Austin. The Harris County project would be bigger than either of these. The cost for the tunnel system is $30 billion.
"Where We are Headed"
The additional analysis that will occur in Phase 3 of the feasibility study would quantify the countywide economic benefits of adding a tunnel system to Harris County's current stormwater management network, identify how to integrate such a system into the existing network, identify funding strategies, further investigate and refine potential tunnel alignments, and continue to gather public input.
Analyzing the impact of the tunnel system to the port of Houston will be investigated in Phase 3. The study will examine sedimentation, Houston Ship Channel velocities, water surface elevation changes related to structures as well as tailwater conditions, including storm surge impact, sea level rise, and subsidence. It will also plan for coordinating with the Texas Coastal Spine Project.
Elmer stressed the importance of input from community and industry to the District. "We take communication seriously," said Elmer. "We want to hear from everyone."
Hosted by the Greater Houston Port Bureau at the Houston Marriot South at Hobby Airport on the second Thursday of the month, the Commerce Club luncheon features insightful speakers from industry and education.
Thank you to our Commerce Club sponsors!
Annual Table sponsors:
Callan Marine • Enterprise Products Partners • Kinder Morgan • Houston Pilots • Intercontinental Terminals Company • Moran Shipping Agencies, Inc. • Shell • Targa Resources • TGS Ceder Port Industrial Park • Vopak • West Gulf Maritime Association
February Table sponsors: