Partnering with Industry for the Future Workforce
Date posted
April 27, 2023
March Commerce Club Featuring COL Michael E. Fossum, Vice President of Texas A&M University, COO of the Galveston Campus, and Superintendent of Texas A&M Maritime Academy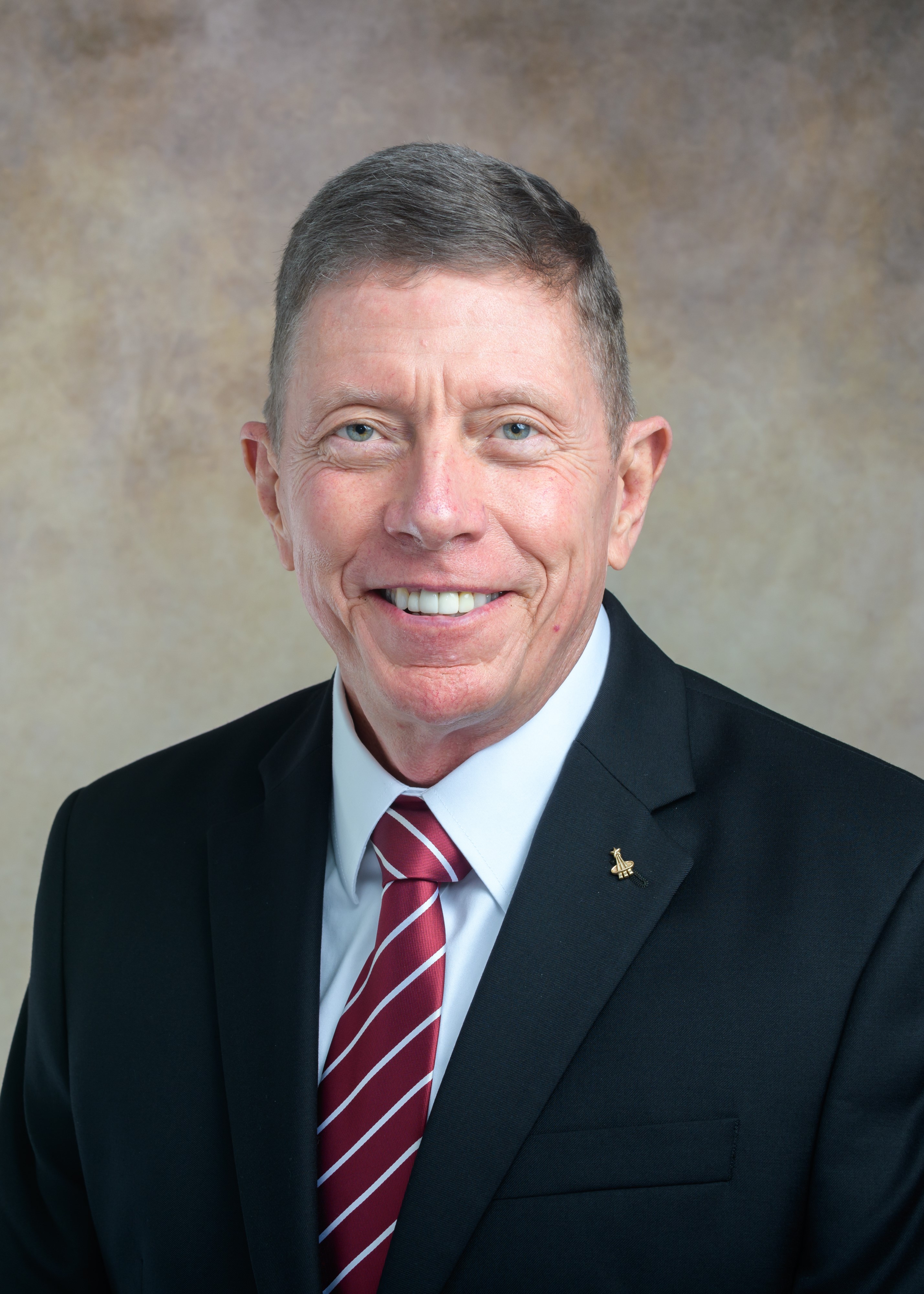 "After my introduction, your main question has to be, what is an old Air Force colonel doing running a boat school," said COL Miachel Fossum as he began his presentation at the Port Bureau's March Commerce Club luncheon. Fossum, a former astronaut and veteran of three space flights, is vice president of Texas A&M University, chief operating officer of the Galveston Campus, and superintendent of Texas A&M Maritime Academy.
"First of all, we're much more than a boat school, and I'll be talking about that more shortly. I was fortunate to serve our nation for 36 years as an Air Force officer and test pilot and as a NASA astronaut. I raced forward in full afterburner with a clear mission, a vision of success, and a relentless passion to achieve it, explained Fossum. "I now have directed my passions to fulfill a new mission."
As a Texas A&M alum, Fossum credits the university as the launchpad to his career. He is excited to now be serving as part of the university system in Galveston, dedicated to transforming lives and leading discovery through research and innovation.
"Everything we do is really about feeding the blue economy - the education and training and research and scholarship. In the blue economy, we're seeing that the marine industry really emerges from relative obscurity to become one of the vanguards of change," said Fossum.
The Blue Economy is the interplay between economic, social, political, and ecological sustainability of the ocean and surrounding ecosystems. Fossum explained that at Texas A&M University at Galveston ("TAMUG"), they seek to address this from a holistic perspective. Their focus is on expanding the areas they serve: education and training, renewable energy, fisheries, maritime transportation, coastal tourism and health, and climate change.
In education and training, TAMUG is "doubling down" on the importance of degree programs to the meet needs the of future workforce. For renewal energy, their Power at Sea includes green shipping, marine aquaculture, seawater mining, wind farms, etc. The fisheries program now includes stock assessment and sustainable natural resources.
Maritime Transportation has broadened to encompass the cybersecurity of ports and vessels, piracy, law at sea, and their maritime academy. Coastal community risk analysis, reduction, perception, and education are now a part of coastal tourism and health. Climate Change includes shifts in ecologically and economically important species as well as the protection and conservation of endangered species.
"Most Texans don't even think of us as a maritime state or have no idea of its importance. In this room, we all know it's absolutely essential for our economic success and prosperity … [It is] also are absolutely essential to our national security," Fossum said, considering possible impact to the future workforce.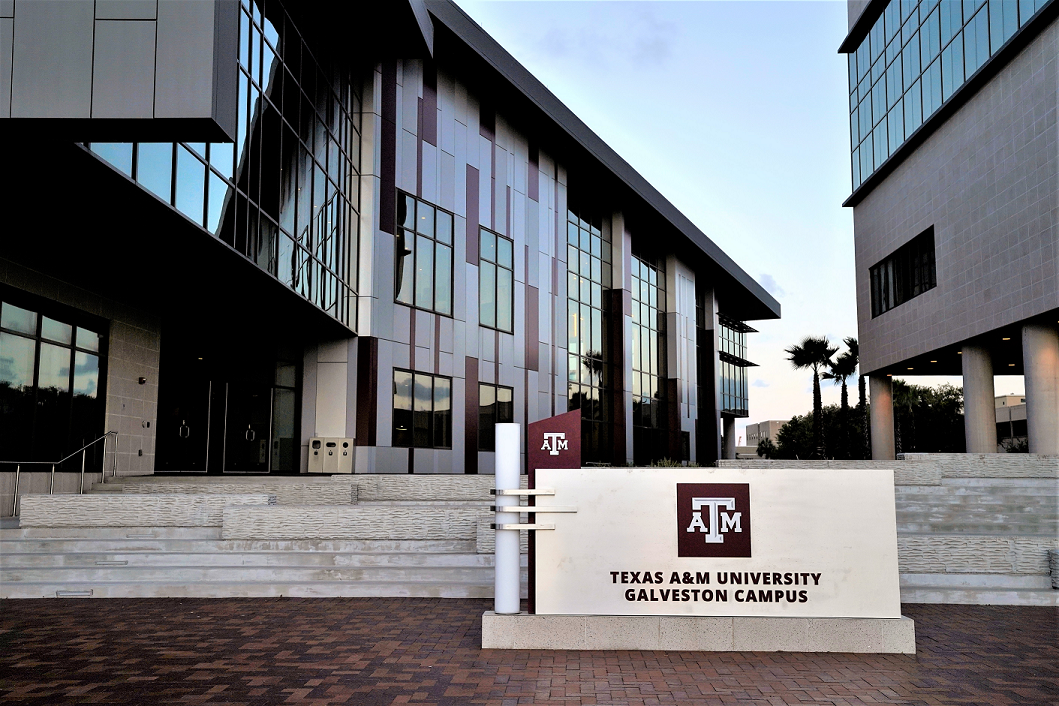 "This is a big deal that we're able to meet these needs for you, for our state, for our nation, with these advanced degrees and in the sciences and engineering . . . The fact that we're on the water, all of our students get out on vessels as part of their education during their time here . . . it enriches their education and give them an opportunity to bring a different perspective to their future employer."
Fossum also stressed the importance of Texas A&M's core values of excellence, integrity, leadership, loyalty, respect, and selfless service. "Our students internalize these values throughout their four years, developing the rock-solid moral values that you need to help you lead your companies."
An important event to the Maritime Academy is the anticipated arrival of the TS Kennedy, a former commercial freighter, and a current training vessel of the United States Maritime Service. Deck and engine license cadet candidates must accrue time at sea before they graduate, and the time is earned during summer sea term journeys. The Maritime Academy has been without their own training ship since 2005 and now has use of the Kennedy. The Kennedy is older, steam turbine technology. However, Fossum is excited about every aspect of its learning potential to the students. "If you can handle that engine room, you can handle anything."
The Texas Maritime Academy will receive a National Security Multi-Mission Vessel ("NSMV") vessel in 2025. It will serve as a training ship for the Academy as well as a disaster response vessel that can handle up to 1000 people in time of need. Currently under construction, the 524-foot state-of-the-art ship is named Lone Star State. The vessel will be able to move anywhere from Brownsville to Key West in two days to be a part of disaster response.
TAMUG and the Maritime Academy's success can be illustrated by their statistics. For example, 87% of ocean engineering graduates are employed, with salaries ranging from $75,000 to $90,000. 80% of coastal environmental science are employed or in graduate school. About 50% of marine transportation students are employed. While this number may seem low, it is based on the time of a student's graduation and many students have not yet passed their Coast Guard license exams. Once that is done, the numbers are nearer 100% in the current environment.
"Our students are ready from day one. That's what Aggies are known for! Anything done in the marine environment is more difficult operationally, logistically, and administratively. Our graduates are comfortable with these tough environments because they've had a hands-on education," concluded Fossum.
Hosted by the Greater Houston Port Bureau at the Houston Marriot South at Hobby Airport on the second Thursday of the month, the Commerce Club luncheon features insightful speakers from industry and education.
Thank you to our Commerce Club sponsors!
Annual Table sponsors:
Callan Marine • Enterprise Products Partners • Kinder Morgan • Houston Pilots • Intercontinental Terminals Company • Moran Shipping Agencies, Inc. • Shell • Targa Resources • TGS Ceder Port Industrial Park • Vopak • West Gulf Maritime Association
March Table sponsors:
Houston Mooring • Port Houston • Pemex • Schröder Marine Service, Inc. • Texas A&M University at Galveston • Odfjell