Hydrogen and Carbon Value Chains – the Twin Track to Maritime Decarbonization
Date posted
November 2, 2022
Reducing carbon emissions means leveraging waste streams to create sustainable fuels.
Since the shipping industry is at the center of global supply chains, transporting an estimated 90% of all goods, limiting Greenhouse Gas ("GHG") emissions is a significant task. Establishing requirements on a global scale for the shipping industry falls principally to the International Maritime Organization ("IMO"), which works to align its member states on reduction targets and permitted means of compliance.
IMO targets are currently set at reducing carbon intensity by 40% by 2030 – a process for which the industry is focusing on short term efficiencies. In the longer term, it requires a 70% reduction by 2050 - with a growing number of IMO member states demanding 'net zero' carbon emissions by this time.
For an industry that has relied on fuel oil for more than 50 years, the transition requires the development of new fuels, something that will include the creation of new value chains for energy resources and emissions.
The task includes scaling up of alternatives (methanol, hydrogen, ammonia, biofuels, synthetic and e-fuels for primary) and auxiliary power and dealing with the economic fallout that the fossil hydrocarbon industry will inevitably face.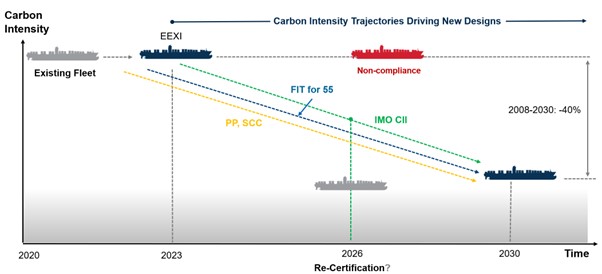 While many believe that a 'net-zero' shipping strategy will be challenging to achieve, there are pathways that could lead to that goal. The problems associated with a net-zero fleet are complex and requires concerted collaboration across industry sectors.
Various external factors such as diverse emission levels, economic impacts, public perception and geopolitics will influence the outcome. Improving the energy and operational efficiency of vessels alone will not result in the necessary emission cuts in the future, so using 'net-zero' fuels will be essential.
The energy transition that needs to occur as we strive to reach the decarbonization targets will be based on two value chains, Hydrogen and Carbon.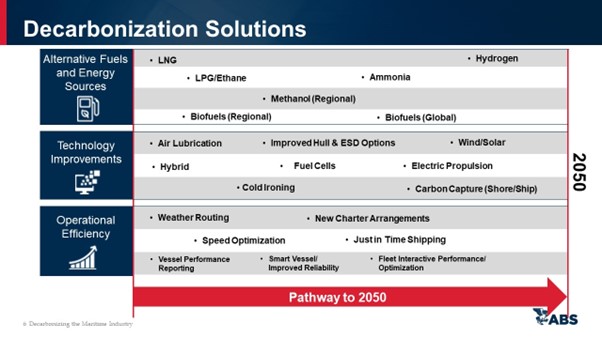 The Hydrogen Chain
As an example of the scale of the challenge, by 2050, shipping will potentially require 46 million tons of green Hydrogen, or 1.4-5.6 terawatts in terms of renewable energy annually. To put this in perspective, the global capacity to produce green energy is projected to reach 4.8 terawatts by 2026. These figures show the importance of scaling up the production of renewable energy. In addition, they provide the basis for using fossil fuel-based hydrogen with carbon capture as a transition option.
Carbon capture is vital part of the transition to net zero. It provides solutions for current energy assets, as well a pathway for rapidly scaling up low-emission hydrogen production. However, a limiting factor might still prove to be the capacity of infrastructure used for carbon capture utilization and storage (CCUS) in mid- and long-term.
Hydrogen, captured carbon and biomass are the most promising elements for making sustainable fuels; they are the key ingredients for creating a set of zero-carbon fuels.
Hydrogen should not be seen just as a molecule of the periodic table or only as a single marine fuel. It is a medium which could be converted into different forms as an energy carrier. Renewable energy via electrolysis can be converted into Hydrogen, an energy carrier which could be stored and transported by sea in different forms. A medium which can be the building block for green and e-fuels minimizing the use of fossil fuels.
To achieve a net-zero target, more innovation will be required. Among other fuels, hydrogen is aiding in closing the gap in industries such as heavy-duty transportation, steel manufacturing, fertilizer and methanol production that would be difficult to eliminate otherwise.
It will require many players' involvement in the form of consortia and organizations teaming up to meet the needs along the value chain; development of new facilities or upgrading and retrofitting the existing ones will be crucial to address the emerging transition and physical risks along the way.
The Carbon Chain
In contrast with the hydrogen value chain, which is an energy conversion system, the carbon value chain) is an abatement mechanism. This system creates a separate value chain that intersects with the hydrogen value chain to produce blue (rather than green) fuels as renewable producers scale up to meet the future demand.
Currently, the carbon chain is a niche sector but the need for scale-up may transform carbon into a valuable commodity. In essence the marine and offshore sectors are becoming fundamental enablers of the energy transition as indispensable links of the two value chains.
Electro-fuels have the potential to offer carbon-neutral propulsion and provide carbon-reduction solutions in the medium-to long-term. In addition to fossil and biomass sources, electro-fuels can be produced by carbon-dioxide recovery (CDR), a technique that converts CO2 to syngas, which in turn can be used to produce bio-LNG or bio-methanol.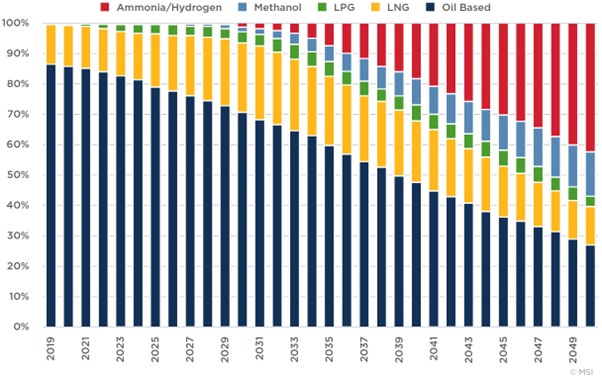 CDR has the potential to remove CO2 from the atmosphere and use it to produce electro-fuels, minimizing the energy used for fuel production and enhancing their potential to reduce global warming.
Carbon-neutral fuels such as biofuels also have a great potential to support the transition to alternative fuels. 'Drop-in fuels' such as biodiesels can be used in increasingly higher percentage blends to lower the emissions from marine vessels with little change to their current operations.
The net-zero approach may allow the industry to use fossil-based resources to produce fuels such as hydrogen and ammonia, provided the emissions are captured and stored. This will be critical to producing marine bunker fuels in volume because ensuring access to 'green' energy is the industry's greatest challenge.
Conclusion
There is wide range of fuels with different levels of technology readiness that will provide a more flexible and sustainable energy system but one of the biggest challenges for shipping companies will be the cost of transitioning to net-zero. As technology continues to evolve and economies of scale are achieved, the availability of alternative fuels will rise, prices will fall and will become more affordable to help propel the future fleet.
---
About the Author