November 2021 Commerce Club Featuring Roger Guenther, Executive Director, Port Houston
Date posted
December 15, 2021

Project 11 and Port Houston Update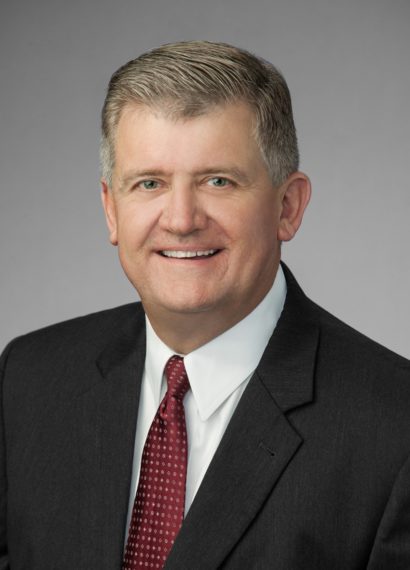 Roger Guenther, executive director of Port Houston, presented a timely update from Port Houston at the Port Bureau's Commerce Club luncheon on Nov. 12. The event was hosted at the Houston Marriott South.
Port Houston manages eight public terminals, including operating Barbours Cut and Bayport container facilities. They are the landlords for six others. As the advocate and a strategic leader of the Houston Ship Channel, Port Houston supports the more than 200 facilities and the neighboring communities along it by working with the federal government. They facilitate vital commerce through the greater port of Houston.
Why Project 11?
Named to reflect its position as the 11th expansion project in Houston Ship Channel history, Project 11 seeks to deepen and widen Houston's vital economic waterway to efficiently and sustainably keep pace with maritime industry growth.
Illustrating the need for expansion, Guenther noted that market demands are steadily increasing in the port region. From 2013 to 2019, vessel traffic increased 1%. During that same period, vessel size increased by 27%.
"That's 6000 tons per call of every vessel coming in our port," Guenther explained. He added that "a wider channel is a safer channel", noting that eight out of the last nine accidents on the Ship Channel occurred at Bay Reach at Galveston Bay. "We're widening that part of the channel to make it safer and to accommodate larger ships and two-way traffic."
Comprised of eight segments of expansion areas, Project 11 will widen the channel by 170 feet along its Galveston Bay Reach, from 30 feet to 700 feet.
"We have to have it now; we have to have it as quickly as possible," stated Guenther as he presented the Project 11 timeline, showing an accelerated schedule that moves much faster than usual expansion project schedules. He acknowledged the collaborative work of colleagues, industry, and public officials in helping to move the project forward.
"Our commission authorized our first dredging contract for Phase 1A [Boliver Roads to Redfish] just last month," said Guenther. "We expect to start in 2022 and finish next year."
Guenther spoke to the cost of the project, explaining that certain segments of the plan were considered by Army Corps of Engineers as to lacking benefits that exceeded cost and will have to be 100% funded locally. This is known as a Locally Preferred Plan or LLP. Port Houston is moving forward with the LLP as part of Project 11. He noted that a proposed user fee for funding the LLP segments of Project 11 "did not meet requirements" and has been set aside for the moment. More options will be explored.
"There's a lot of things going on with the Channel, but the good thing is we're moving forward! We have a great team of people across our organization that are making that happen," said Guenther.
Port Houston Cargo Growth
Guenther presented an update on container cargo growth, noting that TEUs reached 3.5 million in 2021. He spoke to the impact the Panama Canal expansion has brough to Port Houston, noting the growth of trade with Asia in particular, that now represents 37% of cargoes. "Go back a decade or so, and that number was zero," Guenther said. "Nothing was coming through the Canal."
Noting the value of Houston's local production to container exports, Guenther said roughly one out of every three containers exported from Port Houston is some type of plastic resin. Additionally, about 50% of what is exported in a container is related to the petrochemical industry.
Cargo activity at Turning Basin has also been very robust. Guenther indicated he frequently noticed "ships in every berth", saying steel was on the rise, and noting increasing activity in cement, lumber, tractors, and project cargo. Port Houston, he said, continues to make investments at Turning Basin.
Supply Chain Disruption Impacts
"We are not immune to what's going on," said Guenther, turning his attention to supply chain issues currently dominating the news. Guenther noted increase in consumer demand and the 30% rise in import cargo over last year.
"The bottom line is containers are coming off the ship faster than they're going out the gate," said Guenther. "An import container normally sits on our terminal for three to four days; now they are sitting there for eight or nine days . . . The limitations on truck drivers is not something new. It's something that's been going on for a long time."
Additionally, Guenther spoke to the lack of chassis availability for containers, explaining a chassis stays longer in another area – e.g., two weeks, rather than just two days - before completing the transportation cycle in moving goods.
"I think there is a perception that the supply chain is not moving. I can assure you it's moving. It's moving here 15% faster than it did before."
Sustainability
Wrapping up his updates for the Commerce Club, Guenther mentioned several sustainability initiatives at Port Houston. As concerns Project 11, Port Houston was able to negotiate for an approach with the most reduction over NOx emissions in their first contract, using more efficient equipment and providing for retrofitting emission-reduction technology. Port Houston continues to upgrade cranes and working to fulfill the sustainability goals in port operations.
Port Houston supports the Port Bureau's work to optimize vessel call scheduling. Additionally, they have a new community grants program for workforce development to encourage the next generation to come into the maritime community.
Port Houston's New Business Equity Division provides resources to small, minority- and woman-owned businesses seeking to participate in procurements and contracts with the Port. The goal is to maintain 35% overall small business participation and to reach a 30% minority- and woman-owned participation.
"I just want to thank you again. I'm glad to be a member of the Port Bureau . . . Being a voice for the activities of Houston makes us greater. It's critical to our future success. Thank you for your time," concluded Guenther.
Thank you to our sponsors:
Callan Marine • Enterprise Products Partners • Excargo • Kinder Morgan • Houston Mooring • Houston Pilots • Intercontinental Terminals Company • Moran Shipping Agencies, Inc. • Port Houston • Red Fish Barge & Fleeting • Regions Bank • Shell • Targa Resources • Vopak • West Gulf Maritime Association