13th Annual Captain's Cup Golf Tournament
Date posted
December 15, 2021
Briggs & Veselka Team Wins the Cup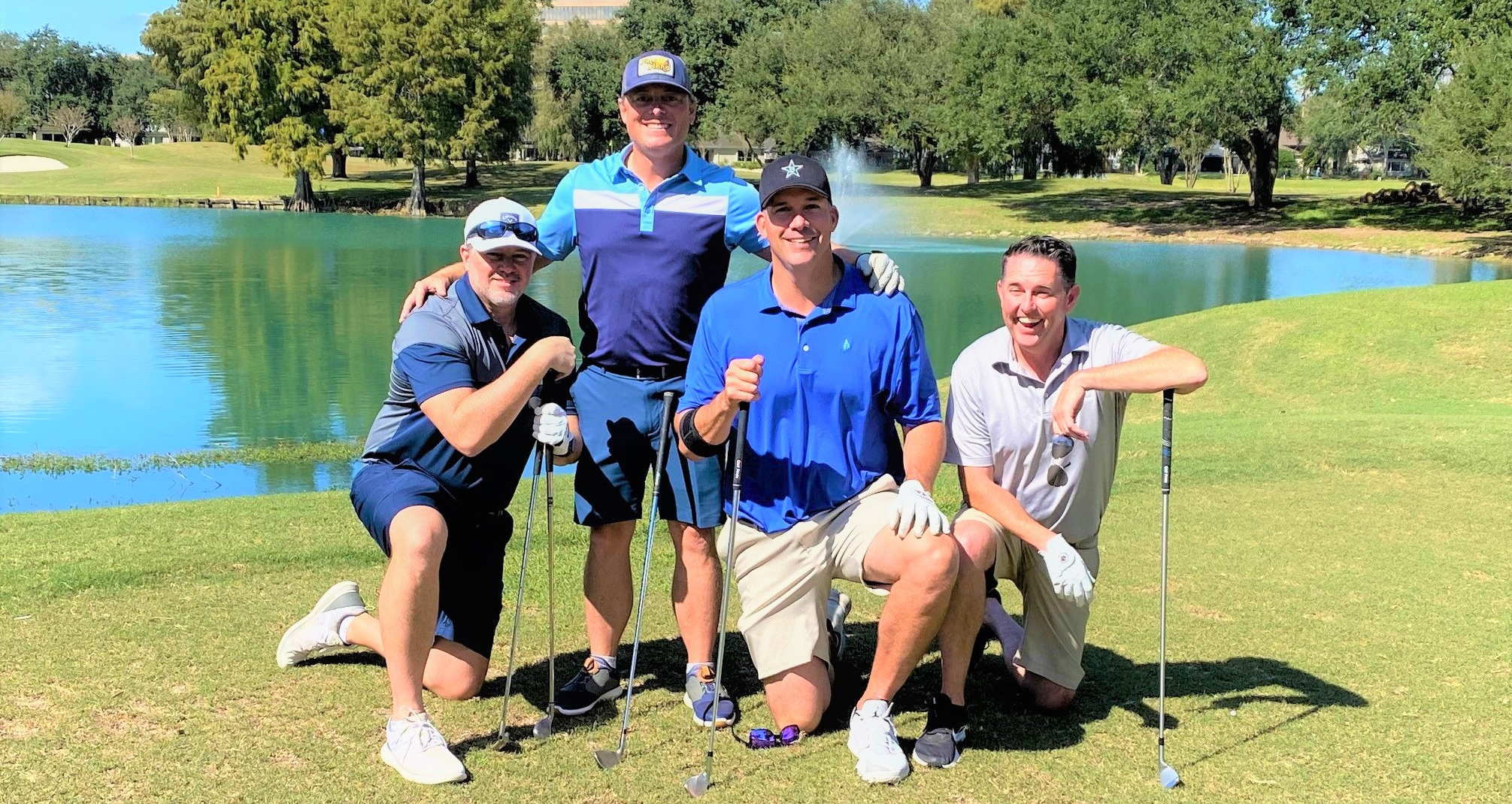 Team: Jamie Sylvester, Tim Studdert, Jason Eillis, and Kerry Kilgore.
Sunny skies and temperatures in the 60s greeted golfers arriving on the beautiful fairways of Sugar Creek Country Club for the 13th Annual Captain's Cup Golf Tournament. From first tee to the last putt on the greens, it was a day filled with excellent sport, camaraderie, and networking.
The Captain's Cup went to the team from Briggs & Veselka with players Jason Ellis, Kerry Kilgore, Tim Studdert, and Jamie Sylvester winning First place gross. First place net went to Coating Systems team with players John Ravenberg, Zac Ravenberg, John Sansing, and Jamie Taylor.
Additional team wins went to:
Second place gross: HDR, Inc. – Steve Arnold, Scott Marr, Bob Newell, and Dave Weston
Second place net: Mobilease – Shane Jarka, Luke Johnson, Peter Johnson, and Stephen Young
Third place net: Lloyd Engineering – Brandon Bricknell, Craig Drachman, Owen Parker, and James Dye.
The Captain's Cup featured several contests as part of the day's sport, including three closet-to-the-pin, hole-in-one, and the longest drive. Closest-to-the-Pin winners were James Dye, Danielle Taylor, and Jason Lee. Longest Drive was claimed by Tim Studdert.
Golfers stopped in for refreshments and received some fun-to-get giveaways at hospitality tents during the day. A raffle of popular prizes included a hotel & dining package at the Marriott Courtyard Houston, a golf foursome at Sugar Creek Country Club, a Piretti putter, Sure-Set Swing Trainer by Dan Frost, a backback cooler, a variety of golf gear, and more. All players went home with the gift of a FootJoy Windshirt.
The Port Bureau extends hearty congratulations to the Captain's Cup winners and thanks all the players for a great day of sport. In addition to our generous sponsors, we would also like to thank our Golf Committee for their hard work: Tim Studdert, chairman (Shamrock Marine); Brad Maxcey (Danner's Inc.); Jay Hooper and Shane Jarka (Mobilease); Karl Schröder (Schröder Marine Services); JR Shaw (Suderman & Young Towing Co.); Jacque Stilwell (Critical House Team); Jamie Sylvester (Briggs & Veselka); and Craig Wakefield (BNY Mellon).
The Captain's Cup sells out rapidly each year. If you or your company are interested in participating in the 2022 tournament, please send an email to golf-info@txgulf.org to receive updates.