Port of Galveston Celebrates Year's 1-Millionth Cruise Passenger
Date posted
September 5, 2023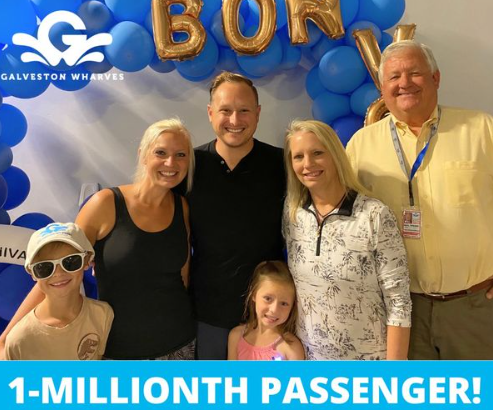 The Port of Galveston, the fourth most popular cruise home port in North America, celebrated its 1 millionth cruise passenger of the year on Aug. 28, putting it on track to reach a new record of at least 1.3 million passengers by the end of 2023.
Port, Carnival Cruise Line and MLSBCC representatives welcomed the De Graff family of Hudsonville, Mich., at Cruise Terminal 28 with gifts and cake before they embarked on their 5-night Carnival Breeze cruise. The family included Peter De Graff; wife Ashley; son Elijah, age 8; Abigail, age 6; and mother-in-law Sheri Scroggins of Wylie, Texas.
"We're very happy for the De Graff family and thank them for sailing from Galveston. We're also excited to celebrate this milestone with long-time cruise partner, Carnival Cruise Line. Thanks to the support of our cruise partners and loyal cruise customers, cruising from Galveston has never been better," said Rodger Rees, Galveston Wharves port director and CEO.
Due to Galveston's growing popularity as a cruise home port, newer and larger ships are sailing to more destinations. The port is preparing for arrival of the newly built Carnival Jubilee in December by partnering with Carnival on a $53 million improvement project at Cruise Terminal 25. The port also is expanding its park-and-walk lot adjacent to terminals 25 and 28.
"The port's continued growth as a home port is great news for avid cruise travelers, for local people who work in cruise-related jobs, and for the entities that benefit economically, including suppliers, maritime services, hotels, restaurants, shops and other businesses," said Rees.
Based on this growth, the port expects to set a new record with more than 350 cruise sailings in 2023, the 22nd anniversary of Galveston's home port operations. In 2022 it had 324 cruise sailings and reached its millionth passenger milestone on Dec. 22.
Passengers choose Galveston, the only home port in Texas, for its convenience and great sailing experience to Western Caribbean destinations, Rees said. More than 30 million people live within a 300-mile radius, making Galveston the prime drive-to cruise market for the central U.S., including Houston, Austin, Fort Worth, Dallas, Oklahoma City and Little Rock.