September 2021 Commerce Club Featuring David Tauber, Co-Chairman, Tauber Oil Company
Date posted
September 29, 2021
Vincent DiCosimo Hosts Moderated Conversation with David Tauber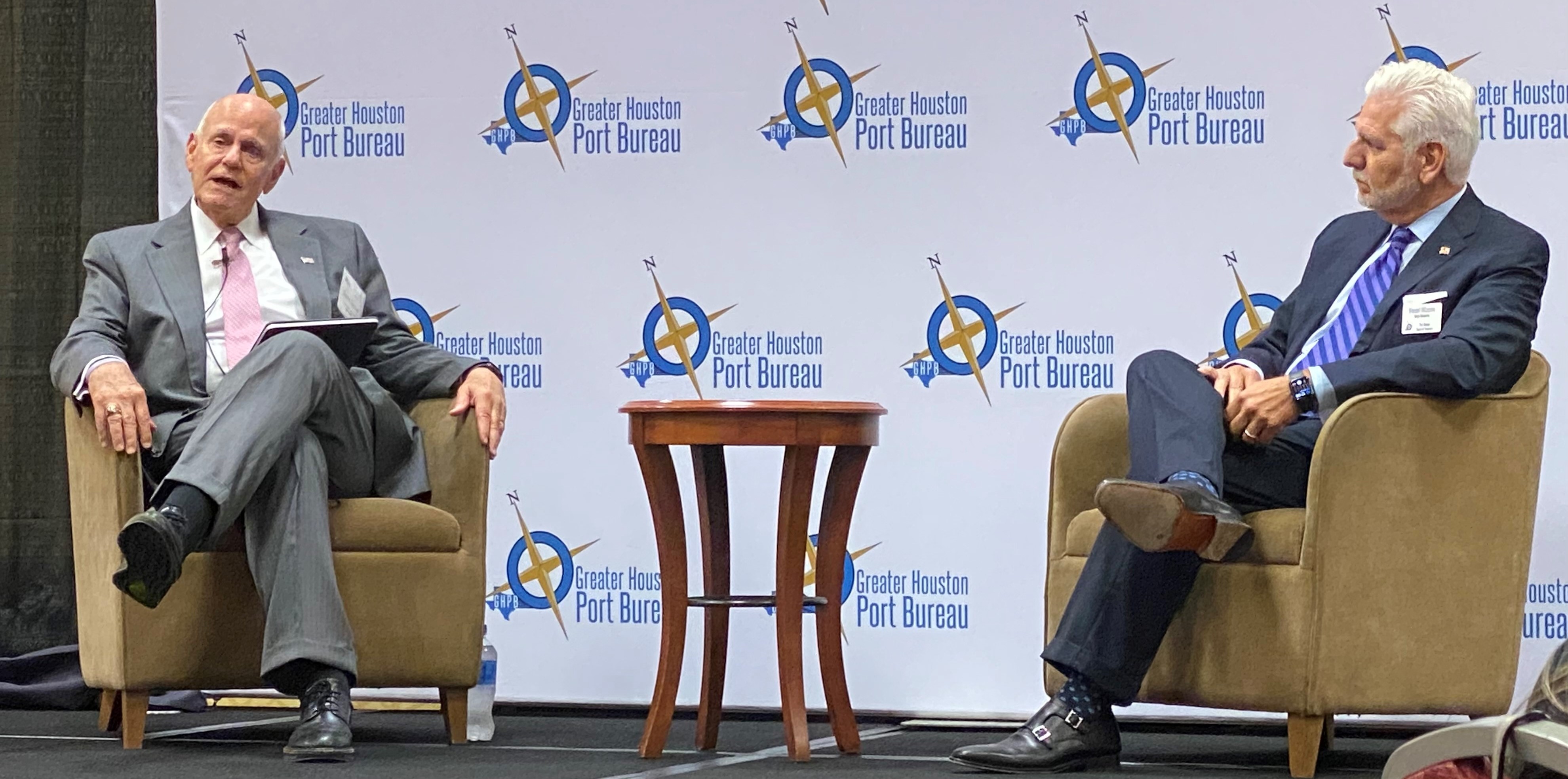 David W. Tauber, Sr., co-chairman of Tauber Oil Company, was the featured speaker in a moderated conversation presentation at the September Commerce Club luncheon. Vincent DiCosimo, vice president of governmental affairs-legal at Targa Resources, served as the moderator. The luncheon was hosted at the Houston Marriott South at Hobby Airport.
The discussion opened with a summary of the history of Tauber Oil Company – a firm founded by Tauber's father, O.J. Tauber, Sr., in 1953. While buying crude oil and selling the finished products for Eastern States Refining, Tauber, Sr., formed the vision for starting a company that could efficiently resolve refinery inventory imbalances. He went on to establish Tauber Oil based on his ideas and experience, conducting transactions with integrity, respect, and honoring commitments.
Today, Tauber Oil Company moves products throughout the port – via trucks, barges, tanks, ships, rail, and pipeline. David and his brother, Richard, still follow the vision and principles of their father – leading the company with his values and keeping a family feel in the corporate culture.
Current Structure of Tauber Oil Company
The company has grown and diversified significantly since O.J. Tauber, Sr., opened the doors in 1953. Its umbrella encompasses not only Tauber Oil Company, but also Tauber Petrochemical (petrochemicals transportation via ship, barge, truck and rail), Interconn Resources (natural gas service), TransOil Marketing, and Tauber Exploration & Production.
Tauber Oil purchased a natural gas company seven years ago that "proved to be a good business" for them. They have also added to other areas as the business with natural gas expanded. A trucking company in the Permian Basin, TransOil, maintains a fleet of over 50 tractor/trailer units and is an important component to their portfolio.
"We have rail cars from Canada to the Gulf Coast," said Tauber. "Another area is carbon black. We load ships here and take it to South Africa."
Tauber explained that carbon black is essential to tires. Without carbon black, the life expectancy of a tire would be 8,000 miles.
Value of the Houston Ship Channel
When the discussion turned to the value of the Houston Ship Channel to the company, Tauber was quick emphasize its daily importance and integral value to operations.
"We wouldn't be here without the Houston Ship Channel! It's really our lifeblood because we bring in chemicals, we discharge cargo, and go out by rail, by truck, all here within the port," he stressed. "Same with the carbon black. We bring it in by barge to the big terminals. We just got through loading an Aframax that's going East."
Weathering Change and Maintaining a Multi-Generational Family Company
Tauber credits the legacy of his father with the continuing success of the company and its adaptability. "I always go back to what Dad did," Tauber explained. "Dad did the 'right thing'. That's what Richard and I have done with our sons as we turned it [the company] over to them last January." Included in the "standard" published on the company's website is a pledge to daily exceed customer expectations and to value creativity, respect diversity, and explore ways to expand the company's footprint into the future.
Tauber also underscored the importance of diversification: "We're diversified. That's the thing. My answer is good people and diversification."
IMO 2020 Impact
The greatest impact to Tauber Oil Company from implementation of the IMO's 2020 regulation has been on the carbon black side of their business. Tauber explained that refiners "went lighter" and didn't run their FCC (fluid catalytic cracker) units as heavily. Since carbon black originates from this process, the new limits on sulphur in fuel oil impacted carbon black production methodology.
The company does not currently trade in fuel oil.
"We haven't traded a lot of fuel oil for years," explained Tauber. "The market is crazy. We've not been in that market, but it did affect our carbon black business. It didn't change what we were doing; it just changed how we had to blend carbon black."
Energy Transition
The company is actively looking at new sustainable energy opportunities. A significant portion of their financial institution relationships are with European banks, and Tauber described them as having their "green flat up 100%". As part of their exploration, they have closely examined a carbon black destruction type of unit that disposes of tires. They have looked at projects to move CO2 as well as other green energy diversification opportunities.
Summing up the future, Tauber noted the company is always looking for new and different opportunities.
Thank you to our sponsors:
Callan Marine • Blades International • Enterprise Products Partners • Kinder Morgan • Houston Pilots • Intercontinental Terminals Company • Moran Shipping Agencies, Inc. • Regions Bank • Targa Resources • Vopak • West Gulf Maritime Association