By Tom Marian, Buffalo Marine Service, Inc.
Thomas Dekker's Elizabethan poem, written as the 16th century ended, comes to mind as the month of May casts off the doldrums of April in the maritime trade arena.
Perhaps it wasn't the merriest of months, but a 6% climb was yet another indication that normalcy was drawing nearer.
This was most evident closer to shore as inland tow movements logged their 4th consecutive rise and bested the previous high set in January. While the tow count into and through the Houston Ship Channel continues to remain 13% below last year's figures, the most recent 4% monthly uptick signals that brownwater commerce is stirring from its slumber. Undoubtedly, there are certain sectors that are outperforming others but, as commodities continue to rise, the movement of goods shall follow.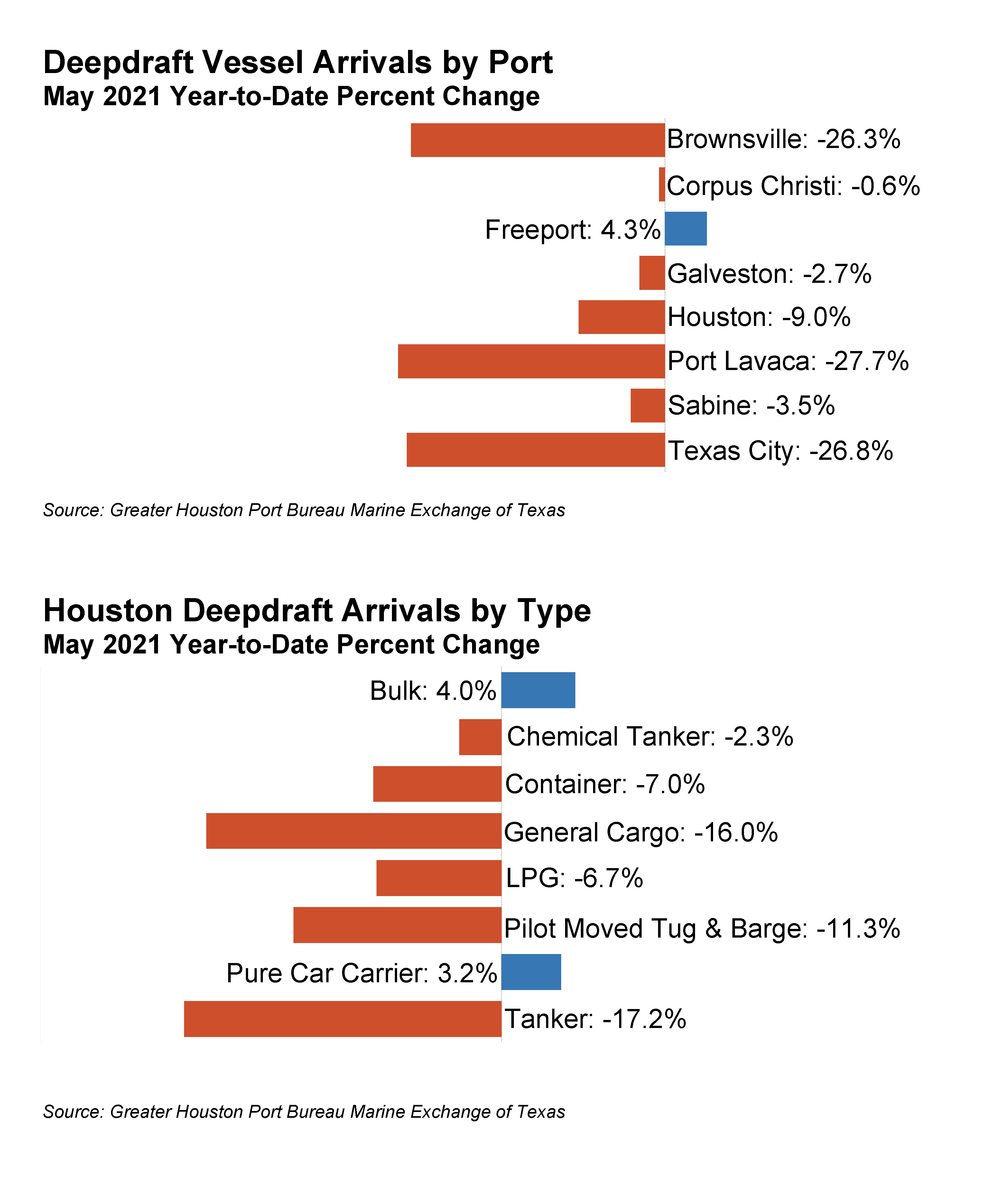 The same ship channel that handled nearly 11,000 inland tows in May also welcomed over 10% more deepdrafts when compared to April. Yet, it continues to lag 2020's year-to-date arrival numbers by 9%. That aside, there were a few additional high notes in May. Tankers posted a near 17% monthly increase with its highest count for the year. A bullish barrel is stirring things up for this category. Nonetheless, it still needs to make up for much lost ground given that it is over 17% behind last year's count. General cargo posted its 3rd consecutive high count following its 4th monthly gain in a row. Yet, despite the most recent 18% jump, it remains 16% off of the prior year. That said, the fact that oil and general cargo are syncing up raises hope that projects in the fracking fields are poised to wax.
Bulkers and car carriers are the only two vessel categories calling upon the Port of Houston that remain in the black for the year – 4% and 3.2% respectively. The bulk trade experienced a 5.3% bump over the last month; reflecting a solid demand for the export of bulk commodities. Cheap dollars and pent up demand for vehicles contributed to the arrival of 3 more car carriers. Unfortunately, some of that demand will remain frustrated due to a shortage of computer chips. Of course, one cannot produce much without the bounty of chemicals that are extracted from a barrel of oil. Chemical tankers may have posted a 28% wane for the month, but the arrival count continues to outpace 2020's by just shy 13% - another indication that international production is on the rise. LPG arrivals hiked up 2.5% but remain off almost 7% for the year signaling continued weakness in overseas economic activity in the European markets.

The ubiquitous steel boxes that revolutionized maritime trade several decades ago appear to be telegraphing that the consumers' appetite for goods remains healthy. May was more or less mirthful with a 4% climb in the overall TEU count. The most dramatic changes in the movement of containers are the empty export statistics. In the last month alone, there was a 25% jump in the movement of empty export containers and - while full import TEU numbers are up 26% year-to-date - empty exports are nearly 200% higher than last year's tallies. Could it be not enough containers are on hand overseas to meet the nation's demand for imported goods?
Beyond Houston's skyline, most Texas ports had a sanguine view of May. Texas City was the beneficiary with an uptick in the export of chemicals which contributed to an impressive 32% monthly rebound. Unfortunately, it still trails last year's soft year by 27%. Galveston, a port particularly hard hit in 2020 by the idling of cruise ships and plunge in demand for offshore oil, eked out a 2% gain; however, with the return of cruise ships to the Island of Galveston, it should not be difficult for the port to erase its current 3% year-to-date deficit over the next several months.
On the Rio Grande, the Port of Brownsville is struggling to regain the momentum it experienced last year. April was 20% more merry than May and, thus far, 2020 is 26% of this year. To the northeast, Corpus Christi is a mere 5 vessels (i.e., 0.6%) behind 2020's year-to-date count after chalking up a 2.4% monthly wane (i.e., 5 fewer vessels). In other words, 2020 and 2021 are neck-and-neck. On the opposite end of the coast, Sabine is benefiting from a burgeoning demand of LPG and chemicals which currently stand 61% and 13% ahead of last year's pace respectively. Mind you, May was anything but merry as chemical tanker arrivals plummeted by 28%. Overall, this border port is down by 3.5% for the month and the year.
So shall we save the merriest of the ports for last? Another triple-digit performance has added to Freeport's maritime trade bounty. The very merry month of May welcomed 9.5% more deepdraft arrivals and remains over 4% ahead of last year's record vessel count. As 100+ arrival months are added to the year-to-date numbers, one may be tempted to rename the port "Gleeport". Indeed, things are "so green, so green, so green" in this queen of a port.
Derrick's merriment over the verdant scenes of May was most certainly not tied to the ebb and flow of marine commerce into Texas. His catchy poem was but a small part in his play entitled, "The Shoemaker's Holiday" – what the inhabitants of Henry VI's England would consider a 'City Comedy.' It was a tale of economic mobility, social boundaries, and the vicissitudes of capitalism in a bustling urban setting. In short, a trade well-made could bring an entrepreneur much coin or an ill-timed bargain could sink the fortunes of the wealthiest of souls. Ultimately, the green of May was always a sign of hope for a better tomorrow. Hence, the trade gains of late Spring shall yield a bountiful Fall or at least one that promises to eclipse last year's malaise.
---