What Has Been Lost May Be Found
Date posted
February 9, 2021
By Tom Marian, Buffalo Marine Service, Inc.
Stumbled upon by a British sea captain, annexed by Germany, conquered by Japan and liberated by Australia as WW II came to a close, Nauru became the world's smallest island nation when it was granted its independence in 1968. Known for its vast phosphate reserves, it became one of the wealthiest nations in the world, on a per-capita basis, as it exported hundreds of thousands of tons of phosphates throughout Oceania. Yet, the 10,000 plus inhabitants nestled on 8 square miles of coral were spending far beyond their means despite the bounty derived from its highly-desired export. Ultimately, the phosphate deposits played out and the bulkers ceased coming. With nothing left to trade, Nauru went broke.
2020 certainly broke the back of many a small business that comprised the service sector. It also shook the firmament of the world economy as industrialized nations racked up record debt covering the lost income of hundreds of millions of idled workers precipitated by that which could not be seen. Fortunately, there was enough fuel in the tank to prevent a complete cessation of all trade between locked-down nations. As the clock struck midnight on the 366th day of the year, most Texas ports experienced a monthly uptick in vessel arrivals. In fact, three of the state's eight major ports set arrival records and are poised to do the same in 2021.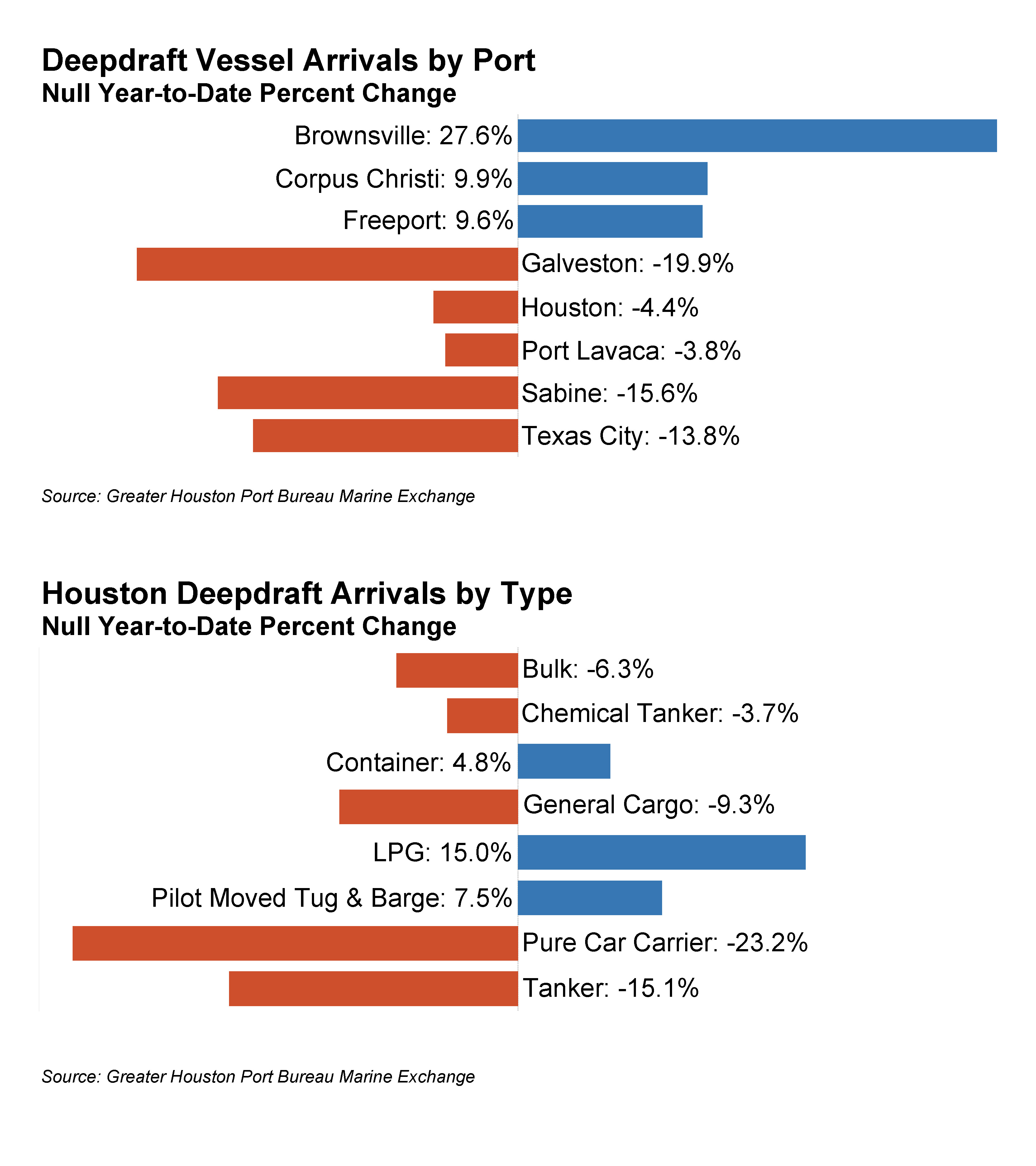 Perhaps one of the more remarkable port performances was that of Corpus Christi. It greeted 2020 on a high note and bade it farewell on an even higher one; recording its strongest quarter – arrival-wise - in the port's history. December set an arrival record as Corpus Christi closed out the year 10% ahead of the previous year after a nearly 23% monthly gain. The flow of crude, LNG and LPG from its newest terminals has garnered the attention of many given its extraordinary volume of trade in a year that most ports would like to forget. The nearby and more diminutive port of Brownsville shared the spotlight with Corpus Christi as, it too, shattered 2019's numbers by well over 27%. This feat was even more impressive when one considers the final quarter of the year was its worst.
Rounding out the ports that are eligible to crow about 2020 is Freeport. It bested last year's arrival tally by over 9% after its most recent monthly gain mirrored its annual improvement. Freeport's final quarter was ever so close to the first quarter arrival numbers; however, the final quarter was the only quarter with two of its three months in the plus-hundred-arrival range. In effect, Freeport chalked up one-half of its triple-digit counts during the last three months of the year. As the port closed its books after a rather tumultuous year, it could be proud of the fact that it ranked fourth of all the Texas ports in arrivals.
Galveston's final month on the vessel arrival front saw a bit of a bounce with an 8% gain. Of course, that did not make much of a dent in its annual numbers which were 20% off last year's. The silver lining is that the port's final quarter was stronger than the previous two. Vaccinations potentially herald the return of the cruise business in short order but, the advent of the Age of Renewables does not harken that any favors are in store for the oil patch.
Sabine's monthly performance was nearly as robust as Corpus Christi's at 22%. Nonetheless, it ended the year – percentage wise – below all other ports save Galveston with a 15.6% fall. Undoubtedly, Sabine was a victim of the worldwide slowdown in economic activity as its tanker count fell 22% for the year and chemical tankers were off by nearly 18%. Granted, there was one vessel-category darling – LPG tankers - which set an arrival high during the final month of the year. The most recent 22% jump yielded this category 7.6% more arrivals than last year.
Texas City could boast that its arrival percentages were not as moribund as those of Sabine and Galveston. Yet, unlike those two ports, it could not brag about December's arrival tally which fell by 4%. It can chalk up its 13% year-over-year drop to the same reasons Sabine languished. Hopefully, the rebound in demand of petrochemical exports will put a better face on 2021. Alas, wind farms and solar panels may foreshadow more of the same over the next four years.
Houston has seen better months after hosting 2.5% fewer vessels. Surprisingly, it did manage to eke out its best quarter for the year. Overall, 2020 lagged 2019 by 4.4%. Nevertheless, there were a few bright spots at year's end. Container ship arrivals ended the year nearly 5% ahead of 2019 despite a final monthly wane of 9%. Candidly, that does not tell the entirety of the story given that it's all about the number of containers. On the full-TEU import front, 4% more containers entered the port in the last year and last month. The more telling picture – from a macroeconomic perspective - is the fact the full-export containers are off by 3% vis-à-vis 2019. LPG arrivals were up for the month by well over 6% resulting in a final year-over-year gain of 15% - a rather hearty performance when one considers tanker arrivals fell 15% in 2020 and chemical tankers ended just shy 4% in the red for the same period.
The non-BTU vessel categories experienced similar yearly declines. Bulkers ended December on a positive note with a 3.6% climb but lagged last year's count by over 6%. General cargo fared worse with a 9% deficit as compared to 2019 and car carriers chalked up the poorest year-over-year performance with 23% fewer arrival than the prior period. Meanwhile, ocean going tows were the surprise of the year with its 3rd consecutive monthly gain rounding out the year with 7.5% more arrivals as December gave way to January. Unfortunately, the same cannot be said for the inland tow community. It has yet to gain any ground after being hammered by the lockdown repercussions ending the year with 7761 fewer Houston Ship Channel movements. Yet, there are some nascent signs that the linehaul business is stirring back to life – for now.
There are certainly many changes in store with the dawn of 2021. Whether those changes encompass tax codes overhauls, regulatory mandates for renewables, firearm restrictions, internet censorship guidelines, or infrastructure overhaul initiatives, it is afoot and it will impact trade patterns. To what lengths, it is hard to say but, as the citizens of Nauru can attest to, change is inevitable – for better or for worse. After all, they have lived through feast and survived disease and invasion. Perhaps their nation's motto has much to do with their view of such things – "God's will first." Regardless, it certainly keeps things in perspective.
---