Ami de la Nation Belge
Date posted
October 25, 2021
By Tom Marian, Buffalo Marine Service, Inc.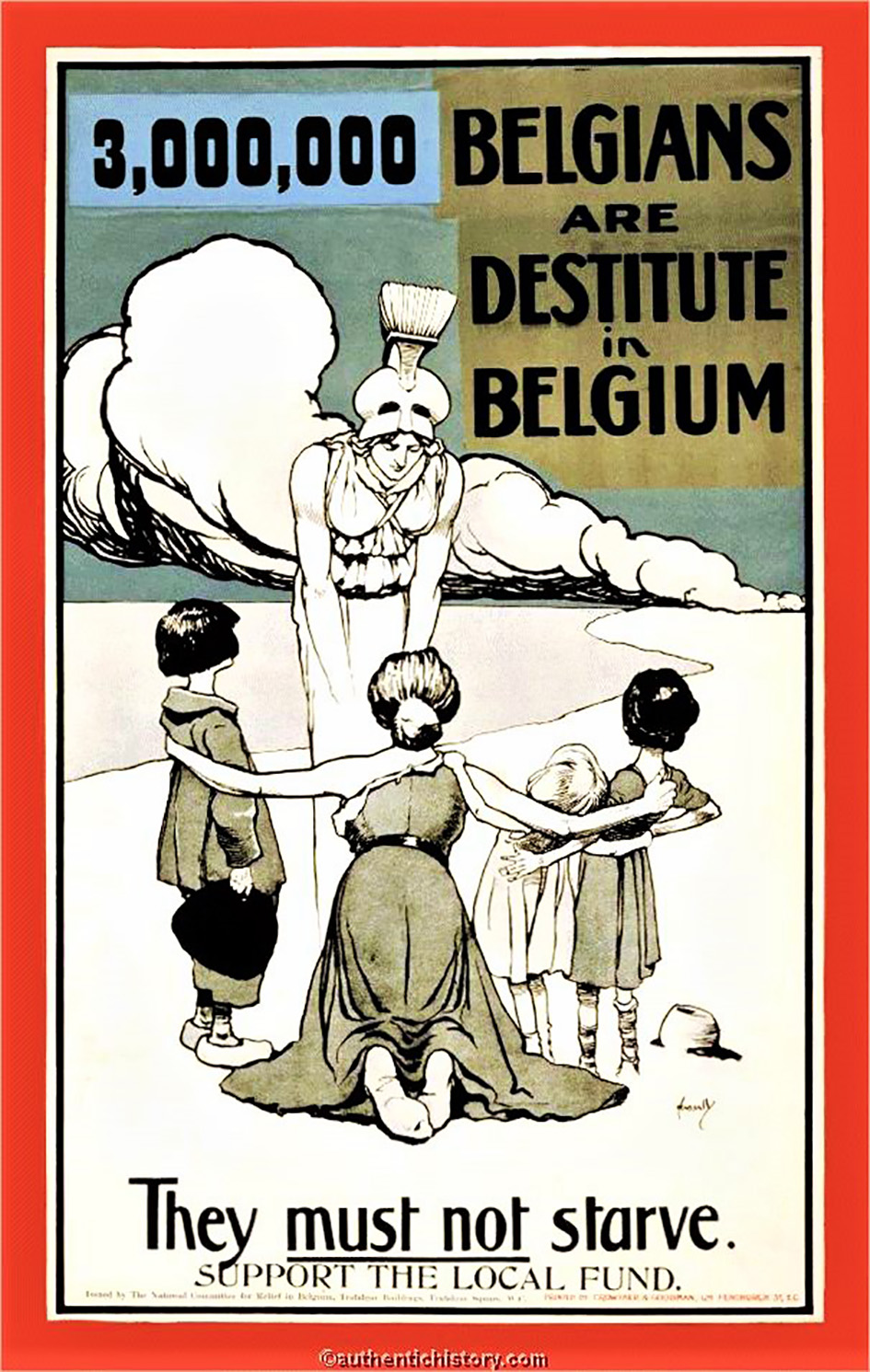 In August 1914, Germany's execution of the Schlieffen Plan brought Belgium into the crosshairs of World War I. Worse yet, the subsequent stalemate that unfolded while trenches were being dug from the North Sea to Alsace precipitated the greatest humanitarian crisis in history as several million Belgians faced starvation. Neither side was motivated or capable of feeding up to 9 million civilians each day. The English would not lift their blockade for fear of supplies falling into the hands of the country that invaded Belgium; whereas the Germans were convinced Belgium could readily import food as it had done before the war. Yet, despite this stubborn impasse, there was one individual that possessed the organizational genius and business acumen to avert mass starvation: Herbert Hoover.
As a private citizen, Herbert Hoover created the Commission for Relief in Belgium (CRB) and its concomitant network of 40,000 volunteers to manage the Herculean task of purchasing, transporting and distributing over 5 million tons of food. Hoover cajoled the warring parties to grant him diplomatic immunity to orchestrate this unprecedented undertaking; established price controls; requisitioned a fleet of ships to transport aid into neutral ports; and raised a billion dollars to ensure the CRB could sustain its efforts throughout the war. This "Napoleon of Mercy" tirelessly devoted his efforts to ensure the food always arrived where it was needed and was never diverted to German troops.
Today, the challenges faced by the supply-chain continuum are certainly not linked to a world at war but - a system that been derailed by labor shortages - has frustrated many a consumer. Fortunately, in Texas, those frustrations are not as severe as in other parts of the country. Admittedly, September was not as solid as prior years. The overall arrival count for the state dropped for the first time in five months. Yet, there were a few ports that posted monthly arrival gains.
Thanks to the cruise ship industry, Galveston was blessed with its best month of 2021 and eased into the top spot with the highest year-over-year percentage gain of 15.5%. September's monthly gain was Galveston's biggest increase for the year at over 13%. The port of Sabine also yielded its highest arrival tally for the year and is only behind Galveston with respect to outdistancing 2020's numbers which currently stands at 11.3%. LNG vessels, chemical tankers, tankers and even car carriers have contributed to Sabine's arrival bounty of 2021.
The two remaining ports that are chalking up higher arrival numbers this year are Freeport and Corpus Christi. Both ports are benefiting from expanded capacity with the construction of new terminals. Albeit, both ports posted modest declines in September, but their respective wanes of 2% and 4% did not make much of a dent in the year-to-date gains which currently stand at 11% and 3% respectively.
Texas City's September lagged that of August by nearly 3% and the port trails last year by over 11%. The port may gain some additional traction in the final quarter of the year if the cost of a barrel of oil continues to $100. Brownsville, on the other hand, has seen 26% fewer vessels in 2021. Chaos at the border coupled with unprecedented trucking congestion may be stymieing the movement of goods to and from this port. Then again, the lack of activity in the nearby shale gas plays and France's decision to boycott fracked LNG has been a bit of a setback for Brownsville's port.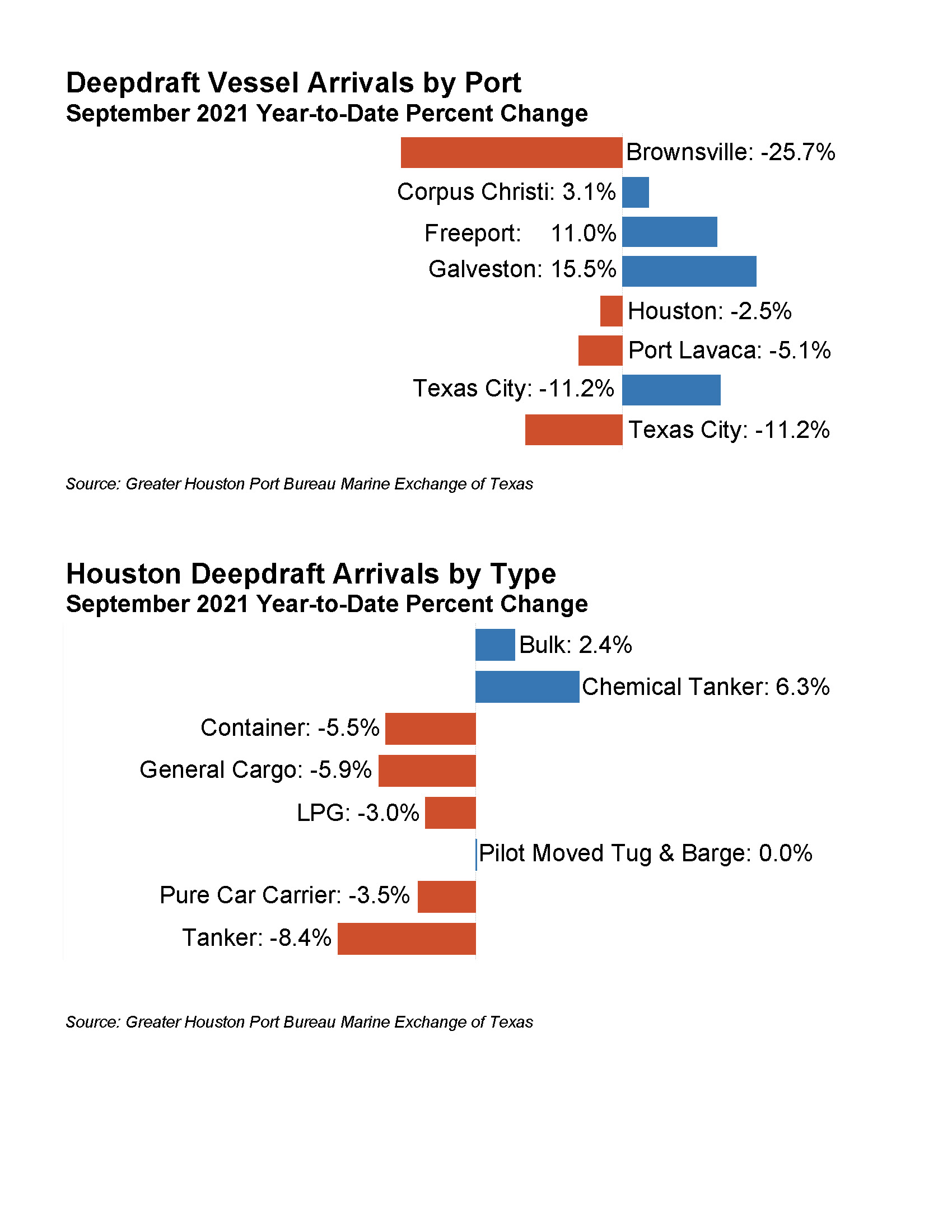 Houston has also been adversely impacted by the dearth of drilling in the Texas shale gas regions. The port posted its second consecutive decline in arrival numbers due to an unsteady export market on the international trade front. Even containers – which are outpacing 2020's year-over-year TEU count by 16% - were off 12% over the last month. Of note is the fact that full TEUs slated for export are down 15% for the year; however, the full import TEU numbers are a torrid 30% ahead of last year's count.
Thus far, the brightest spot with respect to type of vessels plying Houston's ship channel is chemicals. This export play gained 3% over the last month and continues to surpass 2020's arrival stats by over 6%. Bulkers are also in the black for the year by over 2% after chalking up a 4% monthly uptick. Undoubtedly, poor harvests on the other side of the globe, along with a higher demand for bulk commodities bound for international manufacturers, has fueled this rise.
The remainder of Houston's vessel categories languished in the final month of the third quarter and also lagged last year's arrival figures. It is difficult to opine on whether or not a more expensive barrel of oil will supercharge the fourth quarter trade numbers given that labor remains tight and the necessary materials to extract and transport crude to market are becoming more expensive with each passing month. Trade and the markets that rely upon that trade yearn for predictability – something that is in short supply these days.
What is predictable is that empty shelves and empty stomachs beget crisis. Herbert Hoover understood that better than anyone as he coordinated the most far-reaching private humanitarian effort to date. By the time the war approached its end, Hoover had been appointed a government official and was therefore precluded from accepting a title of nobility from King Albert. Nevertheless, the king of Belgium directed that Herbert Hoover be titled a Friend of the Belgian Nation and Herbert Hoover would be the sole recipient of such a distinction. As Ambassador Page noted when the Guns of August were finally silenced on November 11, 1918, "But for Hoover, Belgium would be starved…He's a simple, modest, energetic little man who began his career in California and will end it in Heaven; and he doesn't want anybody's thanks."
---
About the Author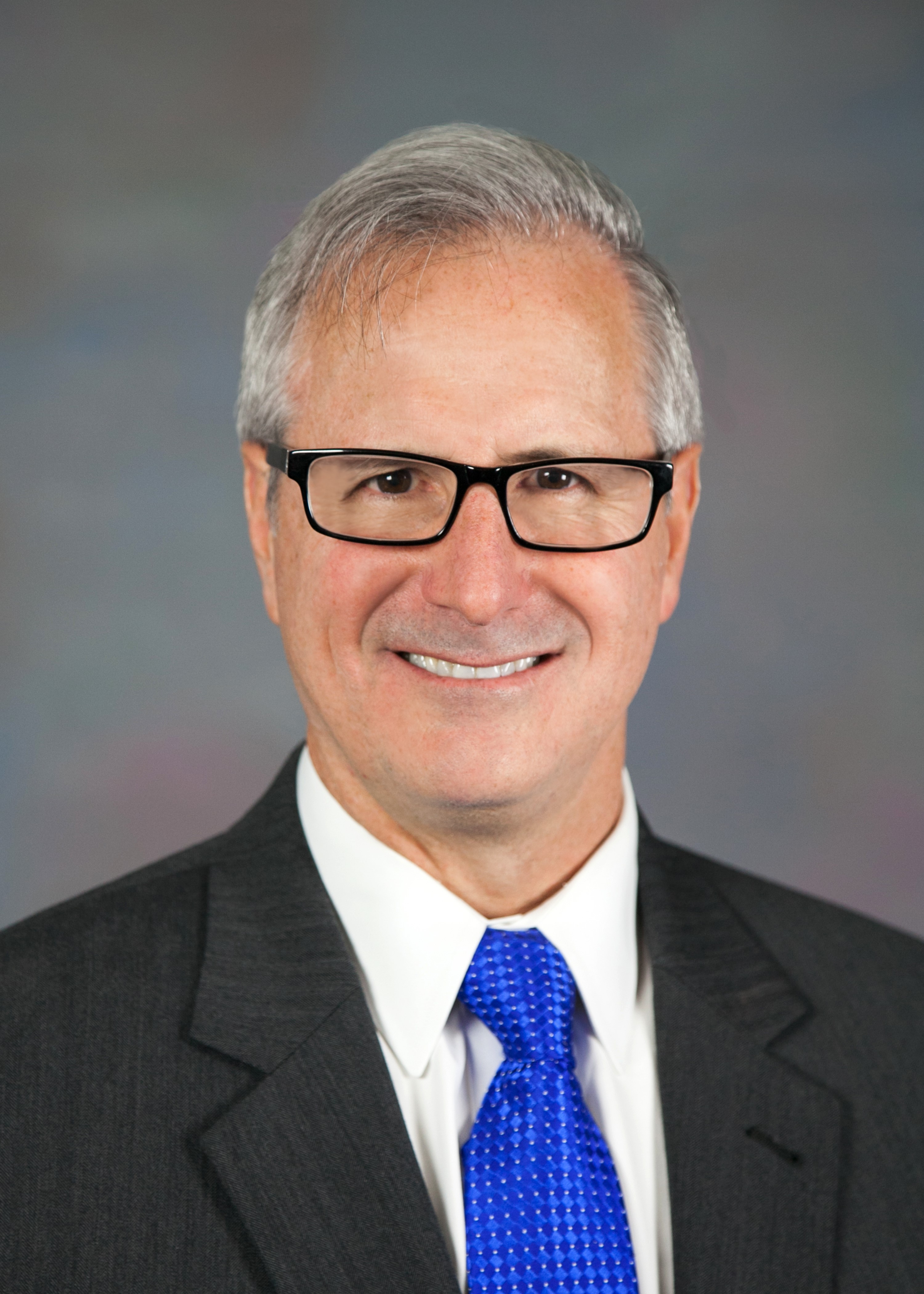 Tom Marian is the General Counsel of Buffalo Marine Service, Inc. He also serves on the Executive Committee of the Port Bureau Board of Directors.