Callan Marine Launches 18" Cutter Suction Dredge 'General Marshall'
Date posted
April 19, 2023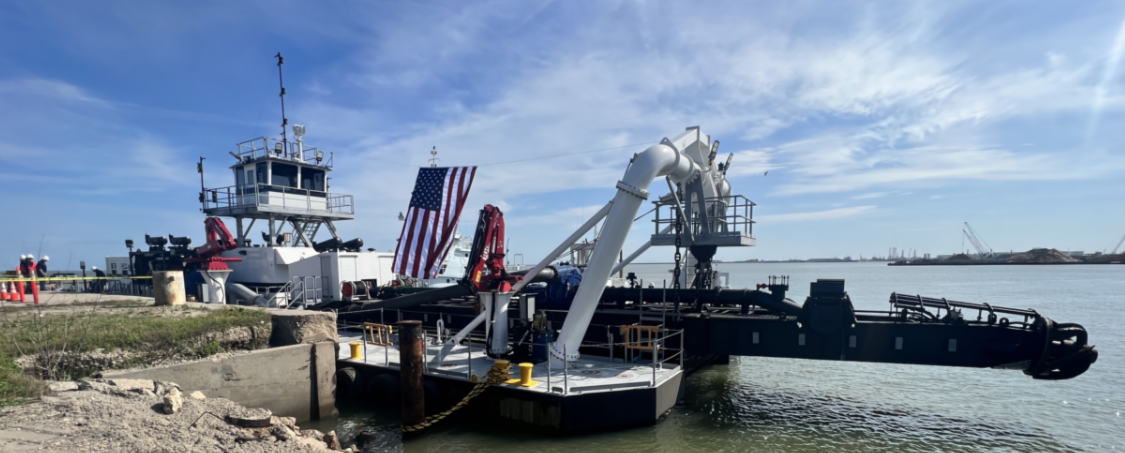 The General Marshall, an 18" cutter suction dredge, was launched on April 14. It is the seventh dredge to join Callan Marine's fleet. Photo courtesy of Callan Marine.
Callan Marine staff, crew, and guests gathered to watch the dockside launch of its newest fleet asset, the 18" cutter suction dredge named the General Marshall, in Galveston, Texas.
At 194' feet long and 41' feet wide, the General Marshall was constructed by DSC Dredge LLC beginning at Poplarville, Mo., and completed construction at Reserve, La. The General Marshall was assembled and launched at the Kennedy Shipyard in Galveston, Texas. With an 18" suction and discharge diameter, the General Marshall is equipped with a total of 3,005 horsepower and features advanced production automation and monitoring systems.
"This is the seventh dredge to join the Callan Marine fleet, with the General Arnold on the horizon," stated John Sullivan, CEO and managing principal of Callan Marine. "Our commitment to the dredging industry continues to grow and by expanding our fleet assets, we stand ready to respond to the needs of our coastal waterways."
The General Marshall will join the ranks of Callan Marine's other dredges: the 32" General MacArthur, the 28" General Bradley, the 18" General Pershing, the 16" General Patton, the 12" General Eisenhower, and the 8" General Swing. The 32" CSD General Arnold is slated for launch in later in 2023.
Callan Marine, LTD. is a Texas-based, privately owned dredging and marine construction company founded in 2009. Callan Marine performs dredging projects for both private and public clients by providing services to restore berthing depths for ship docks and navigation channels, improvement dredging, beach renourishment, coastal protection, and marsh creation.