Cargo Continues to Move at Port Houston
Date posted
November 8, 2021
Supply demand is creating challenges, but Port Houston is working diligently.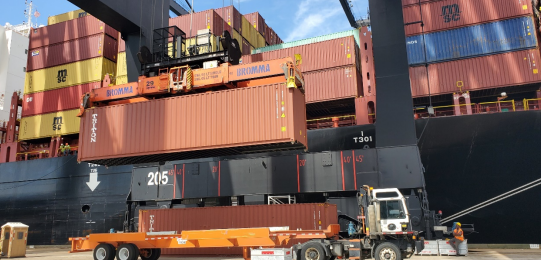 The docks are full at Port Houston, but people are working together to keep the cargo moving. Photo courtesy of Port Houston.
---
The Port Commission of the Port of Houston Authority met on Oct. 26 for its regular monthly meeting. Port Houston Chairman Ric Campo opened the meeting by expressing his appreciation for all "the people working together to keep the cargo moving."
Chairman Campo acknowledged the unprecedented challenges that increased demand in the supply chain has created, but "people show up every day working together to keep cargo moving."
In his report to the Port Commission, Executive Director Roger Guenther said that Houston is not immune to the challenges that ports across the nation are experiencing, as retailers rebuild their inventory to meet high demand. He noted that Houston docks are full, and the average ship waits about 60 hours before calling the port. However, Port Houston has been able to mitigate significant impacts on truck-turn times despite the increase in historic cargo volumes.
Guenther said, "We are working together with labor to turn ships around as quickly as possible." He said that since January, the International Longshoremen's Association (ILA) has been able to increase the numbers of people working ships on both the day and night shifts.
Guenther said he expects "the inherent continued growth of cargo at a rapid pace after the pandemic," and plans are to sustain the accelerated investment in infrastructure. During the meeting, the Port Commission approved a more than $2 million purchase of 16 additional energy-efficient yard tractors for the container yards, supported by a grant from the Seaport and Rail Yard Areas Emission Reduction Program (SPRY), to help reduce emissions of NOx by 93%.
The Port Commission also authorized up to $400 million bond issuance to support the Houston Ship Channel widening and deepening program, Project 11.