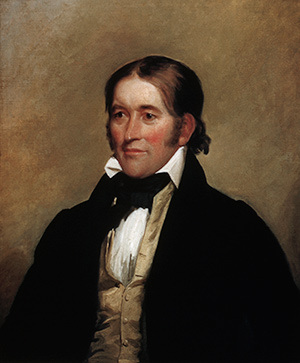 In the winter of 1827, Congressman Davy Crockett was descending the steps of the Capitol with several of his peers when he noticed a brilliant glow on the horizon. A fire was raging in Georgetown. Immediately, he and his fellow congressman raced to the scene and spent the night battling the inferno. When the blaze was finally subdued, Congressman Crockett was nearly moved to tears as he gazed upon the numerous families that had lost everything save the clothes on their back. He feared if nothing was done, women and children would not survive the bitter cold. That same week, the freshman congressman from Tennessee rallied his fellow representatives to pass a bill allocating $20,000 to the victims of the Georgetown fire. It was a generous act intended to help those in distress.
Several months later, the renowned frontiersman departed Washington, D.C., for his congressional district to embark upon his reelection campaign. As he was riding through the fertile hills of western Tennessee, he greeted a constituent plowing a field and introduced himself. The farmer informed Colonel Crockett he knew who he was. He added that he had voted for the famed frontiersman in 1826 but that he would not vote for him again. Congressman Crockett was taken aback by the farmer's statement and asked why he wouldn't receive his vote. The farmer simply replied, "You either do not understand the Constitution you swore to defend, or you have no respect for it." Crockett was incredulous at this sockdolager and claimed he had no idea why the farmer would say that.
The farmer told Crockett that he had read in the Congressional Record that Crockett had voted to award $20,000 to the victims of the Georgetown fire and forcefully explained his viewpoint on the matter. When the farmer finished, a cowed Crockett asked him for his name. The farmer introduced himself as Horatio Bunce. Crockett knew he was one of the most respected citizens in his district. Thus, without Bunce's support, his reelection hopes would be dashed.
As the citizens of the United States celebrated the birthday of the nation's Declaration of Independence, the pace of commerce across Texas ports began its seasonal ebb. March, in typical fashion was the state's hightide mark in terms of total vessel arrivals. To that end, while June's state-wide arrival numbers were off for a third consecutive month, 2022's year-to-date eclipsed that of 2021 by 9%. The brownwater tow movements across the Houston Ship Channel exhibited the same pattern; albeit, this year's count exceeds that of last year by 16%.
On a month-over-month basis, the Port of Brownsville posted the heftiest of gains at 13% but lags last year's pace by 6%. 44% fewer chemical tankers were the primary culprit for this year's lackluster performance. Several score miles up the coast, Corpus Christi's vessel count peak unfolded in April rather than March and saw a 4% improvement over the last month. Corpus Christi's expansion efforts over the last few years continue to bear fruit with 2022's arrivals ahead of 2021 by 9%. Moving in the same direction, the Port of Freeport's growth trajectory continues unabated, year-over-year. Despite the most recent 7% monthly decline, 2022 is outpacing the prior year by 2%.
Galveston experienced a mighty wane over the last month with 22% fewer arrivals. This was primarily due to a lull in cruise ship activity. The good news is that cruising is returning to post-COVID levels as reflected in the port's 8% uptick vis-à-vis the first half of last year. Texas City's 2022 arrival statistics are benefiting from the robust demand for petrochemical products. June's count was 1% above that of May's and the first six months of 2022 has seen 13% more vessel arrivals than that of the first two quarters of 2021.
On the former international border where the Sabine River flows, 2% fewer ships called upon the port complex served by that waterway over the last month. Nonetheless, 13% more bluewater vessels have plied those same waters when compared to the first six months of 2021. LNG, LPG and petrochemical exports - combined with a handsome jump in general cargo movements - have contributed to 2022's trade bounty.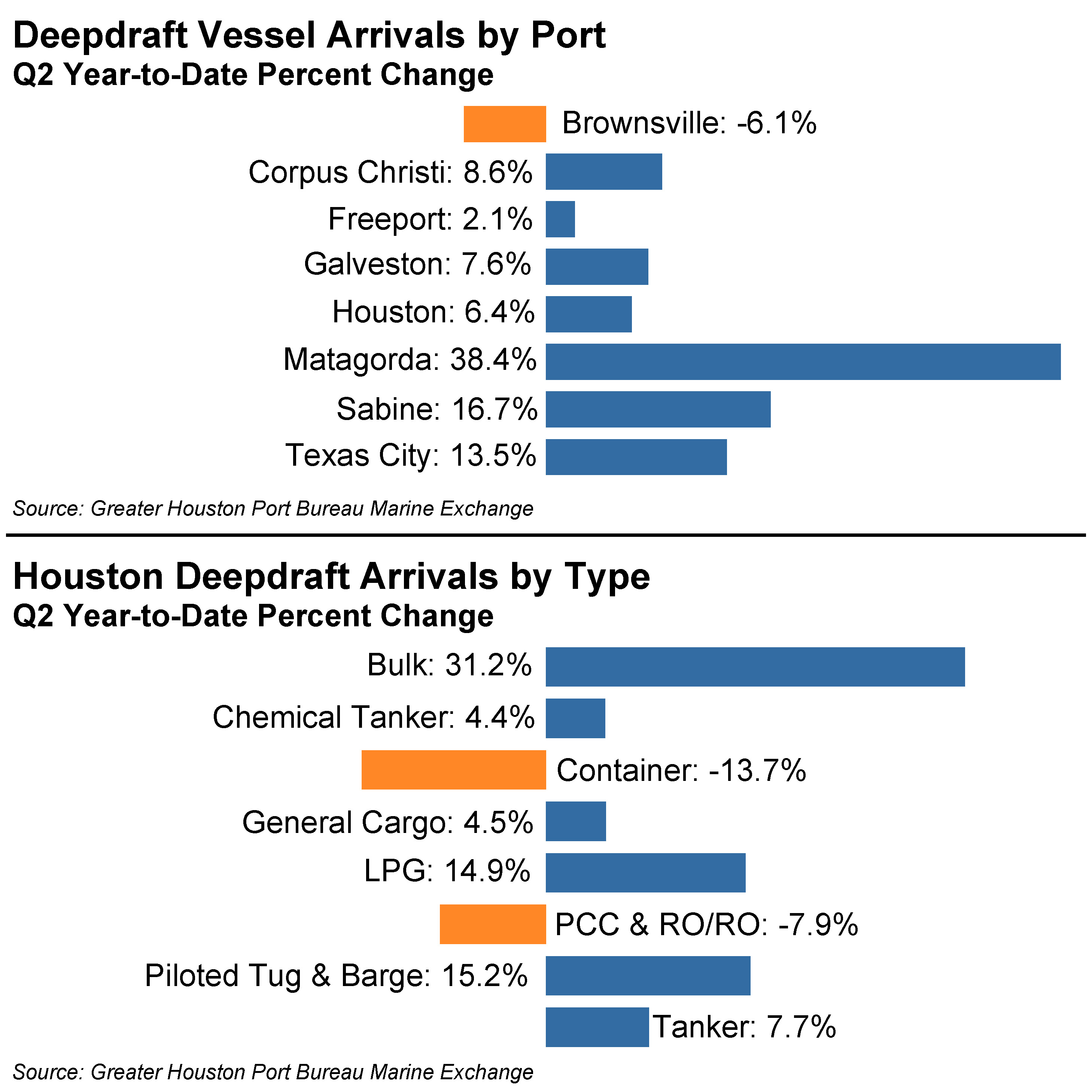 While the port of Houston cannot boast of double-digit year-over-year gains, it is also enjoying a more favorable trade picture over the last year. Specifically, undaunted by last month's 2% arrival decline, the port leads last year's arrival figures by 6%. This year, bulkers have taken top billing with a 31% year-over-year jump. LPG exports have not been as torrid as that of the bulker arrivals; however, a 15% increase is anything but paltry. Oceangoing tows nearly mirrored that of its brownwater brethren with a 15% year-to-date rise. The movement of refined products between U.S. ports has been in overdrive since the price of a barrel of oil entered triple-digit territory. Tankers – both of the oil and chemical type – are also up for the year – 8% and 4% respectively.
Those of us who have been monitoring the wide swath of empty spaces at car dealerships will take little comfort in the fact that car carrier movements remain 13% below that of 2021. One wonders if that ship will ever be righted given the non-transitory nature of inflation. Container vessels have posted the largest year-over-year percentage decline of all major ship categories that steam through Galveston Bay. No matter, the 2021 record TEU numbers will soon be overshadowed by the 2022 record TEU counts. At present, 20% more containers have passed across Houston's terminals, with full imports leading the charge. Hopefully, barring a recession or some other pattern of economic malaise, fireworks will fill the sky to celebrate 2022's humbling of 2021's COVID-impacted trade performance.
Davy Crockett was so humbled by the wisdom of Farmer Bunce, he asked for a chance to address his neighbors. Horatio Bunce offered to host a BBQ to provide Crockett with such a chance. A week later, over 1000 people gathered at Bunce's farm to hear the Colonel's remarks. Crockett lauded Bunce for his civic-mindedness and devotion to democracy. Not surprisingly, given his oratorical skills, Congressman Crockett had redeemed himself in the eyes of his constituents and coasted to a reelection victory in 1828.
Unfortunately, several years later, "The Lion of the West" would eventually suffer defeat in his bid to run on an anti-Jackson platform - in President Jackson's home state. At one point during his campaign for reelection in 1835, the famous frontiersman lashed out at voters and declared if he lost, "you may all go to hell, and I will go to Texas." Perhaps that may not have been the most astute campaign slogan given his loss. Consequently, true to his word, the individual that embodied the freedom of the west, headed to Texas and immersed himself in securing the independence of Mexico's stiff-necked province – Tejas. Alas, Crockett's frontier spirit proved no match for Santa Anna's troops at the Alamo as he suffered his greatest sockdolager.
---
About the Author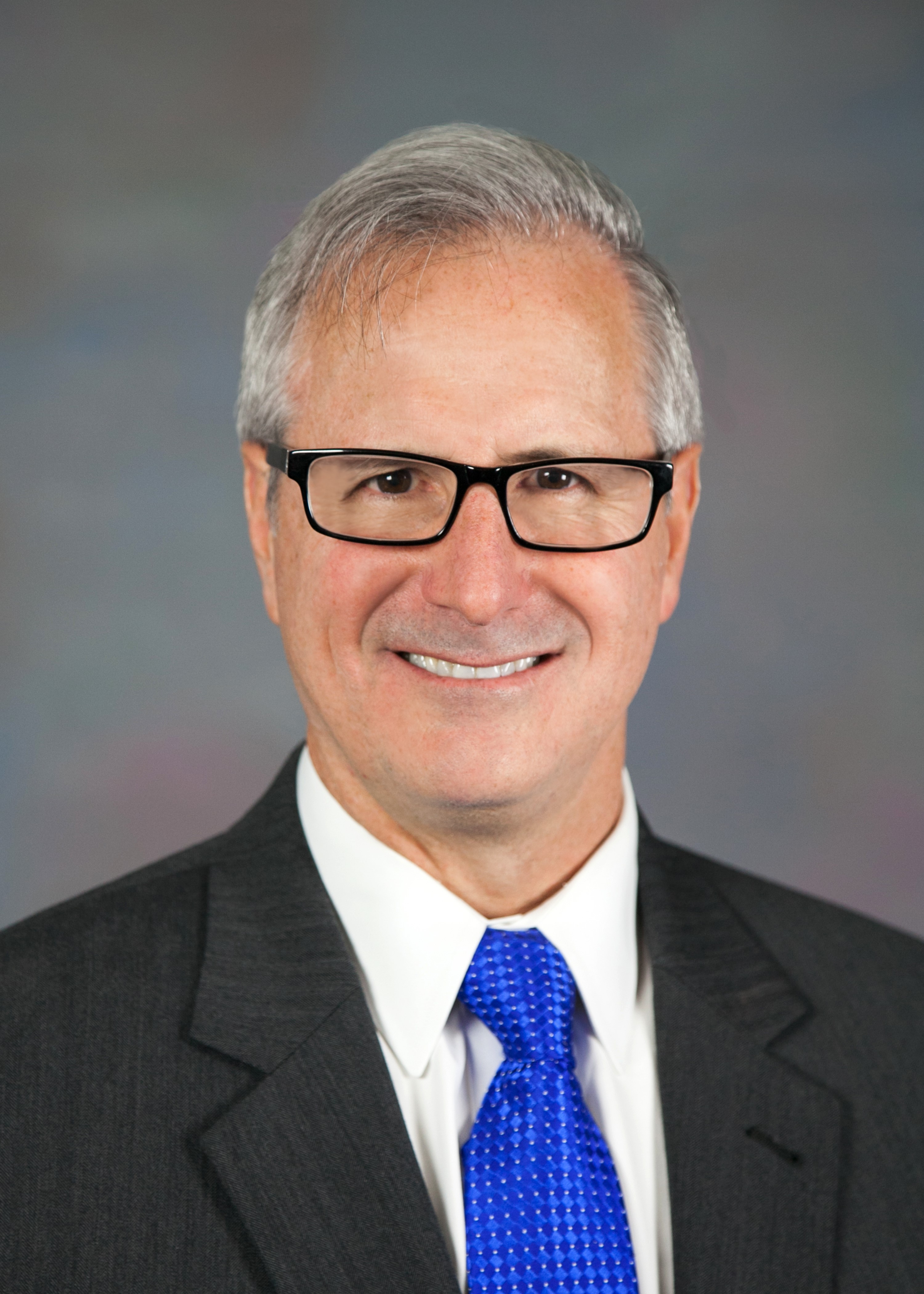 Tom Marian is the General Counsel of Buffalo Marine Service, Inc. He also serves on the Executive Committee of the Port Bureau Board of Directors.