February Commerce Club Featuring Dr. H. Dirk Sostman, Houston Methodist Academic Institute
Date posted
March 23, 2021
Fighting COVID-19 with Immunity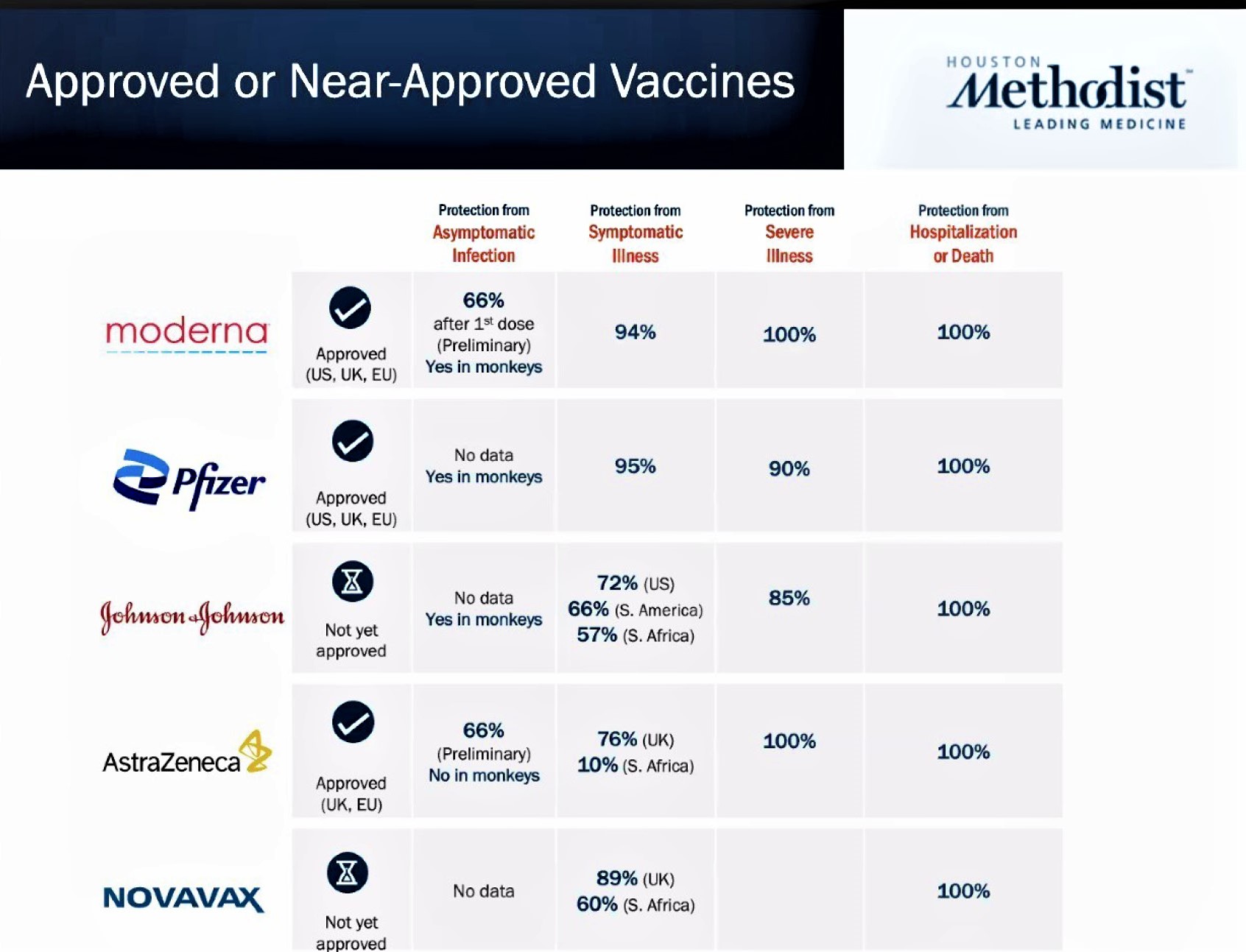 "The immune system is relied upon in a variety of ways to fight COVID-19," said Dr. H. Dirk Sostman in the opening of his presentation at the Virtual Commerce Club hosted by the Port Bureau on February 11, 2021. Dr. Sostman is president of the Houston Methodist Academic Institute, executive vice president and chief academic officer, Houston Methodist Hospital, and chairs the Houston Methodist Vaccine Scientific Advisory Committee. "A fundamental to this discussion is that getting the COVID infection does prevent you from getting it again."
Immunity Via Antibodies
"Antibodies," explained Sostman, "is an easy thing to measure in immunity. Cell mediated immunity is a lot harder, so we rely on antibodies. It's also neutralizing antibodies that give you so-called sterilizing immunity that prevents you from passing on an infection to another person, so antibodies are important." Sostman presented findings from two major studies that showed the reduced risk for re-infection among participants that tested positive for antibodies.
One method of getting antibodies is to make them in the lab and receive them into the body by an injection. This was done by two companies – Lilly and Regeneron – which led to emergency use authorization by the FDA for antibody infusions for early, mild to moderate COVID-19 patients. The infusion therapy proved effective in about two-thirds of the patients for preventing hospitalization. Sostman said infusion therapy had been utilized at The Methodist Hospital at a rate of approximately 400 per week, with excellent results in patients. The therapy was not effective, however, for those already hospitalized.
The infusion therapy has been tried in studies with participants without COVID-19 to determine if a type of "passive immunization" could be created. The initial results were effective, with an 80% reduction in symptomatic infections in nursing home residents. Other studies were tried with "dual antibodies" that also proved effective, particularly against the variant COVID-19 strains from the United Kingdom and South Africa.
Immunity Via Vaccination
"Active immunization with vaccines will be more generalizable and potentially more effective because it actively recruits the cell mediated portion of the immune system," Sostman stated. He showed data from U.S.-approved and unapproved vaccines – particularly mentioning the Johnson & Johnson vaccine that he believes could be approved by the end of March. Novavax could potentially be the next to be approved in the U.S.
How do vaccines protect? Protection is evaluated in four areas: asymptomatic infection protection, symptomatic illness protection, severe illness protection, and protection from hospitalization and death. Studying asymptomatic infection protection is the most difficult for scientists, but initial findings do show some levels of asymptomatic protection. Sostman discussed the protection rates in the other areas, noting that the protection levels are "as good as it gets" and comparing them to the effectualness of other vaccines, such as measles. Protection rates are also being studied for immunity against virus variants from the United Kingdom, South Africa, and South America.
Vaccine Safety
Speaking to vaccine safety, Sostman said the most typical reaction was soreness at the injection site and some mild, flu-like symptoms. The small number of severe allergic reactions that have occurred were not seen in clinical trials and unexpected. "It's very unclear what's going on with these, whether they were anaphylaxis or not – exactly what the mechanisms are," stated Sostman. "They typically occur very early, about 90% in the first half hour. They are quite unusual." The allergic reactions are treated with antihistamines and the Epi-Pen. A history of allergies is not generally used as a contraindication for vaccination.
"It's more than one thousand times safer to get vaccinated than it is to get COVID-19," said Sostman.
The biggest concern in the overall picture is the emergence of the viral mutations. All viruses mutate – and evolve under "selective pressure". The coronavirus does mutate three times slower than influenza, but Sostman described every infected person as "a living test tube growing the virus". The more the virus grows, the more mutations occur, prompting questions about vaccine resistance to the new strains.
"The good news on the UK variant – which is looking like it will probably become the normal strain in America in the next couple months – is all the current vaccines handle it quite well," Sostman said.
Looking at the Future
Problems posed by virus variants are unclear, but it is probable updated vaccines will be required. An annual COVID vaccine is likely to be needed for the next several years. "It is really very important for people to take all the protective measures and get the population vaccinated asap," said Sostman.
With the roll out of more approved vaccines in the spring, Sostman projects "tons of vaccine" should be available by summer. He believes half the adult population could be vaccinated by summertime, and with an estimated 25% of the adult population carrying antibody immunity from previous COVID infection, life could look "pretty darn good" when students return to school in the fall.
Does this mean life will be exactly like it used to be? Sostman thinks no, not exactly. Local COVID outbreaks will likely continue so some precautions may need to be exercised and the annual booster shots will likely be needed. He also believes wearing a mask every winter is advisable. Coronaviruses like winter – a comprehensive subject worthy of a separate presentation. There are four coronaviruses that normally circulate in the population, causing about 20% of common colds. The viruses can be fatal to the elderly and those with comprised immune systems.
Sostman believes increased hand hygiene and mask-wearing have played a key role in the reduction in flu cases this season. "Personally, I plan to wear a mask in flu season from now on," he concluded.
A Q&A session followed Sostman's presentation that included virus mutations, global vaccine supply, and potential transmission of COVID-19 to others by those vaccinated. Whether those vaccinated in the population can still transmit COVID to others is still largely undetermined, although Sostman feels the risk is significantly lowered.
View Dr. Sostman's full talk with the insightful presentation here.
Thank you to our sponsors:

Buffalo Marine Service, Inc. • Enterprise Products Partners • Kinder Morgan • Houston Marriott South • Houston Pilots • Intercontinental Terminals Company • Moran Shipping Agencies, Inc. • Regions Bank • Targa Resources • West Gulf Maritime Association