Governor Abbott Highlights Port of Brownsville as a Key Component of Texas' Booming Energy Industry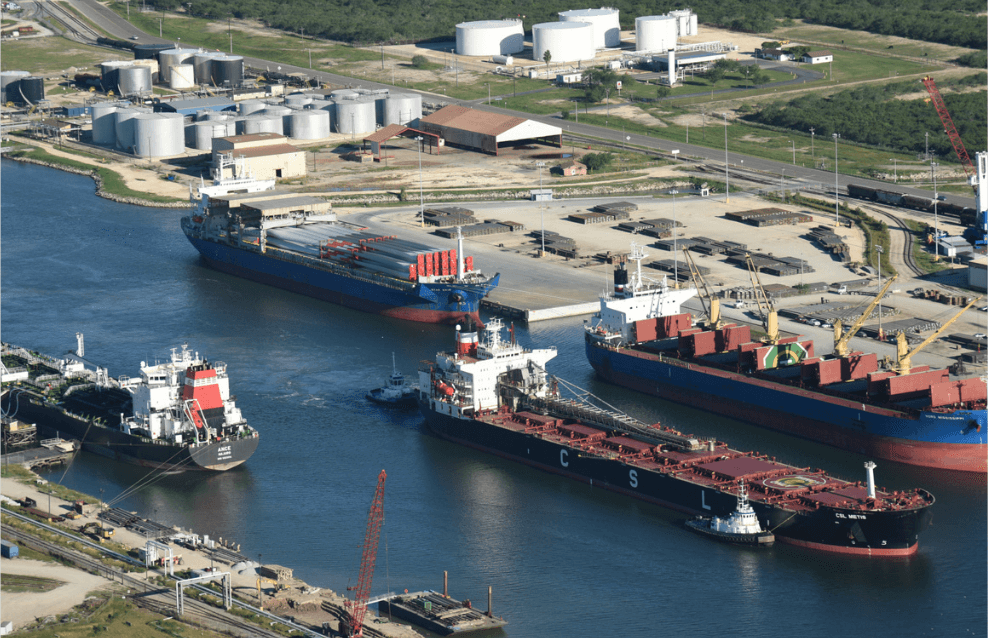 Operations at the Port of Brownsville. Photo courtesy of Port of Brownsville.
Texas Governor Greg Abbott highlighted the Port of Brownsville as a key component of Texas' booming energy industry and as a critical asset to the Lone Star State's economic success during an economic roundtable discussion with industry leaders and key stakeholders held at the port Wednesday, March 30.
"Ports are the gateway to the might of the Texas economy and the Port of Brownsville is vital infrastructure for our booming energy industry," said Governor Abbott. "The Port of Brownsville is rapidly growing the economy of the Rio Grande Valley and bringing new opportunities to South Texans, and I look forward to continuing our state's partnership with members of the port sector to unleash the full potential of all that the Port of Brownsville has to offer."
As longshoremen unloaded steel slabs from a vessel docked in the background, Governor Abbott was joined by Brownsville Navigation District Chairman Sergio Tito Lopez, Vice Chairman Ralph Cowen, Board Secretary Esteban Guerra, Cameron County Judge Eddie Treviño Jr., County Commissioner Sofia Benavidez, and Texas A&M Regent Mike Hernandez, as well as key port industry stakeholders. The round table discussion was focused on the state's economy, supply chain issues, and port industry.
"The Port of Brownsville is a critical asset in the Rio Grande Valley's economy supporting diverse industries across Texas and Mexico with unrivaled access and logistics capabilities," said Chairman Lopez. "We remain open for business, supporting more than 51,000 jobs statewide while contributing $3 billion in annual economic activity to the state's economy."
Key to the discussion was the Port of Brownsville's strategic position to become the center of American energy independence through liquified natural gas ("LNG") facilities. The port is the site of two proposed LNG projects, Texas LNG and Rio Grande LNG. Both projects are in the final investment decision stage.
The Port of Brownsville recorded a banner year in 2021 with a record-breaking 13.8 million tons of commodities moved through the port docks while operating revenues surpassed the $30 million mark for the second consecutive year at $34 million.
Petroleum-based commodities represented nearly 50 percent of the total cargo moved in 2021 with 6.3 million tons while the ever-growing steel sector at the port registered a record of 4.3 million tons of steel products moved. The port moves more steel into Mexico than any other domestic competitor and is a major transshipment center for liquid products like premium gasoline, low sulfur diesel, jet fuels and lubricants destined to markets in South Texas and Northern Mexico.
Additionally, the port's Foreign Trade Zone No. 62 plays a vital role supporting a wide range of industries throughout North America. FTZ No. 62 ranks third out of 193 FTZs in the nation for the value of exports reporting more than $4 billion in exported goods in 2020, according to the U.S. Foreign Trade Zones Board's Annual Report to Congress. The port's FTZ ranks 21st nationally for the value of imports totaling more than $3 billion.