January Commerce Club Featuring Mike Emerson, Director, Marine Transportation Systems, USCG
Date posted
February 9, 2021
Wind Energy Farms, Space Flight Launches in 2021 Coast Guard Planning
​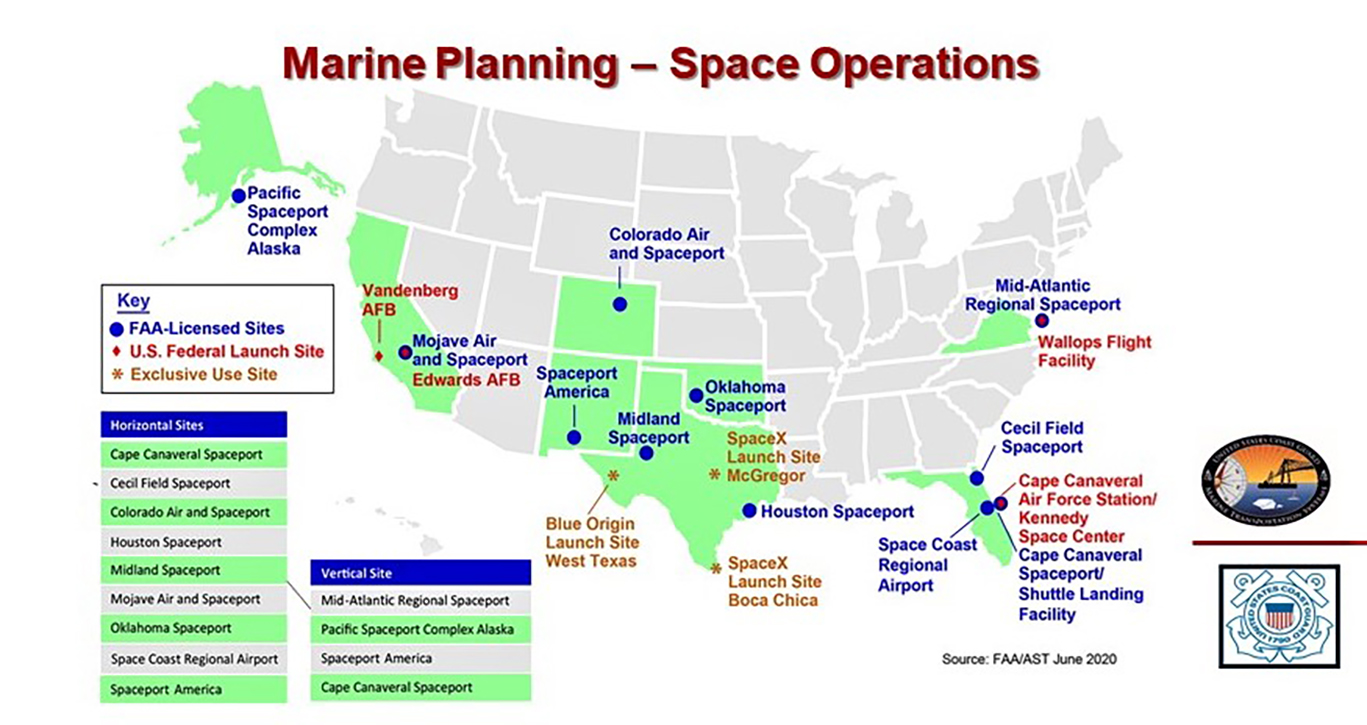 "I am a fan of the Houston Ship Channel. It's one of our more dynamic waterways, and I spend a lot of time assessing what policies and regulations we can put in place to make it safer and efficient – make it viable for marine commerce," said Mike Emerson, guest speaker of the Port Bureau's January virtual Commerce Club webinar. Emerson is director of Marine Transportation Systems at U.S. Coast Guard ("Coast Guard") headquarters in Washington, D.C. Emerson presented "Making Way: Priorities for Safe and Efficient Maritime Commerce" to attendees at the virtual event.
Emerson said the Coast Guard was at full capacity during the past year and "did not lose a step" while working through the various challenges brought on by the pandemic, weather events, wildfires, and more. He anticipates new challenges still to come as the nation "ramps back up" and stressed the importance of the Ship Channel industry to the nation.
​"You are central to any economic recovery scenario," said Emerson.
The Coast Guard's advocacy for maritime industry is defined by three lines of effort and are described in their recently published Maritime Commerce Strategic Outlook. These are (1) facilitating lawful trade and travel on secure waterways; (2) modernizing aids to navigation and mariner information systems; and, (3) transforming workforce capacity and partnerships.
​The Maritime Commerce Implementation Plan was developed as a part of the Strategic Outlook. The plan outlines ten initiatives for supporting marine commerce, including enhancing cybersecurity capabilities, modernizing navigation services, and strengthening partnerships with maritime stakeholders.
Wind energy is an emerging addition to the Coast Guard's planning agenda for the waterways as the number of leases rise. "Wind energy, like LNG, will grow exponentially in the next year, especially considering expressed support for clean energy among many new federal officials," explained Emerson.
​The Coast Guard's role is to advocate for maritime interests and safety and to be a part of the decision cycle. Every offshore wind project is different, well-funded, and could potentially impede or impact commercial shipping, fishing or other waterway users.
Emerson showed mapping for a system of "fairways to prevent any construction in any of the customary inshore or offshore shipping lanes that span from Florida all the way to Massachusetts, and eventually to Canada." Expectations are policy will be officially formalized soon to prevent any impediment to ship movements in the customary shipping routes. The Coast Guard has become the established authority for safety in navigation and in protecting maritime commerce as wind energy farms continue to grow.
​Space launch and recoveries is another area of planning Emerson expects to grow. He anticipates two dozen offshore events in 2021 and weekly events thereafter. "What they would like to do is put out an announcement – sometimes on very short notice – that there is going to be space junk falling from the sky or an engine run or a hover test that will have a potential danger zone associated with it, and the Coast Guard would just shut down the waterway. We do that sometimes, to some extent, off of Cape Canaveral, but we have no intention of doing that off of Vandenberg, Boca Chica, or off of Tybee Island," said Emerson.

​"The industry and the agencies supporting them for space operations would like us to advantage the space industry, but that would come at the cost of marine commerce. So, I urge you to keep an eye on that and welcome your feedback," he added.
Emerson also touched on automation, mentioning the voyage of an unmanned vessel that will follow the route of the Mayflower from England to the U.S. as part of the 400th anniversary of the event, and eNavigation objectives. The intent is to optimize assets and augment with virtual aids.
​"I am doing a nationwide waterway assessment of every coastline and the inland river system to figure out if there are buoys that can be augmented or replaced or not," Emerson said. "That's a real slow process."
Speaking to the "way ahead", Emerson does not anticipate much uncertainty. He does expect climate change to "command the headlines". He noted that sea level rise is a concern and impacts the Coast Guard directly as well as extreme weather.
​Throughout the presentation Emerson emphasized the importance of industry engagement with the Coast Guard in developing procedures and achieving goals. He concluded the presentation with a final encouragement to industry to continue to partner with the Coast Guard to achieve goals.
A Q&A session followed Emerson's presentation that included expectations under the new presidential administration, clean fuel strategies, the potential for a change in deployment of resources, and cyber security.
Thank you to our sponsors:

Buffalo Marine Service, Inc. • Enterprise Products Partners • Kinder Morgan • Houston Marriott South • Houston Pilots • Intercontinental Terminals Company • Moran Shipping Agencies, Inc. • Regions Bank • Targa Resources • West Gulf Maritime Association