Looking at 2022 Trends in Building Resilient Port Infrastructure
Collaboration, digitization, and culture change are the keys to unlocking more sustainable and efficient infrastructure.

At Dow, we're guided by our purpose: To deliver a sustainable future for the world through our materials science expertise and collaboration with our partners. Dow's ambition is to be the most innovative, customer-centric, inclusive and sustainable materials science company in the world.
What is Infrastructure?
Ports are where complex land-based manufacturing, storage, and modal operations meet equally complex marine operations. Because of the broad range of stakeholders and assets involved, the definition of infrastructure can vary. In general terms, a typical port infrastructure plan includes things like:
Channel expansions
Container yard expansions
Cranes
Jetties
Safety and security assets
and other intermodal investments
These types of infrastructure have been (and continue to be) vital to efficient, secure, and sustainable supply chains. However, the landscape is changing. As we look to the future, digital operations and climate change are going to expand the historical definitions and prioritization decisions related to port infrastructure. More on that in a minute…
Infrastructure Cost
Port infrastructure is vital to sustainable and efficient operations, but it comes at a cost. In 2021, the American Society of Civil Engineers ("ASCE") estimated that ports and port tenants plan to spend $163 billion between 2021 and 2025 on infrastructure. This investment figure is up by over $8 billion from the previous four years.
The American Association of Port Authorities ("AAPA") estimates 34% of ports will make rail investments of over $50 million in the next ten years. Further, nearly 80 percent of AAPA U.S. ports anticipate a minimum of $10 million investment being needed in their ports' intermodal connectors through 2025, and 30 percent expect to need at least $100 million of investments in connectors.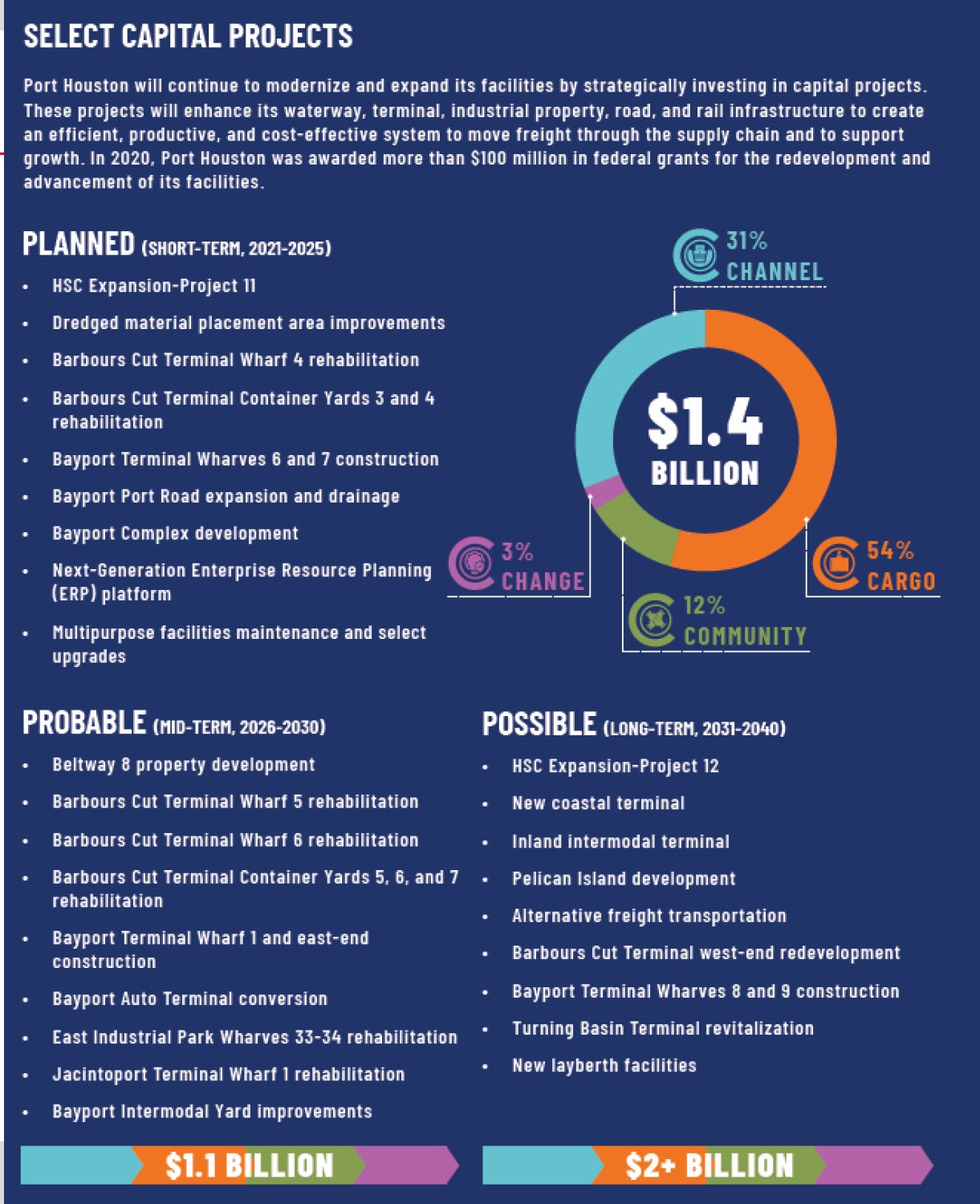 More specific to the Houston area, in recent decades the Port of Houston Authority has invested $500 million on various channel-related projects, including dredging and beneficial use/environmental restoration projects, and will add another $550MM for Project 11 through 2025. $150 million has been invested in truck gates, $100 million in safety and security, and another two billion on yards, wharves, roads, and other development. Moving forward, at least one billion in additional capital will be required every 5 years as well.
More specific to the Houston area, the Port of Houston Authority has invested $500 million on various channel-related projects, including dredging and beneficial use/environmental restoration projects. $150 million has been invested in truck gates, $100 million in safety and security, and another billion+ on yards, wharves, roads, and other development. [Editor's note: "Select Capital Projects" infographic to the right courtesy of Port of Houston Authority.]
Despite these significant collective expenditures, the 2021 ASCE Infrastructure Report Card still rated ports nationally at a B-. Because a port's success also relies on infrastructure outside its port gates, it is also important to consider modal operations that connect goods to the port. The same ASCE report rated:
Inland waterways infrastructure: D+.
Roads: D, whereby only 9% of intermodal connections rated as in "good" or "very good" condition.
Rail: B
Finding the needed infrastructure funding gets more challenging over time because infrastructure continues to get more expensive. Below are a couple key reasons:
Tomorrow's infrastructure project must "one-up" the previous project not only in size, but also in terms of safety, security, and sustainability. When projects upscale, they get more complex, take longer to construct, require more advanced technology, and get more expensive to maintain over time.
Land is a finite resource. As a port area is built out, useable land becomes more limited and thereby more expensive. Further, new projects interact with existing infrastructure more often, and there is an increasing need to work in closer proximity to communities. The margin for error gets smaller, and the cost to plan, construct and maintain increases.
Funding for infrastructure projects is derived from variety of sources: federal, state, local, and the private sector. This funding, however, does not always keep pace with the need. More and more projects seek local funding options to supplement federal/port authority funding and speed up construction times. Two current examples of this trend are evident in Houston's Project 11 and the Sabine Neches Deepening project. In both cases, local funding options are being actioned to scale the respective projects and speed construction to meet the pace of projected regional growth. In short, infrastructure is expensive, the price tag continues rise, and the funding gets more challenging.
Environmental, Social and Governance Factors
Performing operations in a safe and efficient way has been ingrained in industrial culture for some time. Still, the increasing focus on environmental, social, and (corporate) governance ("ESG") issues will increasingly shape the infrastructure conversation. Customers, employees, and communities are demanding safer, socially aware operations with lower carbon footprints. More and more companies are responding by establishing "net-zero" goals (21% of the world's largest 2,000 public companies have made net-zero commitments). These companies will advocate for greener policy/regulation and will increasingly select greener logistics service suppliers to advance their carbon reduction goals.
Regulations to dramatically reduce emissions are coming quickly. Achieving these ambitious goals will require investment in new technologies, new fuels, and new infrastructure. Research by the Getting to Zero Coalition estimates that the scale of cumulative investment needed between 2030 and 2050, is approximately $0.8 to $1.2 trillion (50% reduction) or $1.2 and $1.6 trillion (100% reduction).
While ships are being designed more efficiently, there is a limit to the traditional technologies (i.e. new propeller designs, better hull design, solar panels, wind assist, shore power, etc.). The current IMO 50% CO2 reduction by 2050 emissions reduction cannot be achieved without carbon-neutral or zero-carbon fuels.
Determining the fuels of the future, developing adequate fuel production, and facilitating their distribution is a massive challenge. According to the Getting to Zero Coalition study, 87% of the total investment will be on land-side low-carbon fuel infrastructure and production facilities. Storage and bunkering infrastructure account for half of this investment. Add in things like port electrification, carbon capture, green energy production, and it becomes increasing clear that these new initiatives will squeeze funding typically earmarked for traditional infrastructure projects.
Climate change mitigation will further influence infrastructure decisions in other ways. Increasingly, coastal areas are looking for infrastructure solutions to protect them from sea level rise and increasing severe storm events. An example of this is the Coastal Protection Plan (Coastal Texas Hub (arcgis.com) project being proposed to protect the Galveston Bay/Houston Ship Channel area (~30 Billion USD). This mammoth project, and the other similar projects that are almost certain to appear in other coastal communities, will challenge the funding sources of traditional infrastructure projects further.
In addition to this massive cost, these sorts of sea barrier type projects will force important long-term infrastructure decisions. In the case of the Coastal Protection Plan project, a key storm surge protection feature is a ship gate built across the mouth of the Houston Ship Channel (the busiest navigational intersection in the western hemisphere). The size and design of these gates will influence/define the traffic patterns and max ship sizes in the Houston area for the next 50 to 100 years. When we collectively decide to build these projects, it is critical that we get them right.
What's the Plan?
With all these headwinds, how do we continue to grow our respective businesses in a sustainable way?
First, we need to find a way to use current infrastructure more efficiently. For that, all roads lead to digital. Port operations have reached the point of scale and complexity that achieving new breakthroughs in efficiency will not be possible without responsible and accurate real-time data sharing/optimization across the port ecosystem. Digitizing port operations is no longer a "nice to have" option; it's an imperative.
Issues such as production units shutting down and rail/truck congestion can mean that product is not available when a ship arrives. In other words, situations that are totally land-based can completely undo the most skilled marine planning and vice versa. It's not enough to optimize port and/or modal operations in a silo. To thread the needle, we must responsibly share data up and down the supply chain to optimize the port as an end-to-end logistics system.
Advances in artificial intelligence, machine learning, and other digital technologies hold great promise in helping us identify where the true bottlenecks are and enable us to act quicker and more appropriately when things go awry. Our global competition is digitizing rapidly and adopting these technologies is necessary to stay competitive.
Digitization can also deliver the data and the visibility needed to identify and prioritize infrastructure projects with the best overall triple bottom line across the port's diverse group of stakeholders. With increasingly finite resources, every project worth doing must tick the service, cost, and sustainability boxes.
Further, with the intense competition for funding, our advocacy efforts must be better coordinated than ever before. Companies, organizations, trade officials, and state officials need to find ways to improve alignment so the message that gets to Congress is well-aligned, laser-focused, and backed with compelling data.
Funding will need to get more creative as well. Every crease and crevice of state and federal funding will need to be explored, and sparingly, where the value proposition supports it, we will also need to look for local and regional funding mechanisms to ensure the port region stays relevant and competitive. Again, to get local or regional taxpayers on board, we need the data!
In summary, infrastructure complexity and cost will continue to increase, and funding will continue to be a challenge. ESG and climate change will demand new forms of infrastructure. The most desirable projects will be those that can deliver benefits in each of the cost, service, and sustainability triple bottom line categories. Digitization and advanced analytics are powerful tools that can help us better utilize existing infrastructure and identify optimal projects for our investment dollars. Most importantly, collaboration and culture change are essential to future operational and infrastructure success.
---
About the Author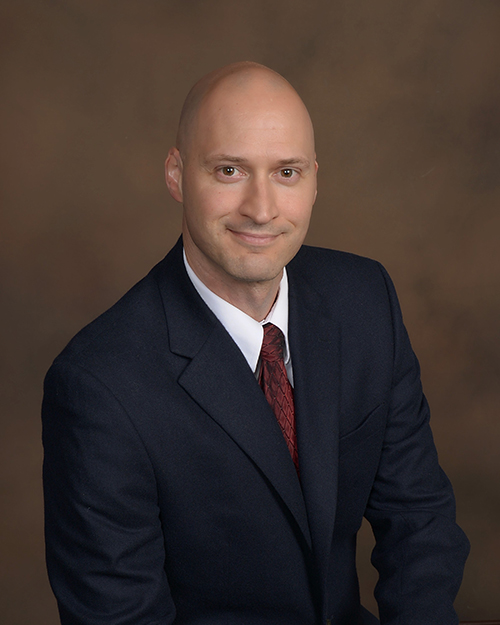 Lance Nunez
The Dow Chemical Company
www.dow.com