By Tom Marian, Buffalo Marine Service, Inc.
"Forward, March!" A dreaded command for most but not for the fearless 69th lead by the most unlikely of Union Generals – Thomas F. Meagher. General Meagher – the lightning rod of the Young Ireland movement; the creator of the Irish Flag; condemned to death for accusing England of the mass genocide of his countrymen; an escaped convict from the world's most remote penal colony – Tasmania; the most eloquent Irishman of his time – was attempting the impossible with the Union's most feared troops; overrun Marye's Heights. His faithful 69th – adorned with sprigs of green boxwood – would fail despite 14 charges against grape shot and countless volleys from entrenched Confederates.
March did indeed move forward on the maritime commerce front. Granted, in light of February's abysmal arrival numbers, its turning of the tide of vessel movements was not particularly challenging. Yet, before delving into the month of St. Patrick's arrival numbers, it would be instructive to touch upon Cupid's month. The month named after Rome's purification ritual (i.e., February), is handicapped – 75% of the time – with 10% fewer days than the months that bookend it. Moreover, this year, it was further stymied – trade-wise – when several ports were brought to a near-standstill by the Presidents' weekend arctic plunge.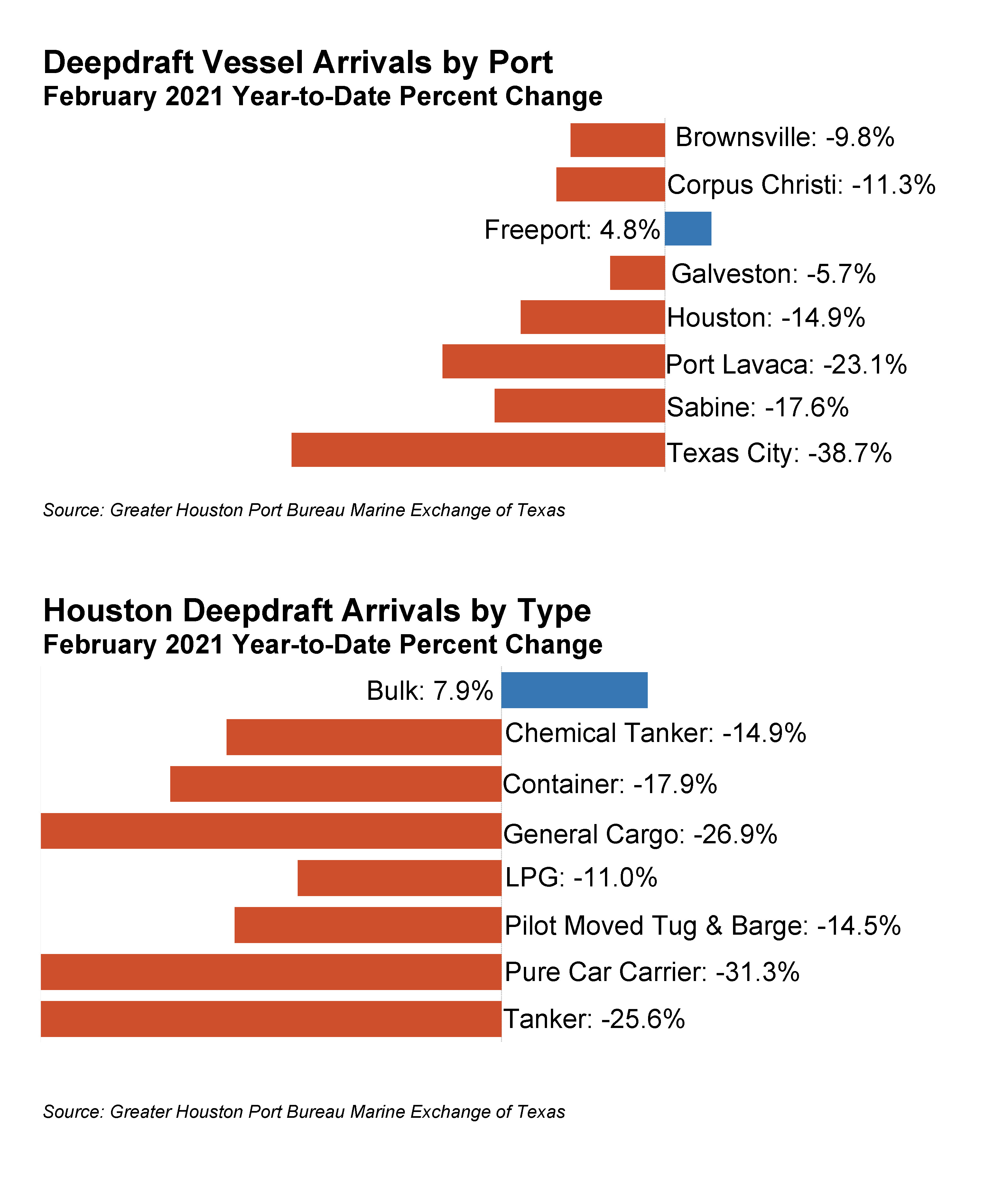 So how bad was it? On a year to-date basis, it could have been worse than the 15% decline for bluewater arrivals; however, a 32% monthly drop is certainly an attention-grabber. The majority of the ports registered arrival counts that were well below 30% of the previous month. Curiously, the Port of Galveston bucked the trend with a monthly decline of just over 13% and a year-to-date tally of 6% below that of the previous timeframe. Freeport, in spite of a 28% monthly dive, remains just 5% ahead of 2020's pace. Its positive year-to-date percentage is in no small part due to a record-setting January.
In Brownsville, where a measurable amount of snow fell for only a 2nd time since 1898, vessel arrivals fell by 23% but the port remains 10% astern of 2020's arrival count. Corpus Christi's monthly arrivals cratered 34%; however, it is still within 11% of last year's arrival count. Sabine's monthly performance was amongst the worst of the Texas ports at negative 35.6%. Nonetheless, there is hope the port will regain its stride given that it is off for the year by less than half of its monthly deficit (i.e., -17.6%). Texas City had the unfortunate distinction of being the only Texas port with a poorer year-over-year performance than its February decline – 39% and 35% respectively. With a mere 48 vessel arrivals, things almost seemed apocalyptic given the dearth of activity on the waterfront. Fortunately, two months does not make or break a year.
At least that is what the country's number one tonnage port hopes. Houston's February arrival count of 449 was unprecedented. Such paltry numbers have not been seen in two generations. Every vessel category logged substantial declines. Chemical tankers plunged 41% for the month; only 3 car carriers transited the Houston Ship Channel; LPG arrival were off by 37%; 22% fewer containers crossed the docks; and a 26% drop in tows navigating through the Houston Ship Channel could not have painted a bleaker trade picture.
Then, along came March – the boom that followed the bust! Nearly 44% more arrivals into all the ports that grace the state of Texas and 31% more tows navigating across the Houston Ship Channel. In some instances, it was an abrupt U-turn of fortunes. In others, it merely signaled that there was much more work to be done to overcome virus-induced malaise. Corpus Christi squarely fit the former category with a 51.4% rebound, nearly halving its year-over-year deficit to 6.4%. The latter category was dominated by Texas City. It enjoyed March's bounty with a 25% arrival hike. Nevertheless, it remains well over 36% behind last year's first quarter. Worse yet, it has the unenviable position of posting the highest year-over-year percentage deficit amongst Texas ports.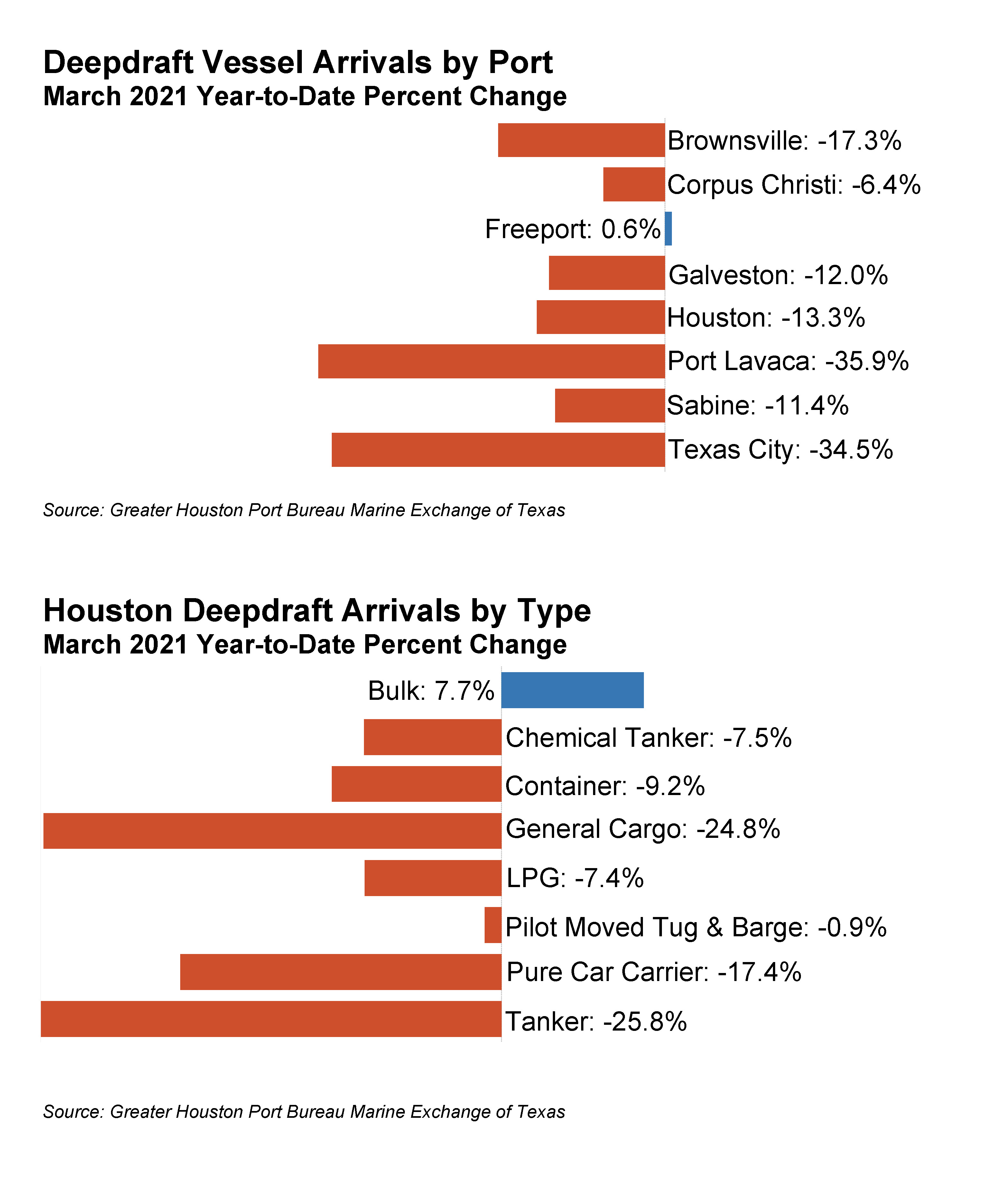 Freeport, on the other hand, is the sole Texas port in positive territory vis-à-vis 2020's first three months. Mind you, it is less than one percent higher after March's 36% monthly ascent; however, posting solid triple-digit arrival months in two out of three months is worthy of bragging rights. Sabine can certainly brag about its 53.3% monthly arrival leap – the highest percentage of all Texas ports. That whittled away some of its prior year-over-year deficit which currently stands at over 11%. While Galveston was not a member of the double-digit percentage gain club in March - given that it only saw a 7% monthly increase - it did manage to creep ever closer to 2020's arrival totals. To date, it is 4% off of last year's first quarter. Brownsville's monthly rise was even less than that of Galveston at 5% and, thus far, has seen 10% fewer arrivals than the previous year.
After last month, Houston had no place to go but up and up it did go - to the tune of 51%. This torrid trade turnaround reduced its year-over-year deficit by 22% (i.e., from 14.9% to 11.6%). Indeed, March was the high tide month for the quarter with every vessel category posting double-digit gains. Ironically, the category that posted the lowest monthly jump at 25.5% - Bulkers – is the only vessel category that is currently outpacing last year by nearly 8%. Car carrier arrivals nearly tripled in March but 2021's first quarter lags 2020's by over 17%. LPG arrivals waxed over 64% for the month but still trail last year by over 7%. Chemical tankers saw 90% more monthly arrivals but that was still not enough to erase its first quarter deficit of 7.5%. Tankers have one of the biggest year-to-date holes to climb out of after 25% of the year has elapsed. With the most recent monthly climb of nearly 28%, it will be a challenge to match 2020's pace which is 26% higher than 2021's.
Oceangoing tows – like most of Houston's vessel types – benefited from the best month of the quarter as reflected in a 45% increase. Yet, it was just short of pulling the category into the black for the year as it remains 1% behind. Container vessel calls experienced a 57% bounce but remain off by over 9% for the year. The more telling number is the container count itself. In the last month the total TEU tally skyrocketed 50%. An impressive showing except when compared against last year which is currently 3% higher. Of interest is the fact that full imports are up a respectable 23% on a year-to-date basis. Yet, full exports are lagging 2020's TEU count by 17%. Thus, while the American consumers' appetite to consume remains robust, its foreign counterpart's taste for American products is rather anemic. Which begs the question, is the international economic picture still struggling or on the cusp of casting off the fetters of inactivity? Ultimately, it hinges on how one chooses to view the battle.
The annihilation of the vaunted Irish Brigade outside of Fredericksburg nearly broke the indomitable will of General Meagher; particularly, after the majority of the Irish soured on President Lincoln's war and subsequently played a large role in fomenting the New York City draft riots. Yet, Thomas Meagher never abandoned freedom's cause. He viewed the tyranny of slavery as a great evil, just as he viewed England's starvation of his kinsman during the potato famines of 1845-48 as inexcusable genocide. Despite countless setbacks, General Meagher never gave up fighting for the rights of others. Sadly, while serving as Governor of Montana Territory, he met his demise in the waters of the upper Missouri River at the hands of a paid assassin. The Missouri never gave up Thomas Meagher's bones but his passion to march forward for freedom paved the way for an Emerald Isle free of England's yoke.
---