Port Freeport Receives First Container Vessel in New All-Water Express Service from Asia
Date posted
January 19, 2022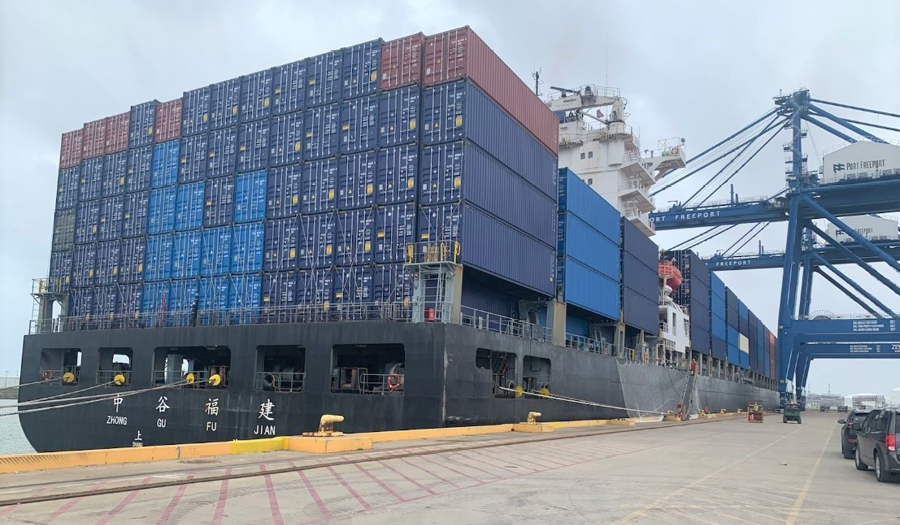 Photo courtesy of Port Freeport.
On December 10, the 2010 built, Chinese-flagged M/V Zhong Gu Fu Jian berthed at Port Freeport's Velasco Container Terminal. The arrival of the 902-foot long 4,963 TEU vessel marks another milestone for Port Freeport as the first container vessel to offer all-water service from Asia into Port Freeport.
"Port Freeport's recent announcement of completing the first portion of the Freeport Harbor Channel Improvement Project and the ongoing expansion of the Velasco Container Terminal has garnered the attention of the steamship lines," said Phyllis Saathoff, executive director/CEO of Port Freeport. "The current disruptions in the supply chain have encouraged carriers and shippers to consider alternate ports of entry and with these additions, Port Freeport is an enticing alternative."
Transfar Shipping PTE. LTD., an ocean carrier originating from Singapore, is committed to establishing a supply chain for business-to-business, cross-border, e-commerce. In a bid to improve the fulfillment efficiency of the logistic service under the current critical market situation, Transfar Shipping recently launched express service between China and the U.S. Gulf Coast by offering one to two direct sailings per month, importing a mix of cargo for many globally known companies including, Alibaba.
Over $450 million of infrastructure projects are currently underway at Port Freeport. Those projects include the Freeport Harbor Channel Improvement Project, that will deepen and partially widen the harbor channel to accommodate the modern vessels operating around the world today; and the Velasco Terminal dock extension which will add 927 feet of berth and an 85-foot RoRo Platform to Velasco Container Terminal. Port Freeport will soon embark on the Velasco Terminal Modernization Project that will improve gate infrastructure and access to the terminal enhancing efficiency.
"Port Freeport has been, and continues to be, a rapidly growing deep-water port. The port commissioners of the past two decades believed that it was imperative to invest in the expansion to accommodate that growth, as does the current commissioners. That investment in expansion correlates to the creation of positive economic impacts for the community, Brazoria County, the state of Texas and our great nation," said Port Commission Chairman John Hoss. "We welcome the Transfar Shipping express service as the first direct, all-water service from Asia into Port Freeport."