Rail Expansion, Industrial Developments are Largest Growth Sectors for Cedar Port Industrial Park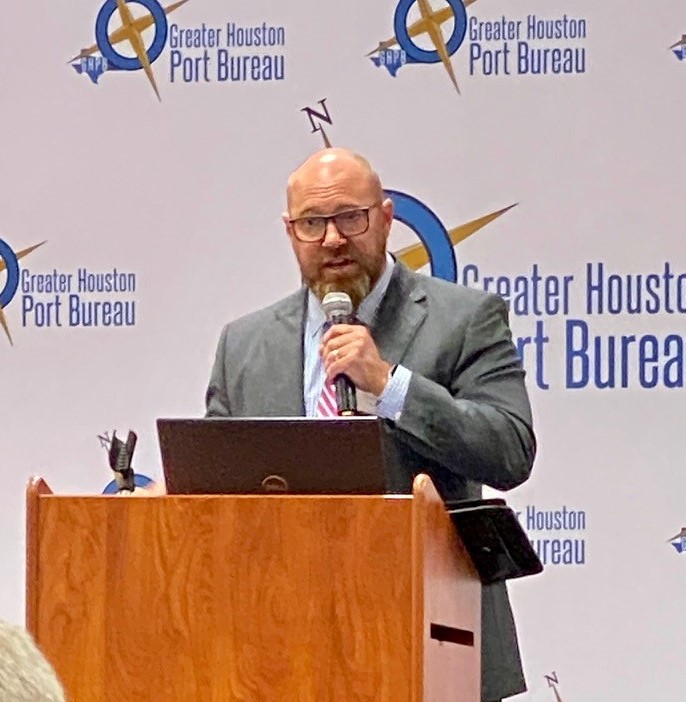 Matt Fleming, vice president of business development at TGS Cedar Port Industrial Park ("Cedar Port"), presented an overview of Cedar Port's substantial growth over the last five years at the Port Bureau's April Commerce Club luncheon.
"I appreciate the opportunity to be here," said Fleming. "A great many things have happened globally, in the nation, in Houston, and at Cedar Port since I made a presentation [at the Commerce Club luncheon] in 2017."
In 2017, Cedar Port was developing around the ethylene market, as ethylene is the feedstock for polyethylene. Development was focused on rail transportation. Their forecast placed market share of polyethylene as continuing to increase through Houston's port region, and 2023 has borne out these expectations. All but four ethane crackers in the U.S. are located in Texas and Louisiana and 18 are located between Freeport and Lake Charles, La.
As a result of the thriving polyethylene market, Cedar Port now has four world-class packagers: Ravago, Vinmar, PBP and Plastics Express. It has expanded its SIT storage capacity, and currently has 4,500 railcar storage spots and approximately 106 miles of total track feet. It has 4,000 additional railcar storage spots designed. The container-on-barge dock is the second largest in the U.S., and they have been awarded a federal grant to purchase custom built barges for the operation.
Cedar Port and its packagers are Operation Clean Sweep, an international plastic resin handling industry effort, complaint. Cedar Port is a blue member in the Clean Sweep organization. They have recycling projects complete and under development, including carbon capture.
"We are working very closely with multiple parties to hopefully get to a point where we can kick off a carbon capture project pretty soon," Fleming said.
The most direct benefit of the polyethylene market to Cedar Port's has been in rail infrastructure. On April 1, 2023, Cedar Port converted their rail infrastructure to a shortline Class III designation.
"It allows us to recruit and retain employees in the challenging labor market," explained Fleming. "The rail employees receive railroad retirement benefits, and Cedar Port can qualify for federal grants and tax credits, with the capital invested back into our operation." Cedar Port receives dual rail service from Union Pacific and BNSF. They have 13 to 15 rail-served companies inside Cedar Port. They also provide full-time railroad repair operation to service customers' fleets and have added a railcar/tankcar wash facility.
Cedar Port's largest capital improvement project since 2017 is their Z-Yard rail SIT yard. It stores approximately 1700-2000 railcars, and Cedar Port will continue to add more spots. Over the last six years, Cedar Port has added about 2.500 spots.
The largest area of growth area has actually taken place on the industrial development side as Houston's port region – and Cedar Port – has looked to serve the needs of the nation. "Cedar Port has been a big part of developing infrastructure here to service the national market," noted Fleming.
The 2023 reality has exceeded the original expectations of 2017. Fleming said the industrial market demand peaked in 2022, after the "extreme demand growth" that began in 2019. Cedar Part has 25 million square feet under its roof (including what is now under construction), an addition of 14.5 million square feet since 2017. They estimate 20% to 30% of the container volume from Port Houston originates from Cedar Port or is sourced to them.
He cites the West Coast congestion and the e-commerce boom combined with Cedar Port's developable land that is 25 feet above sea level (with master-planned drainage), demographic growth, their proximity to Port Houston and the Houston Ship Channel as the key market drivers in their significant growth. Fleming also stressed the support received by Chambers County and Cedar Port's access to two Class I railroads as important factors in growth.
Cedar Port's growth sectors have been in retail distribution, plastic resin packaging, refrigerated/frozen storage, and truck terminals (a byproduct of the supply chain). He indicated the refrigerated/frozen storage growth area was a surprise. "This has come out of nowhere to us the last four years – they like the Houston market," Fleming said of the refrigerated storage business.
The largest tenants at Cedar Port are Walmart, with five buildings at 5.4 million square feet and Home Depot. Home Depot has two buildings with a total of two million square feet. "They [the retailers] like the proximity to Port Houston and receiving their goods quickly and efficiently," Fleming said. "As I understand it, they can supply the Texas market, up to Chicago, and sometimes all the way up to Canada." Fleming added that in some cases, the retailers can supply stores in other areas as well.
"We are proud of the customer base we have built here and look forward to continued growth," concluded Fleming.
Hosted by the Greater Houston Port Bureau at the Houston Marriot South at Hobby Airport on the second Thursday of the month, the Commerce Club luncheon features insightful speakers from industry and education.
Thank you to our Commerce Club sponsors:
Annual Table sponsors:
Callan Marine • Cedar Port Industrial Park • Enterprise Products Partners • Kinder Morgan • Houston Pilots • Intercontinental Terminals Company • Moran Shipping Agencies, Inc. • Shell • Targa Resources • TGS Ceder Port Industrial Park • Vopak • West Gulf Maritime Association
April Table sponsors:
Excargo Services, Inc. • Port Houston • Houston Mooring Company • Orion Marine Group