Contributing to a More Diverse, Equitable and Inclusive World
Date posted
November 2, 2022
Shell's vision is to become one of the most diverse and inclusive organizations in the world. A place where everyone (from our employees, to our customers, partners and suppliers) feels valued, respected and has a strong sense of belonging.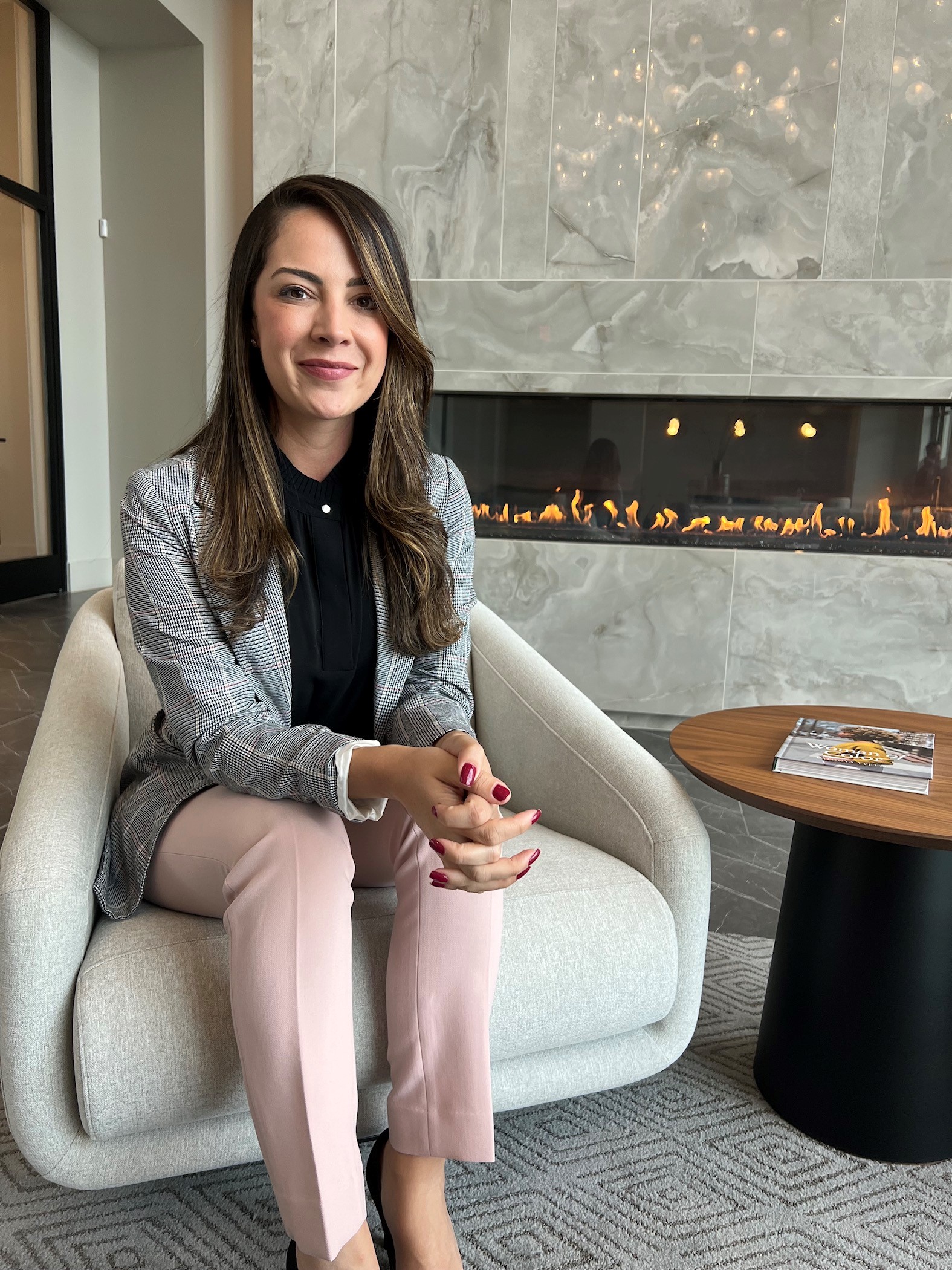 As the Maritime Transformation Manager and Chief of Staff for Shell Shipping & Maritime Americas, Laila, a former Merchant Marine Nautical Officer, is responsible for driving organizational and digital transformation, overseeing business strategy and promoting internal organizational and cross-business integration. She is a member of Shell Americas Shipping & Maritime diversity, equity and inclusion ("DE&I") council, which develops and implements DE&I strategy for the group aligned with business principles and ambitions.
Please tell us about yourself and a bit of your journey within the Maritime space – how did you come to the position/place you are now?
My journey started in 2010, when I graduated from the Brazilian Merchant Marine Academy with a Bachelor of Nautical Sciences. My career at sea was dedicated to Dynamic Positioned ships, mostly in the drilling business – which experience gave me the opportunity to deep dive on the interesting technology involved in complex marine operations. While the at-sea experience brought me all the way to my Chief Mate's license, the technical knowledge evolved into an opportunity to also work as a Maritime Instructor, supporting industry colleagues and helping them to excel on Dynamic Positioning, Ship Handling and Emergency Response.
After 8 years at sea, I decided to further develop my management skills and joined Shell in Brazil, providing technical and HSSE support to a dedicated DP Crude Oil fleet. Beyond the operational scope, I was always driven to better understand business strategy and to finding ways to improve performance and efficiency, either by applying technology or enhancing processes. The combination of my maritime background and a continuous improvement mindset led me to my current role as Maritime Transformation Manager for the Americas region. Besides the Shipping background, I also hold a degree in Logistics and an MBA in Project Management.
What energizes you about DE&I in the shipping/maritime space?
Throughout my career I have been able to work with and within many cultures and backgrounds. Both at sea and in the corporate environment, diverse teams would always drive the best results and performance when people were able to fully contribute by bringing their different perspectives and experiences to the table.
The positive impact that diversity brings to the maritime sector can be seen in the growing number of diverse professionals making history in different areas of the shipping industry, supporting energy transition, decarbonization, and actively contributing to society and sustainability.
There is still a long way to go in promoting genuine inclusion within this space and, for me, being able to represent diversity both from a personal and professional perspective, and influence the industry to progress in that direction, is such an amazing opportunity. I am also very energized by the idea of being a role model to young professionals, sharing my story and raising awareness around the variety of career opportunities available within the shipping industry, including highlighting how different skills and interests can bring value to this sector.
What are some hurdles/challenges you have either personally experienced or seen others deal within the shipping/maritime industry?
The biggest challenge for me was how professional capabilities would be required and rewarded differently depending on gender, country, race, religion, ethnic background, sexual orientation, disability, or even physical characteristics, not always in a direct relative to the performance delivered. Many studies have shown how much performance can be impacted when people don't feel respected and included at the workplace. When people spend part of their life at sea, that may also impact motivation, wellbeing, and mental health, sometimes being a reason for talent evasion.
There is also a lack of awareness regarding the career paths that may be explored within this industry and how professionals can better apply their skills. Further education and encouragement from role models can be a game changer on attracting and retaining diverse talent, especially for young professionals.
What are some successes you've either personally experienced or seen others experience/achieve within the shipping/maritime industry?
I had the opportunity to directly work with and be inspired by leaders who were true integrators, demonstrating genuine care for people and transforming environments, really succeeding within their teams and companies. Most of them would make an effort to individually connect and understand their teams, respecting and inspiring people towards a common goal.
From a personal perspective, I feel I've been very successful in finding purpose and work life balance, while being proud of the company I am part of and the work I deliver to the industry. Resilience, consistency in delivery and commitment to my long-term objectives were key behaviors that helped me to progress and to build my career. I could also count on sponsors, mentors and allies who truly inspired me and supported my career development and progression.
What does DE&I leadership look like/mean to you?
For me, DE&I leadership translates to genuine understanding of the different individual needs of people and active promotion of inclusion, from recruitment to the day-to-day of a team or organization. As leaders inspire others by authenticity and enthusiasm, the genuine understanding of our own biases and commitment to action are key for building an inclusive culture where the speech aligns with the reality.
I also believe that leadership on DE&I needs to be present and essential at every level. Every individual can lead by being emphatically engaged in understanding differences and by acting as an ally to intervene and promote inclusion within their own network.
From a broader standpoint, we still need more diverse role models in this industry. Sharing inspiring stories, both the successful and the challenging ones, can definitely create a personal impact in people and help them to navigate their career paths.
Is Shell a leader in the DE&I space? How have you seen the company react to/change/approach the DEI space?
DE&I is truly one of our company values and is part of Shell's business strategy to drive higher performance and results, and to care for people. This ambition is translated into actions and policies at different levels to ensure an inclusive work environment, providing conditions for performance delivery and career development. Through my 4 years being part of Shell, I have been able to see how DE&I was included within the strategy and business plans at a country level with actual commitments, reducing the imbalances inside the organization and building a respectful and inclusive work culture.
Specifically for Shipping & Maritime, there has been a lot of work done during the past four years and I feel particularly proud for being part of such a diverse organization while coming from the maritime industry, besides being a member of the DE&I council and actually contributing on this journey.
It is also very inspiring and encouraging to see more and more diverse role models in leadership positions across different departments in Shell.
Do you have any personal or professional (or both) DEI role models? What makes them special?
I am very lucky to have quite a few role models that really inspire me, and they all share a few elements that I find remarkable from the DE&I perspective. On the professional side, people who were not afraid to challenge how things were always done. Through resilience and relentless commitment to a very clear objective, some of those role models became the first ones succeeding on a particular path and show there are no limits for how big you can dream.
On the personal side, some key people who truly acted for driving the change by advocating, intervening, promoting the building an inclusive culture and inspiring others, again in different levels. I bring many lessons learned from those stories with me, and I hope to also inspire people in a similar way someday in my career.
What does the future of DEI in the shipping/maritime industry look like to you (and/or what would your ideal be)?
It is really encouraging to see that DE&I is becoming a more important agenda item in many companies' strategic plans and that we are making progress on this long journey to ensure Shipping & Maritime gets more diverse, equitable and inclusive.
Shipping plays a key role in driving a cleaner, more efficient, and sustainable future. Diverse, innovative, and creative talents with different experiences and backgrounds are essential to address the complex challenges of decarbonization, energy transition and digitalization agendas.
Raising a common understanding of DE&I importance for this industry and actively promoting the conditions for culture change while encouraging, supporting, and developing diverse talent from the Maritime Academies to the ships and offices does require a lot of commitment and effort. On the other hand, it also creates a more sustainable and resilient industry, ready to adapt and capably deliver solutions to complex challenges that directly impact our society and environment.
As we make headway on this journey, I hope we work at all different levels to remove barriers and promote change to enable a supportive and inclusive work environment. I have no doubt that the maritime community will significantly benefit from this transformation and deliver an even more meaningful contribution to society in future years.