Decarbonizing the Maritime Industry Requires a Mindset of Continuous Improvement
June 2022 Commerce Club Featuring Peter Fitzpatrick, SVP Global Offshore, ABS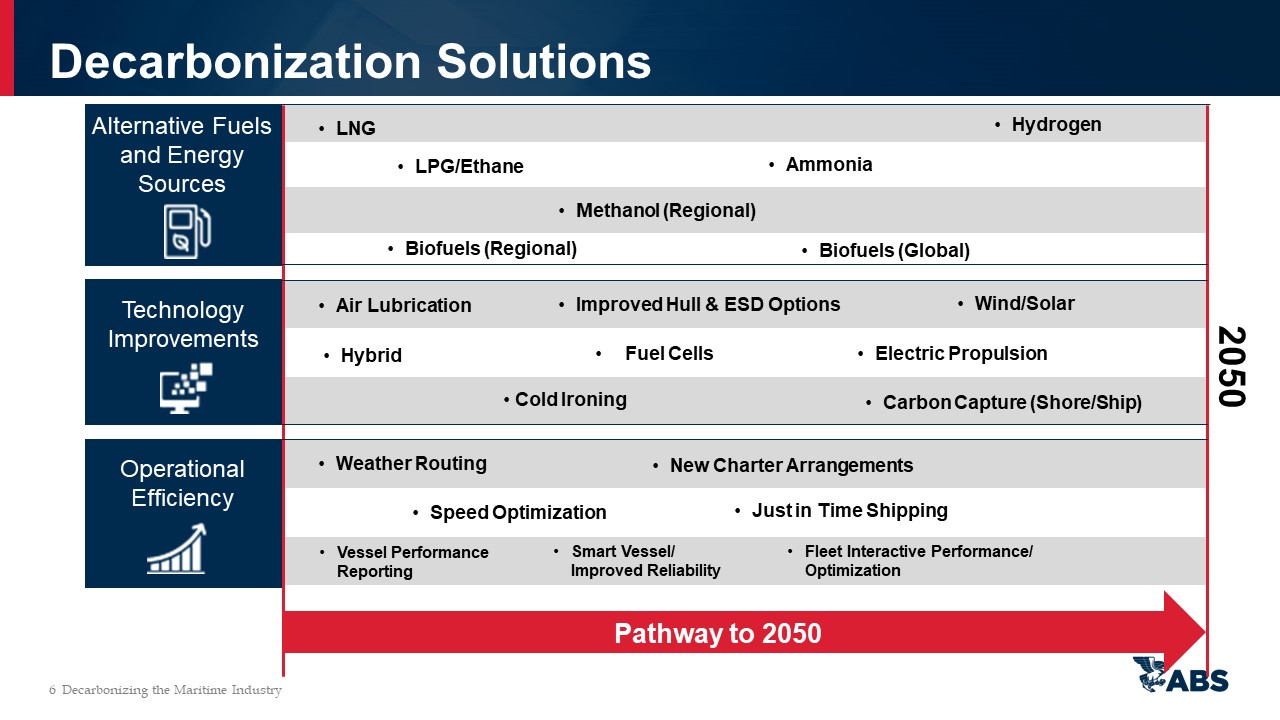 Peter Fitzpatrick, SVP global offshore for ABS, addressed the current drivers in decarbonizing the maritime industry at the Port Bureau's June Commerce Club luncheon. As SVP of global offshore, Fitzpatrick is responsible for identifying market trends as part of leading his business team to meet and exceed client expectations.
"I am sticking to international drivers today for a bigger perspective," said Fitzpatrick as he opened his presentation.
The International Maritime Organization ("IMO") has set targets to reduce carbon intensity by 40% by 2030 and 70% by 2050 and to reduce GHG emissions 50% by 2050. (Emissions reduction target goals are as compared to 2008 levels.) These imperatives have been the driving force in plans to decarbonize the maritime industry internationally. The next regulations targeting vessel efficiency and carbon intensity are set to come into play in January 2023 and will bring more challenges as well as opportunities. In addition, many companies seek to reach a net-zero goal ahead of regulations.
"You need to have a mindset change of continuous improvement," said Fitzpatrick.
He explained that the IMO has agreed on technical and operational measures for individual vessels in an effort to assist the industry in achieving the 2030 and 2050 emissions reduction targets. Short-term measures include the evaluation and improvement of vessel energy efficiency requirements ("EEDI"), the application of technical efficiency measures for existing ships ("EEXI"), and the introduction and regulation of carbon intensity indicators ("CII") for ships in operation.
"CII is the real driver: how much fuel do I need to transport cargo from A to B, and what's my CO2 footprint? This is where you must have that mindset of continuous improvement," Fitzpatrick said.
To better maximize fuel efficiency, Fitzpatrick emphasized the importance of embracing digital efficiency or "Just in Time" ("JIT") vessel scheduling optimization. JIT depends on tightly coordinating the operations related to a vessel call: the readiness of pilots, berths, and shore side systems. This bigger picture also encompasses analysis from the shipper as to the efficiency of the complete voyage, examining the ports of call that match their efficiency goals. There is a "smarter ships" requirement as well because managing the efficiency timeline needs predictive vessel maintenance.
Fitzpatrick gave a brief overview of fuel options, noting the advantages and disadvantages of existing and future fuel possibilities for reducing carbon – and that some are viewed as more transitional fuels. These included LNG, LPG/ethane, methanol, ammonia, and hydrogen fuels.
In considering fuels, Fitzpatrick explained that the "life cycle" of a fuel should also be considered. This means examining "well-to-tank" and "tank-to-well" emissions efficiency. "Well-to-tank" follows the fuel life in emissions from energy production, transmission, electrolysis and synthesis, storage, transport, and port storage. "Tank-to-wake" considers its final use. He showed examples that looked at LNG, methanol, and ammonia fuel development from a total "well-to-wake" life for their emissions. As a final example, Fitzpatrick detailed the CII of LNG as fuel for a VLCC vessel.
The presentation closed with a Q/A session that included a quick discussion of the challenges of LNG and the optionality of dual fuel compartments in ships.
Thank you to our Commerce Club sponsors!
Annual Table sponsors:
Callan Marine • Enterprise Products Partners • Kinder Morgan • Houston Pilots • Intercontinental Terminals Company • Moran Shipping Agencies, Inc. • Regions Bank • Targa Resources • Vopak • West Gulf Maritime Association
June Table sponsors: